Project Description
This project focuses on the current reform of employment services, moving the TE office (The Employment and Economic Development Office) to the municipal level during 2024. Such administration restructure means significant changes to the thousands of employees working in TE Office and municipalities working with employment matters, becoming a substantial part of what "new" reinvented cities take care of. This project aims to identify and solve the obstacles of the new employment services model with a focus on the Helsinki, Espoo and Vantaa municipalities' pilot offices. This project has two focus areas:
The needs of public servants and working together with employees from municipalities, state (TE offices) and Kela to work together in a people-centred way.
The jobseekers' perspective to create smooth service journeys across the many public service providers involved. We will focus on the target group of jobseekers whose mother tongue is a language other than Finnish, Swedish, or Sami and the impact of the reform at the service delivery level.
The main questions to address were:
What do public administration workers need to ensure residents' access to the right benefits and services?
How could lessons learned from different pilots be used to prepare for the change in 2024?
How could the renewal principles and people-centred ethos be used to guide the changes that public staff have to undergo – from training to learning new processes?
How are job seekers experiencing this shift?
How should the ideal service journeys be for the target group?
How shall Kela, TE and Municipalities orchestrate these services to improve employability?
Read more about the process in the blogs!
This project was showcased during the 2022 Final Show.
Student Proposals
Acts of appreciation
project by Topi Haapanen, Chloe Hartmann, Bhuvana Sekar, and Kaisa Roover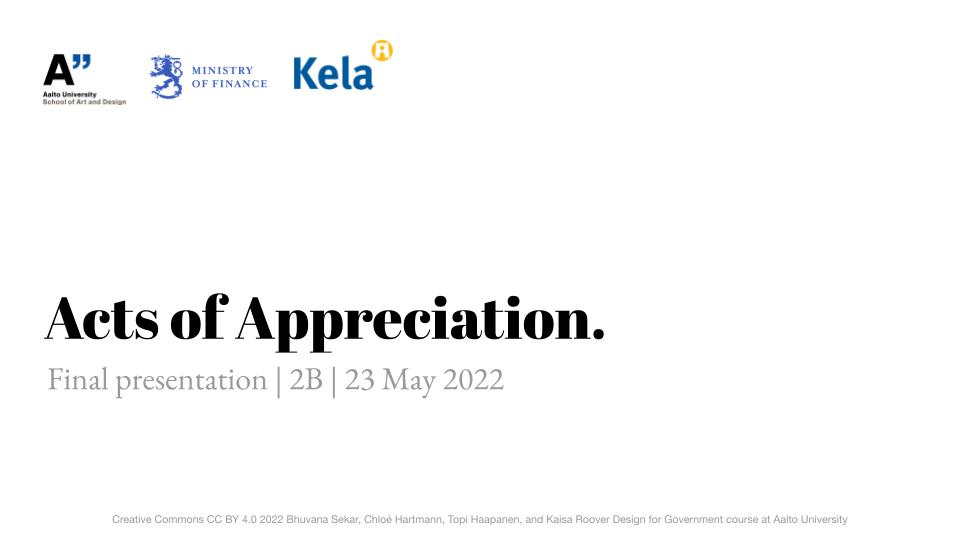 Final report (PDF)
Presentation slides (PDF)
Video of presentation (15 min)
Building a Cross- organisational peer learning Program
project by Frans Astala, Kristen Barreto, Florencia Pochinki, and Falguni Purohit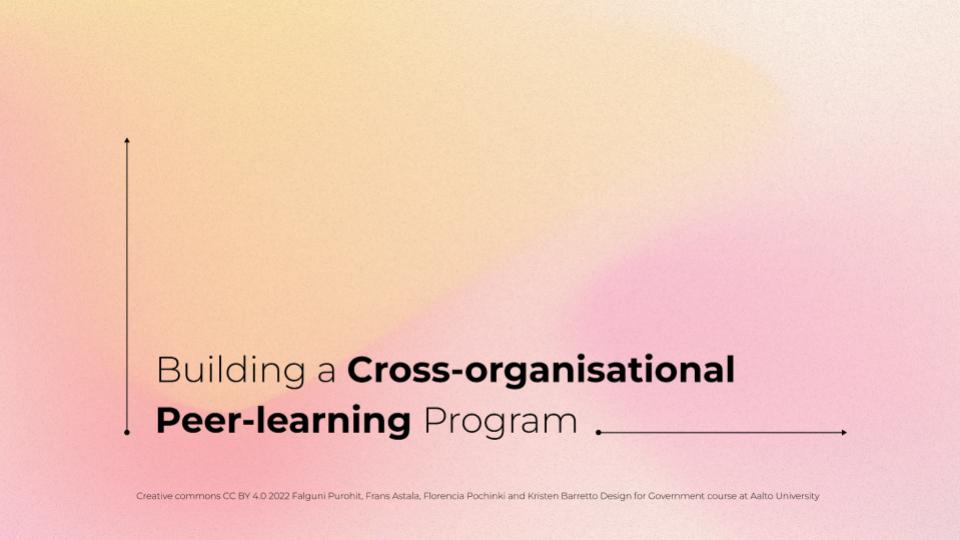 Final report (PDF)
Presentation slides (PDF)
Video of presentation (15 min)
Personalised Roadmap for International Jobseekers
project by Mathias Leopold Hoerlesberger, Mark Laukkanen,
Sanne van der Linden, and Sera Remes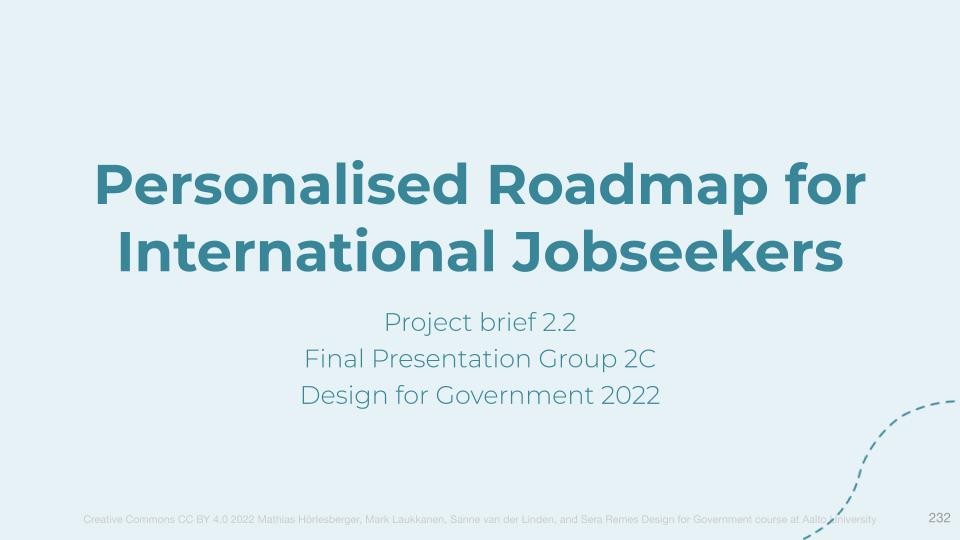 Final report (PDF)
Presentation slides (PDF)
Video of presentation (15 min)