This blog post reports on work-in-progress within the DfG course! The post is written by group 2B dealing with the Ministry of Finance's brief on Orchestrating public governance in employment services (TE2024) by focusing on the public servants' needs in the new reform model. The group includes Bhuvana Sekar from the Collaborative and Industrial Design program and Chloé Hartmann, Kaisa Roover and Topi Haapanen from the Creative Sustainability program at Aalto University.
Written by: Kaisa Roover
After the well-deserved break
When we had restarted our brains during the Easter break, we continued with the process. We started by studying Donella Meadows Leverage points and what kind of design interventions could be in our project context. For design students and system thinkers, I believe that leverage points are known, but for those who are not familiar with them, this is my version and a very simplified way of understanding what they are. Leverage points are points in the system where a change could result in a significant change in how the whole system works. Some points are more powerful than others in the sense of how much change they can cause. We now shifted our focus from the research phase to figuring out what we want to focus on and ideate about where and what our intervention could be. We were looked at our second insight about measuring success, but during the lectures and exercises about storytelling, storyboarding and scenarios, we moved away from measuring.
Understanding creates appreciation
We got more confident about the fact that we all previously already knew that quality is not measured but described, assessed and/or discussed. What we learned about caseworkers' work, is that there is a lot of good work they do, which fulfils the mission of their organisations but is not measured. Maybe highlighting these unnoticed and uncelebrated actions could get us to a meaningful intervention. It took time to find the right word to describe what we wanted to work with. First, we used the word Celebration to celebrate the work of caseworkers but soon we noticed that it had a wrong and naive sound on it to use in the context of work, where caseworkers are working for people who are in trouble with their lives. Caseworkerers' workload is overwhelming; we have heard municipality workers having 2-3 times more clients than what is budgeted for one worker. There are times when their own safety is at risk because sometimes the client's rights to get the service are prioritised over the rights of the caseworker who gives the service. For example, a client not using a mask during the Covid-19 pandemic has the right to get the service from a municipality worker.
Caseworkers nevertheless, do their best. The selected word we want to use in this context is therefore: Appreciation. Their work has direct consequences for unemployed individuals. They should be treasured. People who understand their work appreciate it, and caseworkers should get their fair share of recognition for their good qualities. How can we create something tangible that addresses these intangible issues? Feeling appreciated is an emotion, a very important one, and as we have found out, it has multiple ways to surface, but it always includes interaction with others.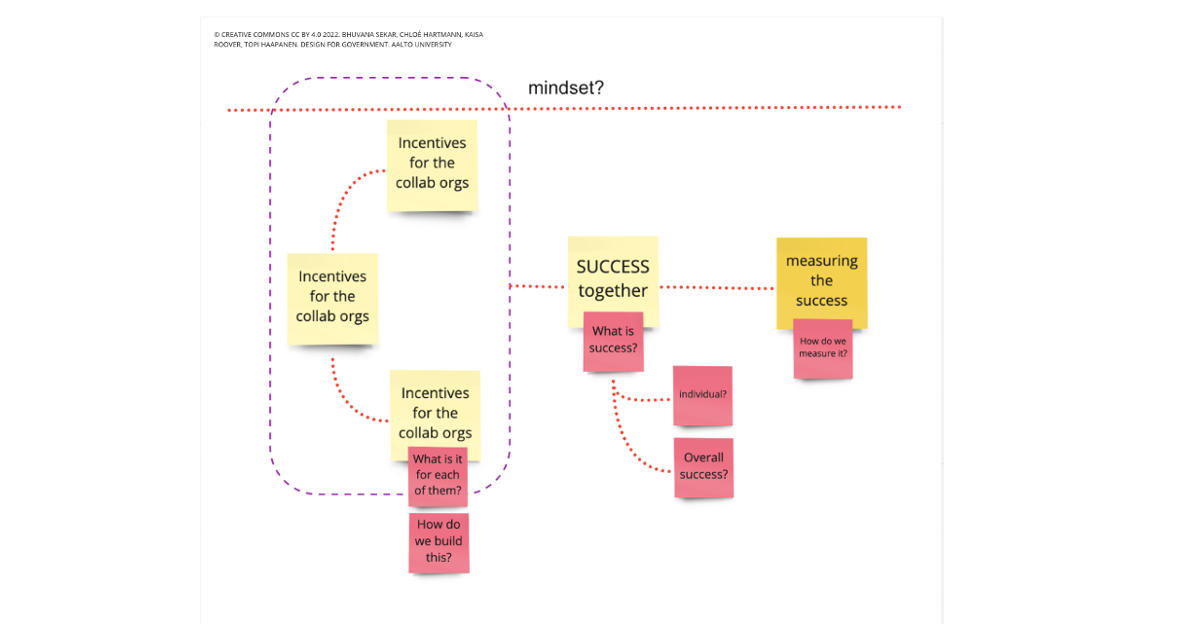 Figure 1. Finding the word appreciation and the what, why, how, who, when and where.
Turning the "pleasing" way around
We had created a story about a caseworker called Maisa with the tools that we learned during the lectures. We narrated what her day at work looks like, what kind of actions she is taking and what kind of actions are taken towards her. We searched for references, and benchmarks, and looked through the recognition pillars and toolkits. However, most of the actions we found were too plain and superficial for our purpose. We found interesting examples of how the 911-call centre workers shared affirming stories about their work, and there was research that sharing those stories lowered the burnout level. STAR, an evidence-based policy-making organisation for Danish Agency for Labour Market and Recruitment, was also interesting.
In addressing apreciation, we also discussed about the resources and money becasue although our design intervention can not solve resourcing, we needed to understand decision-making on budgeting. Budgets are too small, but allocating money is something that reflects the values of an organisation and what is appreciated. If the municipality allocates only 10€ per caseworker for Tyhy-day (well-being at workday), then the feeling of appreciation can't be high among the employees. As time is money, we ideated how we could somehow stretch the time that the caseworker has per client. We thought about different software that could make automated personas and create journey suggestions to make caseworkers work faster and how they could have more power over their own work. Maybe dividing caseworkers through specialisation to work with certain groups of clients could make their work faster? Then we realized that caseworkers have for sure thought about all these solutions many times over. They should be heard, through workshops perhaps, but feelings of appreciation should come first as there are problems with trust. For example, by being honest in the well-being surveys and share their emotions.
We felt stuck with the ideation and arranged a spontaneous call with a caseworker from Helsinki municipality. She confirmed almost all our assumptions and lack of appreciation also at the societal level, as civil servants are often to blame when something goes wrong but they rarely can defend themselves as there is an oath of confidentiality. Likewise, there is a lack of media coverage when they have done great work with helping someone because people rarely contact the media when all is well.

We asked our caseworker in Helsinki what she would see as appreciation regarding her work. The main points were: managing the workload so that the upper management would understand their work, having individual talks with supervisors about how they want to develop their work and being offered specialisation possibilities and training, identifying their individual strengths, a personalised approach for supporting them, having a skilled team coaches that can support their work, and that they would not have to pay for themselves for the Tyhy-day.

When turning to our previous research and thinking about our own previous workplaces, the top-down management style is embedded in how caseworkers are seen. What would happen if this were turned around so that supervisors and managers would ask what their subordinates need to do their work? and trust that they will do their work well, and move the quantity metrics aside? We are seeing that our design intervention is not one nudge or action but could be a roadmap or toolkit. There is still loads of work to be done, as we want to create something useful – and try to keep in mind what we have learned during the lectures, that we don't need to reinvent the wheel but can look at what design interventions have been used elsewhere. When we have something almost tangible, we will validate and iterate our ideas with stakeholders. After that, it is time to start to prepare for the final show.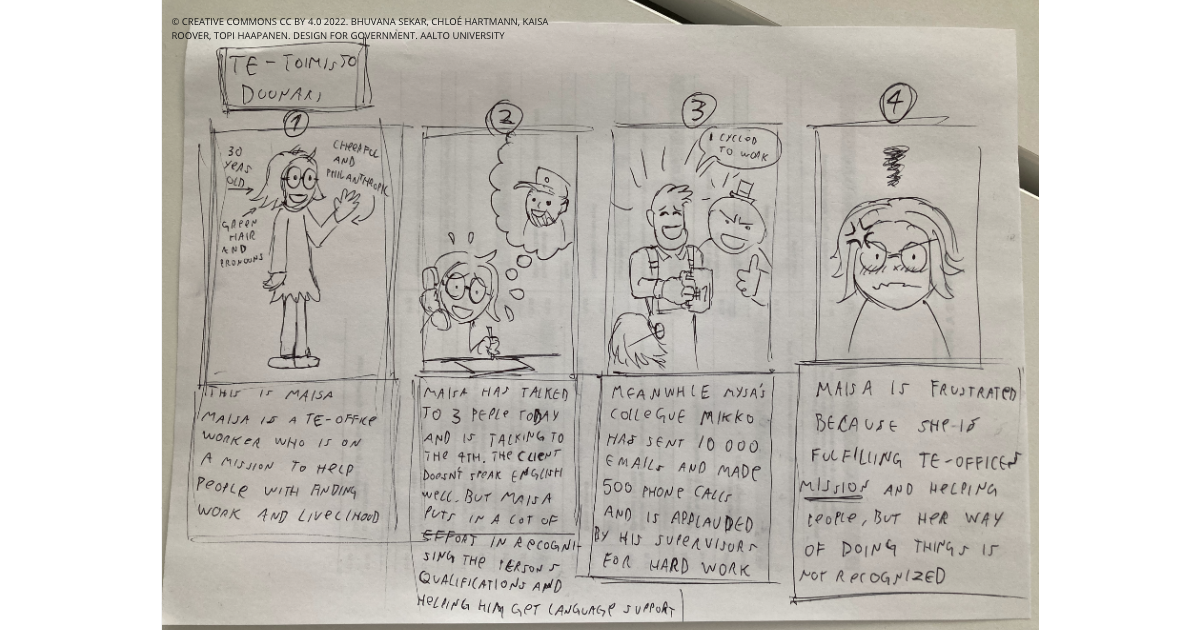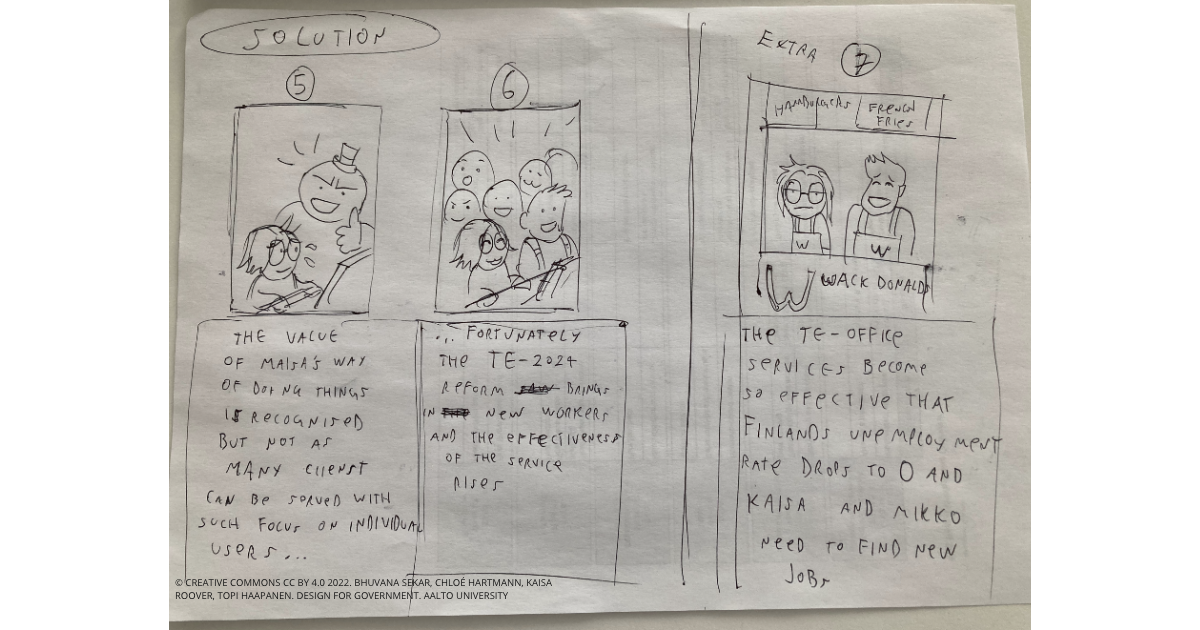 Figures 2. and 3. Storyboard of caseworker Maisa´s day at TE-office now and after the intervention. Drawn by Topi Haapanen.
REFERENCES
The Danish Agency for Labour Market and Recruitment. (2021, January 14). STAR´s Evidence Strategy. Star's evidence strategy. Retrieved May 6, 2022, from https://www.star.dk/en/evidence-based-policy-making/stars-evidence-strategy/
7 strategies to improve your employees' health and well-being. Harvard Business Review. (2021, December 8). Retrieved May 6, 2022, from https://hbr.org/2021/10/7-strategies-to-improve-your-employees-health-and-well-being
The DfG course runs for 14 weeks each spring – the 2022 course has now started and runs from 28 Feb to 23 May. It's an advanced studio course in which students work in multidisciplinary teams to address project briefs commissioned by governmental ministries in Finland. The course proceeds through the spring as a series of teaching modules in which various research and design methods are applied to address the project briefs. Blog posts are written by student groups, in which they share news, experiences and insights from within the course activities and their project development. More information here about the DfG 2022 project briefs. Hold the date for the public online finale online 09:00-12:00 AM (EEST) on Monday 23 May!