'Design for Government (DfG)' is a 12-ECTS practice-based course within the Aalto University's multi-school Creative Sustainability master's program. Each year, course leaders invite Finnish ministries, public service agencies, and regional and municipal administrations to work together with our students on 2-3 contemporary national-level policy challenges in Finland.
Projects are formulated as briefs, which are the basis for in-depth and practical development by 24-36 master's students each year. Students apply to the course from across Aalto and other Finnish universities (through Finland's "JOO" Flexible Study Rights Agreement). Each cohort includes a diversity of backgrounds and disciplines across design, arts, architecture, real estate, business, engineering, chemistry, futures research and social sciences disciplines.
History
DfG was founded during the academic year 2014–2015 with the mission of developing and demonstrating design competences in Finnish government. The course is situated as part of an international wave of interest in creative innovative approach to policy design, which is evident for example in the proliferation of design and innovation labs in government – notable examples include the Strategic Design Unit at the Finnish Innovation Fund, Sitra (also known as Helsinki Design Lab), Inland Design at the Finnish Immigration Service, the Policy Design Lab and Behavioural Insight Team in the UK, the MindLab in Denmark, and the Public Policy Lab in New York City.
Founded by designer and researcher Seungho Park-Lee, with architect Hella Hernberg and service designer Juha Kronqvist, the course was later led and developed by Professor Ramia Mazé (2016 – 2020) and then by Professor Núria Solsona Caba (current course director, since academic year 2020-21). The teaching team and guest lecturers build into the course a wide range of research and practice expertise across disciplines, the core teaching team currently includes ethnographer and consultant Taneli Heinonen (since 2015) and service design lead at City of Helsinki Anni Leppänen (since 2021). Additionally, DfG takes part in building the research and practice-based communities with other like-minded institutions, such as the independent think tank Desmos Helsinki, the ORSI Research consortium or Työ 2.0 Lab, to joint our efforts of bringing design in the government agenda.
You can check the projects developed during the course from 2014 to 2021 here.
The DfG Design Approach
In DfG we look at policy change as a problem-framing and -solving activity, jumping in-between two spaces: problem space and solution space, one informing the other but always in this order.

Core to this is the combination of a mix of design approaches: human-centred, systems thinking and behavioural-based design. Firstly, we start from a position of empathy to understand policy change as a phenomenon with different meanings and implications for key actors – or "users" in our vocabulary – representing diverse realities; second, we identify leverage points by analysing the network of relationships and incentives from a systems perspective; and finally, we design interventions that could have systemic impact with least effort that are informed by behaviour insight.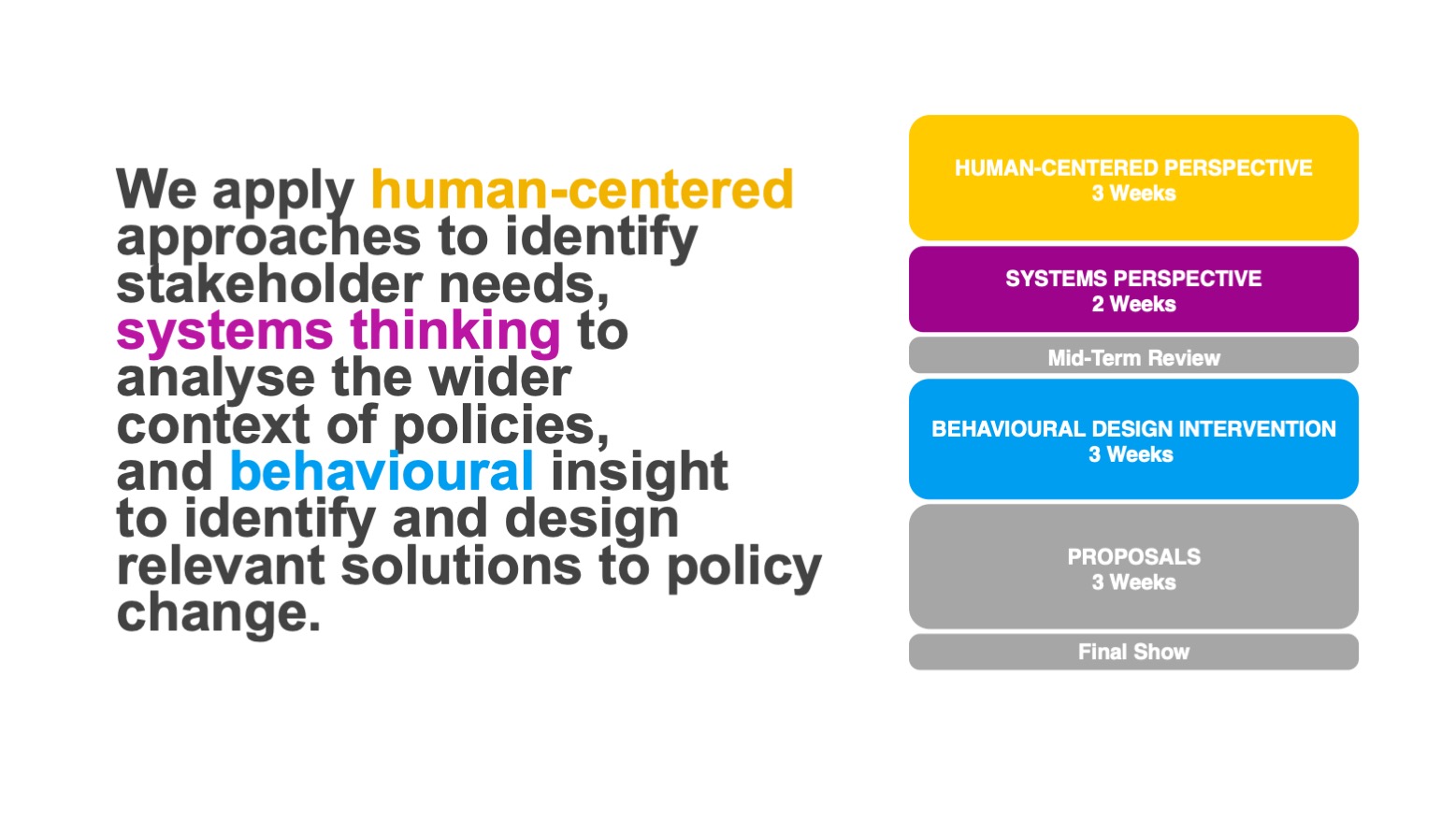 In particular, it is the use of qualitative methods, visual language, and adopting a systems view with a collaborative and experimentation-oriented mindset, what constitutes the challenge but also the value of adopting a design approach in government and policymaking.
Qualitative research with ethnography-inspired methods
First, in the problem framing space we aim to gain a comprehensive understanding of the causes and consequences behind a policy change. We gather data through fieldwork visits, semi-structured interviews combined with other ethnography-inspired methods, such as observations or design probes. The aim is to identify what constitutes a problem relevant to solve by gathering insights from different user groups, service actors and experts in the subject matter. Making sense of the gathered data is conducted using an inductive logic, where stakeholders are invited to participate in creating collective meanings, representing a mix of perspectives.
A systems view of government with system models
Systems thinking shows that areas for intervention can have lower and higher levels of impact due to the connectedness and complexity. Using a systems model or developing a systemic picture of a policy change helps to make an informed decision on where change is needed, at what level, and with what type of policy instruments. The act of creating a systems model itself is a part of an inductive analytical process that helps understand policy as a system of interdependencies, and identify what needs to be changed.
New type of instruments, interventions informed by behavioral insight
Behavioural-insight capitalise the principles of psychology where unconscious human behaviours or "biases" can be used to "nudge" people to act and the society to go towards a desired direction without forcing them to do so. Popularised by the rise of behavioural economics, the wide-ranging applications of psychology in large scale government intervention provides alternative materiality for design interventions, as well as bringing the experimentation mindset, such as the application of randomised control trial in policymaking process. Examples of this are the experiments conducted by the UK government in partnership with the Behavioural Insights Team, where different messages were used in the tax return letters to nudge citizens to pay their taxes on time. This low cost, behavioural informed action resulted in millions of pounds of savings in a short period of time.
Teaching Team
Núria Solsona
Núria Solsona is the DfG course leader since the academic year 2020-2021. She is a University lecturer at the Aalto University (ARTS), Department of Design. At Aalto, Núria teaches the practice of design in policy-making, service development, and service innovation in collaboration with commercial and non-commercial project partners. Núria has been part of the DfG teaching team since 2019. Previously she worked as a service design consultant in the UK and Finland.
Taneli Heinonen
Taneli Heinonen has been part of the DfG teaching team since 2015. He is an independent consultant helping clients understand people as social and cultural beings instead of mere numbers on a spreadsheet. He also teaches methods of service design and ethnographic customer insights in Laurea University of Applied Sciences. He's previously worked for a strategy consultancy Gemic and a service design agency Diagonal (currently known as Hellon). Taneli believes in the integration of rigorously built insights and persistent creative work.
www.taneliheinonen.com
Hella Hernberg
Hella has been a core teacher of DfG between 2014-2018 and back now in 2022. She is an architect and designer who runs Urban Dream Management, a strategic design practice striving towards creative and sustainable cities. She is currently pursuing doctoral studies at Aalto University's Department of Design.
Previous and occasional teachers
Anni Leppänen
Anni Leppänen tutor for DfG 2021 and 2019, visiting lecturer, and alumni of DfG 2015. Anni has been working as a strategic designer in Finnish government digital transformation at D9 team and Tax Administration, now she works at the City of Helsinki. https://twitter.com/annilepp
Idil Gaziulusoy
Idil is a visiting lecturer in DfG on the topic of systems thinking and change. She is Professor of Sustainable Design at the Department of Design, Aalto University, and a pioneer in the emerging area of design for sustainability transitions. https://people.aalto.fi/idil.gaziulusoy
Ramia Mazé
Ramia Mazé has been DfG course leader between 2015 – 2020. As Professor of New Frontiers in Design at Aalto University, she specialized in the critical and participatory design of systems, services and products that alter social practices and public life. Previously, Sweden, she worked at Konstfack University College, at KTH Royal Institute of Technology, and at the national PhD school Designfakulteten. She has led several major interdisciplinary and international research projects and has worked as a professional designer in the EU and US.
Juha Kronqvist
Juha has been a core teacher of DfG between 2014-2017. He is a senior service designer at Hellon, and he frequently gives lectures at Aalto University. www.juhakronqvist.fi
Seungho Lee
Seungho Lee was a teacher in DfG from 2014-2019. While he was a designer and researcher residing in Helsinki, he initiated the Design for Government course. As a designer, he worked for the strategic design unit at the Finnish Innovation Fund Sitra and as an associate for the nordic think tank Demos Helsinki. He is currently completing his doctoral studies at Aalto University. www.seungholee.com
Tania Rodriguez
Tania Rodriguez is a visiting lecturer on the DfG course. She is a part of Aalto University's Visual Communication Design doctoral research group. Her research focuses on second language learning through design methods to foster independent and sustainable learning. tania.rodriguez@aalto.fi
Teaching Assistants
Tessa Dean, teaching assistant 2021
Eeva Lehto, teaching assistant 2020
Riina Ruus-Prato, teaching assistant 2019
Petra Leino, teaching assistant 2018
Emma Berg, teaching assistant 2017
Paula Karlsson, teaching assistant 2016