Project description
Finland is currently undergoing a profound digital transformation. The Ministry of Finance is preparing a national program for artificial intelligence (AI) at the same time as national information policy and a new Information Management Act are underway. Through such initiatives, significant growth in GDP and employment are projected. Goals for AI encompass and reach beyond growth, digital advancement and efficient administration of public services – the aim is to enable transformation toward a people-oriented and proactive society. Focus is on people's real-life events such as milestones in education, family life, employment, etc. For people managing their life events, services should be provided seamlessly through AI across public organizations and businesses. AI would need ensure privacy, security and ethics while crossing boundaries of institutions and sectors, public and private, national and local. This project is a close collaboration with the ministry team and national network preparing and communicating the AI program for the coming 76th Government of Finland.
Read more about the process in the blogs!
This project was showcased during the 2019 Final Show.
Student proposals
Aurora: a Network for Trust
project by Mia Aintila, Molly Balcom Raleigh, Dian He and Mirko Wittka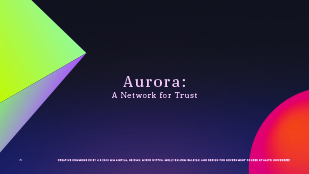 Life Event Pattern for Aurora AI
project by Eva Duran Sánchez, Christopher Gros, Nehal Jain, Nina Karisalmi and Hoai Van Chu