Project description
Many companies view customer satisfaction as a competitive advantage. Achieving customer satisfaction means respecting laws, including those protecting against false advertising, safeguarding of minors, securing warranties and customer privacy. 2018 marked 40 years of the 'Consumer Protection Act' in Finland. However, a recent EU study reveals that familiarity with consumer law among businesses and consumers in Finland has declined, which can put consumer trust at risk. The task of the Finnish Competition and Consumer Authority (FCCA) is to provide instructions, advice and information on consumer law. A goal of FCCA is increase knowledge, interest and investment in consumer rights, from early on in product planning, design and sales through ongoing customer support, service and product disposal. The biggest challenge seems to be small to medium-sized businesses. This project investigates why this is and how to boost consumer rights among businesses. Can consumer satisfaction, including laws, ethics and rights, be the new competitive edge?
Read more about the process in the blogs!
This project was showcased during the 2019 Final Show.
Student proposals
Unriddled.
project by Yu Chen, Shen LiangYan, Aino Piirtola and Natalia Villaman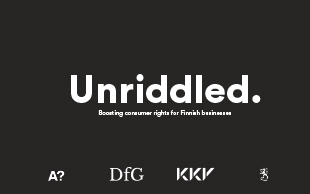 Consumer Rights Covered
project by Tiina Alanko, Linh Duong, David Martens, Jiyoung Son and Xuyang Zhang