This blog post reports on work-in-progress within the DfG course! The post is written by the students addressing with the Finnish Competition and Consumer Authority's brief on 'Boosting Consumer Rights': Aino Piirtola, Natalia Villaman, Karin Fröhlich, Shen LiangYan, Yu Chen, David Martens, Jiyoung Son, Linh Doung, Tiina Alanko and Xuyang Zhang. This makes 10 students working in two groups (collectively, a 'supergroup'!) spanning six different nationalities and seven different study fields.
---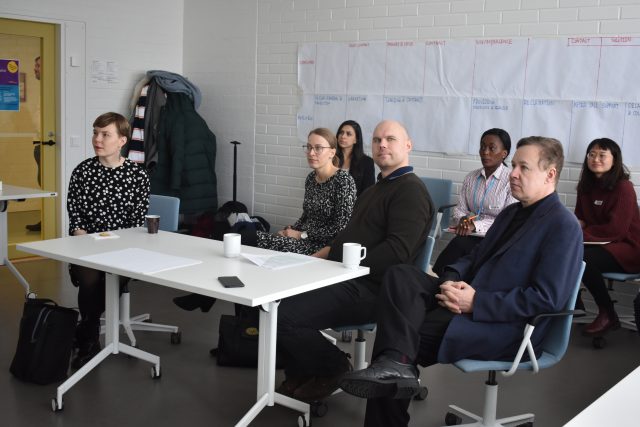 The workshop is about to start! In the front are our key stakeholders Nina Jokela from FCCA, Marjut Kaaristo from FFE, Sakari Seppälä and Esa Soukka from FCCA. (Photo by Jiyoung Son)

On Tuesday, Mar 5, our super-consumer-rights-group had the first workshop with the key stakeholders: Finnish Competition and Consumer Authority (FCCA) and Federation of Finnish Enterprises (FFE). During the two-and-a-half-hour long session, our mission was to dive deeper into the project brief and gather information on how could we actually help in boosting consumer rights for Finnish small and medium sized businesses (SMBs).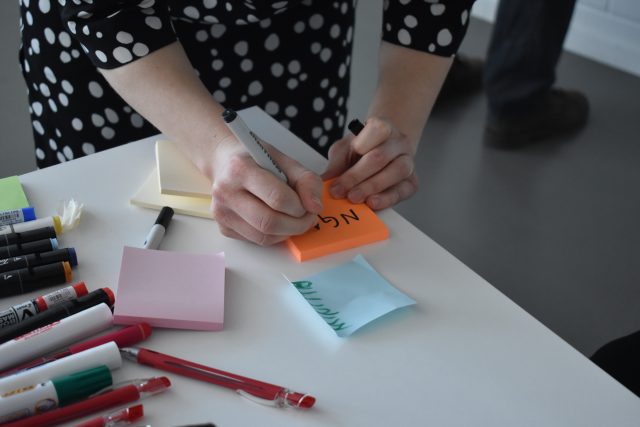 Stakeholder mapping: Which other organisations should we take into account with our project? (Photo by Jiyoung Son)

Before the workshop, the team had time to take a closer look at the project brief, which seemed rather clear: there has been a decline in compliance of consumer rights among companies, and the FCCA wants to find out how to boost them again. The reasons for why companies do not pay that much attention to consumer rights are only speculations though, such as high focus on the General Data Protection Regulation (GDPR) or increased amount of foreign e-commerce businesses without profound knowledge on the matter. Moreover, no data has been gathered on the benefits of consumer rights compliance. Our job hence is to figure out how to make a solid point of consumer rights for the companies who do not put too much focus on them at the moment.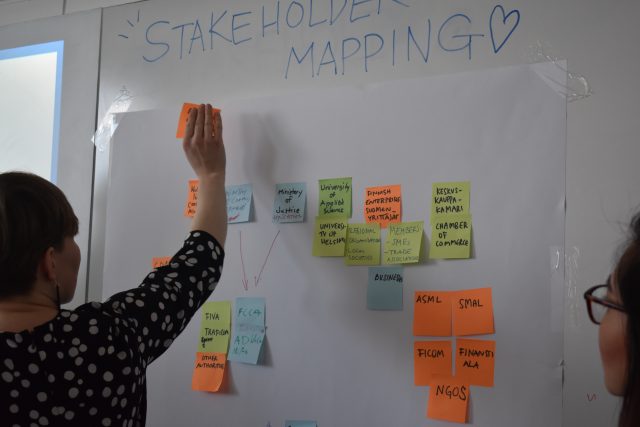 Finalizing the work: all stakeholders listed. (Photo by Jiyoung Son)

Why are consumer rights important then? This is a tricky question! One stated that consumer rights are important because in the end we are people, not only pieces in a decision-making puzzle. Another highlighted the fact that control of consumer rights affects the markets positively and keeps the competition fair and square. As finding a suitable answer for such an important question seemed tricky, we thought that we could put more emphasis on this as well – how to argue for why consumer rights matter for SMBs that the two organizations aim to influence.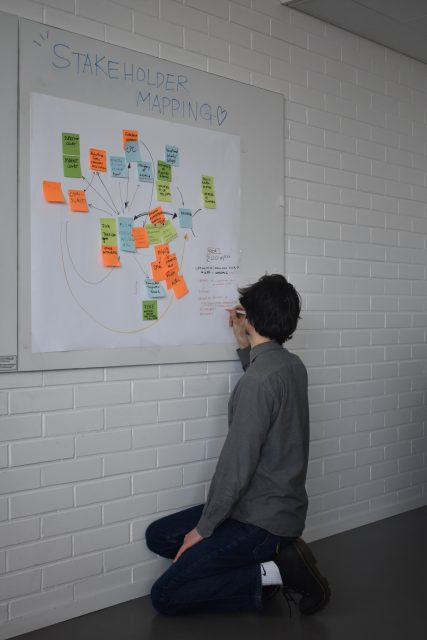 One of our team members drawing connections between stakeholders. (Photo by Jiyoung Son)

Although the workshop was extremely fruitful in finding out what the ones who wrote our project brief thought about the problem space, it left us with some unanswered questions. During the upcoming weeks, our focus is on learning even more and understanding the context even better. Next, we'll divide into two smaller groups, work on our initial research questions and start with the real work. More about the projects coming up around our mid-review on April 2!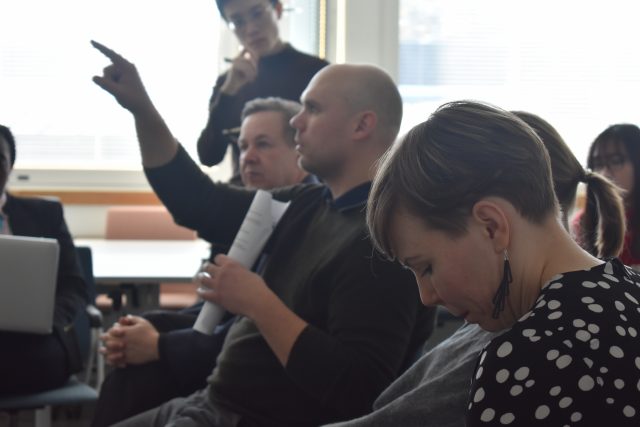 Moving on: Our key stakeholders discussing about the consumer rights processes. (Photo by Jiyoung Son)

---
The DfG course runs for 14 weeks each spring – the 2019 course has now started and runs 26 Feb to 21 May. It's an advanced studio course in which students work in multidisciplinary teams to address project briefs commissioned by governmental ministries in Finland. The course proceeds through the spring as a series of teaching blocks – Human perspective, Systems perspective and Intervention perspective – in which various research and design methods are applied to addressing the project briefs. Blog posts are written by student groups, in which they share news, experiences and insights from within the course activities and their project development. More information here about the DfG 2019 project briefs. Hold the date for the public finale 09:00-12:00 on Tuesday 21 May!