This blog post reports on work-in-progress within the DfG course! The post is jointly written by the two groups addressing the Ministry of Finance's project brief. The groups include Mia Aintila from the Language Specialist Program (English) at University of Turku, Hoai Van Chu from Aalto's International Design Business Management, He Dian, Eva Duran Sanchez and Mirko Wittka from Aalto's Creative Sustainability program, Christopher Gros, Nehal Jain and Molly Balcom Raleigh from Aalto's Collaborative and Industrial Design program, and Nina Karisalmi from Strategic Usability Research group at Aalto University.
---
'Empowering Citizens through Artificial Intelligence' is this year's challenge from the Ministry of Finance to re-think and design a proactive society, supported by an ecosystem of interconnected services that are tailored to people's life-events. As the Finnish government commits to working towards the application of artificial intelligence at a national level, a digital assistant to drive the public sector in this direction is starting to form: AuroraAI.
Within the first week of the course, within the block "Human Perspective", we studied the brief and prepared a workshop with the first key stakeholders. The objective of the workshop was to obtain key insights from the attendees to let us further explore, frame and scope the project and the possibilities for AuroraAI. We planned the workshop through collaborative and meaningful interactions between both stakeholders and students.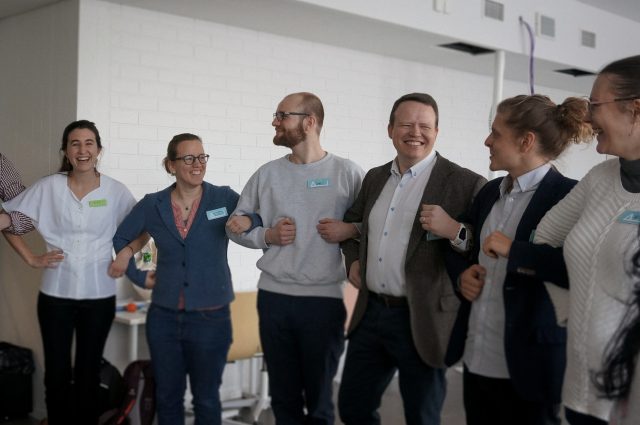 Photo: Dian He
Our stakeholders included Niko Ruostetsaari, Coordinator for Public Sector ICT, and Aleksi Kopponen, Special Advisor for Public Sector ICT, both from the Ministry of Finance; Tomi Kytölä, Senior Officer, Ministry of Education and Culture; Vesa Silfver, Public Sector and Healthcare Management Consulting Lead, Accenture, and Susanne Miessner, Design and Prototyping Lead, Inland Design at Migri. Creating an inclusive and open atmosphere is essential for a successful workshop. Our opening session allowed the participants to get to know each other briefly on both a professional and a personal level through verbal sharing and physical interaction.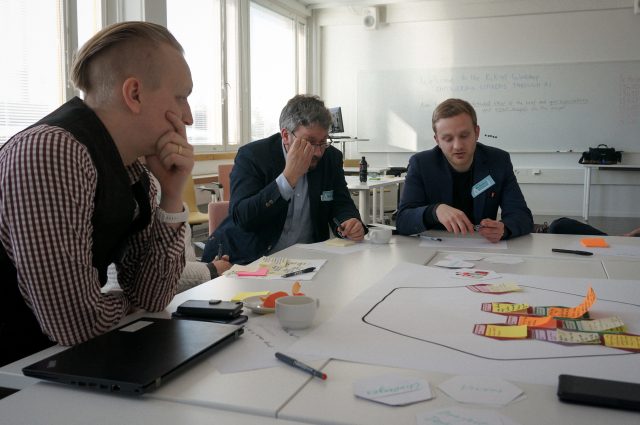 Photo: Dian He
The backbone of our explorative workshop was the co-development board game ATLAS. This playful approach helped us in guiding the participants, both stakeholders and students, towards a common understanding of the project brief while giving space to express respective agenda and vision, but also perceived challenges and concerns. From basic definitions of aims within AuroraAI to societal bias towards artificial intelligence, to collaboration between involved private and public parties, to concepts of multidimensional well-being – the topics discussed gave us a joint preliminary framework to kickstart the individual project development within the two groups.
"In a short period of time you seem to have grasped the vital themes and questions. It triggered good conversations and ideas that I believe you'll find very useful."– post-workshop feedback from a stakeholder via online questionnaire
Thorough preparation is essential, especially if time is limited and complexity high. This not only includes designing the explicit activities and elements of the workshop but also communication beforehand, guiding the visitors to the venue, providing drinks and snacks, or facilitating dialogue and opposing views between different stakeholders. Still, reality will always be different from what was drawn out on paper. You have to be flexible enough to reorganise on the fly in case not everyone shows up in time or at all. Besides those organisational challenges, providing information in the form of pre-briefing and reporting after the workshop is important to make sure everyone is on the same page and relations are strengthened.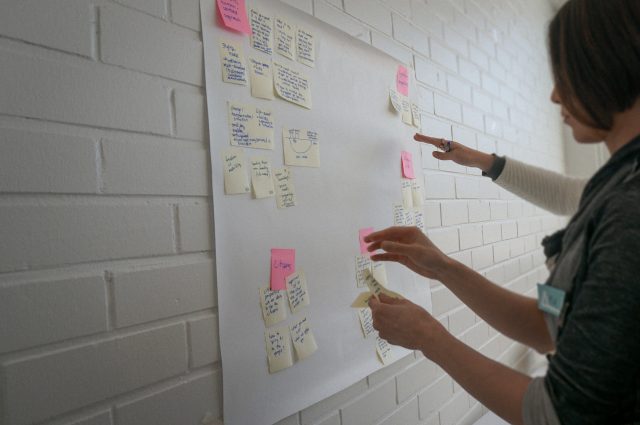 Photo: Dian He
The post-workshop meeting within the supergroup gave space to review our preliminary findings. Individually, the two groups then picked up further and started outlining directions for the ongoing project research. This then allows drafting a complete project plan including perceived commissioner goals, a set of research questions, enriched stakeholder maps, and actual activities for research and project execution. After the third week of the course, the human perspective module will be finished and we will proceed to tackle our project from systems, intervention, and proposals perspective.
Stay tuned to see all the updates! We hope you are as excited as we are to see how this develops further – is this the origin of the seed that will change how people interact with artificial intelligence?
---
The DfG course runs for 14 weeks each spring – the 2019 course has now started and runs 26 Feb to 21 May. It's an advanced studio course in which students work in multidisciplinary teams to address project briefs commissioned by governmental ministries in Finland. The course proceeds through the spring as a series of teaching blocks – Human perspective, Systems perspective and Intervention perspective – in which various research and design methods are applied to addressing the project briefs. Blog posts are written by student groups, in which they share news, experiences and insights from within the course activities and their project development. More information here about the DfG 2019 project briefs. Hold the date for the public finale 09:00-12:00 on Tuesday 21 May!