This blog post reports on work-in-progress within the DfG course! The post is written by one of the two groups dealing with the Ministry of Finance's brief on citizen empowerment through AI. The group includes Hoai Van Chu from Aalto's IDBM program, Eva Duran Sanchez from Aalto's Creative Sustainability program, Christopher Gros and Nehal Jain from Aalto's Collaborative and Industrial Design program, and Nina Karisalmi from Aalto's Strategic Usability research group
---
After few lectures on ideation and behavioural interventions, we embarked in a three-week process to narrow down the scope of our action and response to the brief.  At the same time, we conducted our last user-journeys with entrepreneur migrants that had moved to Finland to start their business and we had gathered all of them to envision how our proposal could benefit the many overlapping life-events that migrants face.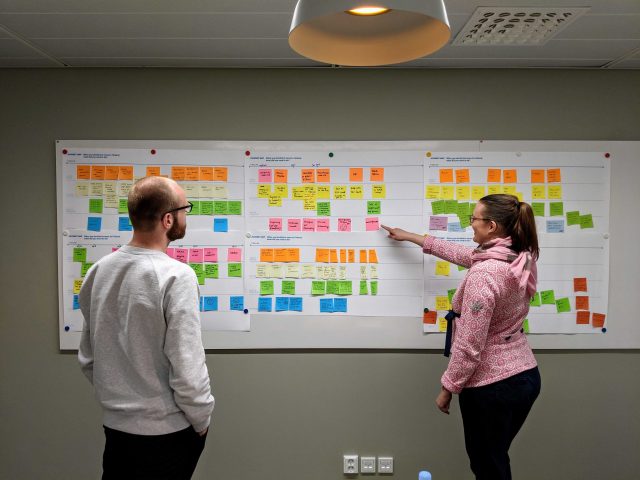 We had a couple of ideation exercises in which we tried to find a more concrete solution to the main driver: how might we empower civil servants to co-define what life events entail and how to include them in their daily work practices? From many varied ideas, we decided to direct our process towards the concept of "life-events" templates, dynamic and evolving guidelines of a specific moment. The aim of these templates is to support and re-frame the way in which service providers work at the moment, and to trigger a change of mindset towards all the smaller events that are connected to a big event such as migration.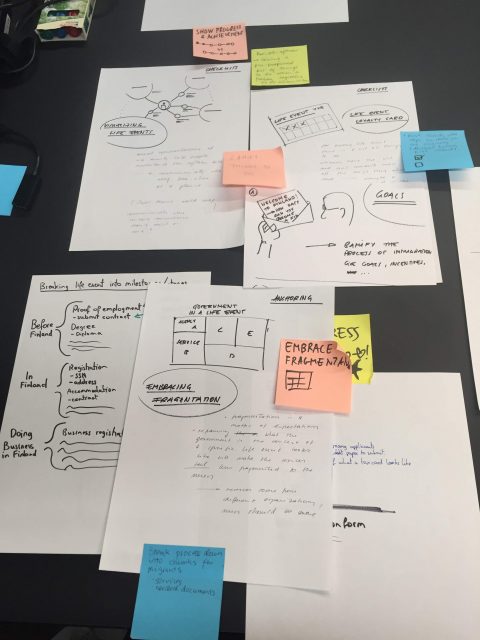 Before going into the specific details on how would such templates work for civil servants and in which form they would be accessible for migrants, we are still tackling one of the most important questions: how can the civil servants across all governmental agencies work with the concept of life event instead of separated and fragmented actions?
Our next steps will be benchmarking and validating our proposal with key stakeholders, as well as starting the 4th phase of the course: Communications.
---
The DfG course runs for 14 weeks each spring – the 2019 course has now started and runs 26 Feb to 21 May. It's an advanced studio course in which students work in multidisciplinary teams to address project briefs commissioned by governmental ministries in Finland. The course proceeds through the spring as a series of teaching modules in which various research and design methods are applied to addressing the project briefs. Blog posts are written by student groups, in which they share news, experiences and insights from within the course activities and their project development. More information here about the DfG 2019 project briefs. Hold the date for the public finale 09:00-12:00 on Tuesday 21 May!
---