Project description
National hiking areas in Finland are state-owned lands that play a key role in developing activity-based outdoor tourism. The areas are productive land with multiple uses and users, including sustainable tourism, nature-based activities and events, local business services and landscape ameneties. They are distinct from other categories of land use in Finland such as commercially-used forests and national parks – hiking areas are not primarily for commerce nor for conservation, but fall in-between. Both social and environmental sustainability are key. This 'in-between' quality has made it difficult to clarify and communicate the unique profile, services and possibilities of the hiking areas. It is up to the Ministry and Agriculture and Forestry on how Metsähallitus should proceed to develop the hiking areas. Is it merely a question of marketing, profiling or new activities/services and land uses? What needs to be renewed, what is lacking? What is the future?
This is a visionary project with near-term and real impact – Metsähallitus is launching a project for developing the state hiking areas in early 2018. This is an opportunity for DfG students – working in parallel, there can be fresh energy and perspectives to fuel action. The ministry invites DfG to explore the needs and demands of nature travel in the next 10 to 20 years and the role of the state hiking areas!
Read more about the process in the blogs!
This project was showcased during the 2018 Final Show.
Student proposals
Eventful Forest
project by Aleksandra Anikina, Juliane Fuchs, Hsiao-Pei Liao, Gautam Vishwanath, Larissa Weiner and Joel Wolff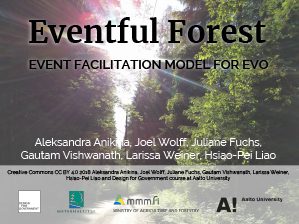 Exploration Areas
project by Ming Unn Andersen, Abigail Garbett, Mengxiao Li, Riina Ruus-Prato and Andreas Sode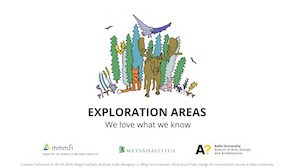 ELEVATE: Re-organizing the Hiking Area process for civil servants
project by Andrea Gilly, Katariina Kantola, Hye Jin "Jinny" Kim and Ada Peiretti