This blog post reports on work-in-progress within the DfG course! The post is written by group 2B dealing with the Ministry of Traffic's brief on Accessible Traffic Chains. The group includes Carlotta Carvalho from Collaborative and Industrial Design program, Giorgia Morandi from the Creative Sustainability program, Pai-Feng Chen from Collaborative and Industrial Design program, and Ruth Kupiainen from International Design Business Management program.
Written by: Pai-Feng Chen
We believe that empathy is the core to successful design outcomes in any project. Therefore, for the past two weeks, we have been moving forward as a supergroup to understand the diverse narratives and perspectives of our project brief, in collaboration with our partners. Together, we unfolded the complexity of their organizational structure through a roundtable and interviews.
Motivation of local service providers
Developing accessible travel chains is not just a requirement for the EU member states but also a crucial goal of providing an inclusive national traffic system. Our project brief, as well as our discussion with our partners has revealed that achieving success in this endeavor goes beyond national planning, funding, and legislation. The involvement and the tacit knowledge of local service providers who interact with end-users on a daily basis is not only essential but also the foundation to the project's success. As Jaakko Rintamaki from FinTraffic (Traffic Management Company) aptly stated: "Law is not a quick way of organizing things, but it can provide a minimum level of legislation to set the stage, and from there we can move on to implement quality aspects."
In other words, regulation is only a start. The quality of the project will depend a lot on the level of motivation among service providers. Therefore, the challenge for us is to find a way to align and communicate the value of each service provider in the system to transform their roles from a passive reactor to a proactive actor in this project. By finding out how to shift their roles, we want to establish a sustainable relationship between the governmental body and the service providers, resulting in an optimal travel experience for end-users, catering diverse need of users.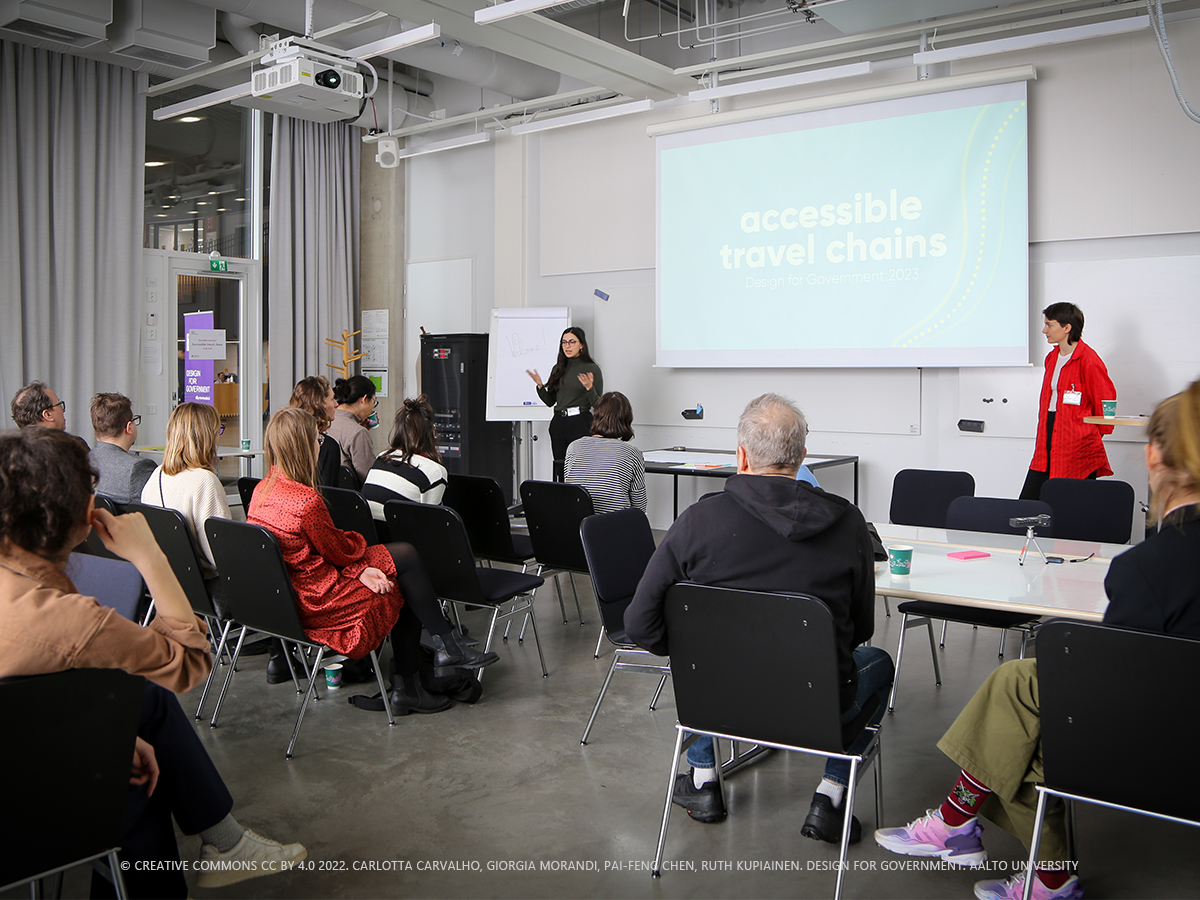 Our first session with our partners to build connection as well as understanding in each other and the project brief.
Communication discrepancies: How to construct accessible transport?
Conveying a complex systemic plan to different stakeholders to co-build a multi-faceted service is never an easy task for anyone, and in our case, it is especially true. During our workshop sessions with our partners, we realized there might be a discrepancy in understanding of the project among partners from different areas. The underlying problem is the complex context: The differences in communication dynamics between the government and organizations. This includes communication plans, the role of each organization, material infrastructure, current situation, legislation, and so on. In practice, each organization interprets the same plan through their own lens based on what they have and what they aim to produce, resulting in different requirements and expectations. This makes it so that while the decision-making bodies figure out steps forward for a particular project, local providers demand practical guidelines to follow. This can be observed in the discussions with project partners; Janne Lautanala from Fintraffic, pf of our partner service providers, asked, "And how can we realistically achieve that and have a kind of step to plan?" Taina Saarinen, a travel specialist from Traficom (Finnish Transport and Communication Agency), a decision-making organization, a partner decision-making organization, expressed, "I'm really looking forward the international benchmarking, especially because we really need to have the national vision for accessible transport system by October." Acknowledging that complexity might bring discrepancies in communication turned out to be crucial for our project. From this moment on, we will keep looking into how to overcome challenges posed by our complex context so that we could build a service free of communication barriers.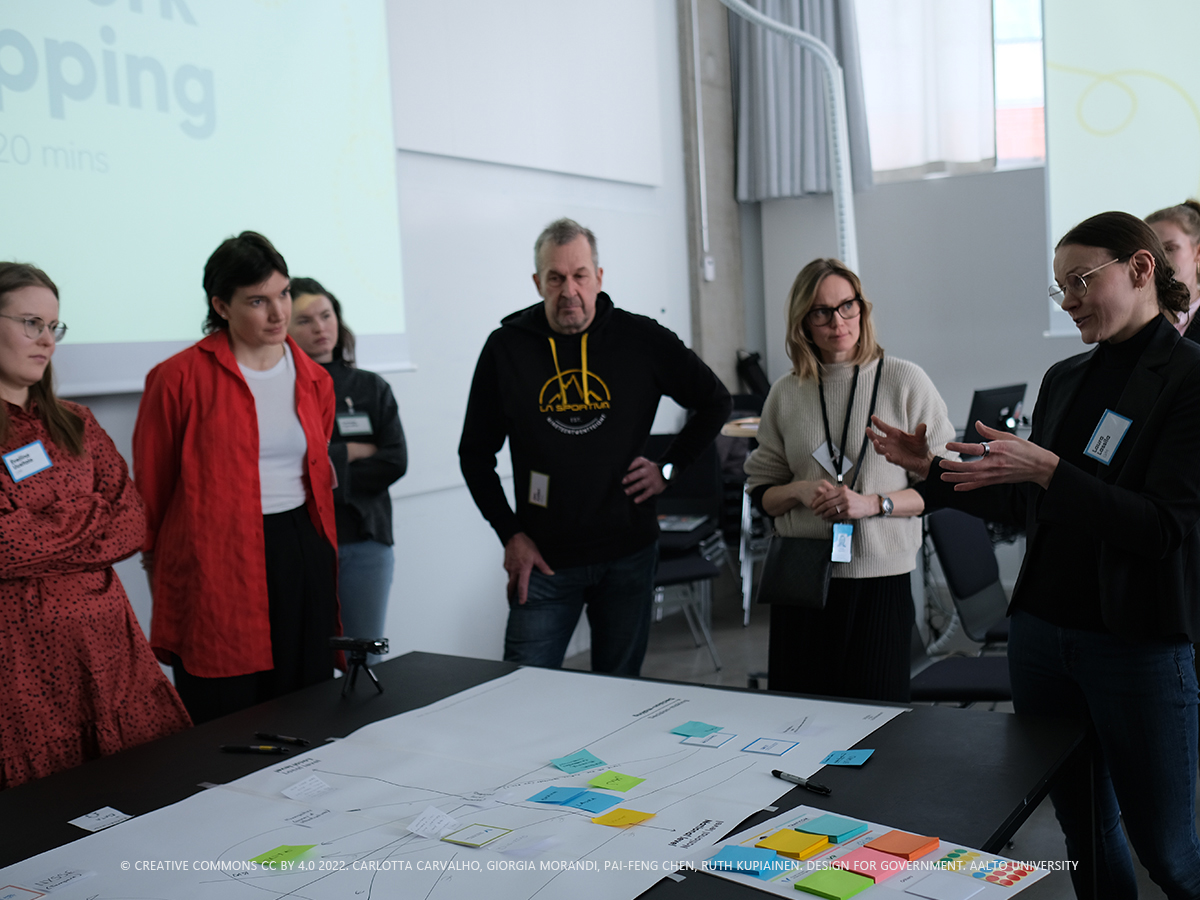 Laura Lassila from LVW explains communication between organizations from her perspective.
A system focusing on users' evolving needs.
When it comes to traffic systems, users are the ones who matter most. As we began our project, we asked our partners a fundamental question: Who should be part of the accessibility group? Laura Lassila from LVW (Ministry of Transport and Communications) captured the spirit of our vision perfectly and set the framework for this project when she said:
"My vision is that it would be services for all, and people would not be grouped."

– Laura Lassila, LVM 2023
As a group, we are aware that translating this saying into our design process and next steps won't be an easy task. It could be easy to get lost in the organizational requirements, political dynamic, etc. and lose the focus on users. While keeping in mind that design is inherently political, we must never lose sight of the fact that listening to users and emphasizing their ever-evolving needs is one of the keys to the success of accessible transport. Additionally, with constant changes occurring, such as demographic shifts in different regions and technological advancements, it is crucial to go after a dynamic system that can adapt to different circumstances. Laura's reminder to the group, the fact that "…in the system level, it should be the focus: what is needed in the future." reinforces the importance of keeping users' needs at the forefront of our minds.
What's next?
While there are still unknowns to be uncovered in the research process, we're embracing the uncertainty and exploring the diversity of stakeholders and their roles in this project. We're confident that as we gather more knowledge, we can identify the critical pain points that need addressing and determine where we should put our focus in the next research phase.
References:
Service Design Network. (2019, December 24). SDGC 19 | Dr. Josina Vink: In/Visible – Shaping Hidden Social Structures Through Service Design [Video]. YouTube.
Lewis, J. M., McGann, M., & Blomkamp, E. (2020). When design meets power: design thinking, public sector innovation and the politics of policymaking. Policy and Politics, 48(1), 111–130. https://doi.org/10.1332/030557319×15579230420081
Kieboom, M. (2023, March 7). Blog 4 — Shapeshifting Design: Imagining an intersystemic space for public service transformation. Medium. https://medium.com/publicsystemicdesign/blog-4-shapeshifting-design-imagining-an-intersystemic-design-practice-for-public-service-b53a419d9265
The DfG course runs for 14 weeks each spring – the 2023 course has now started and runs from 27 Feb to 31 May. It's an advanced studio course in which students work in multidisciplinary teams to address project briefs commissioned by governmental ministries in Finland. The course proceeds through the spring as a series of teaching modules in which various research and design methods are applied to address the project briefs. Blog posts are written by student groups, in which they share news, experiences and insights from within the course activities and their project development. More information here about the DfG 2023 project briefs.