This blog post reports on work-in-progress within the DfG course! The post is written by group 2C working with the Ministry of Transport and Communication's brief on 'Accessible travel chains'. The group includes Callisté Mastrandreas from the CS Design program, Jingchun Zeng from the CoID program, Greta Cappellini from the CS Design exchange program, and Sara Rynefors from the CS Design program.
Written by: Callisté Mastrandreas
As the 2023 edition of Design for Government kicks off, our group was presented with the opportunity to envision a more inclusive and equal future for the public transport chains in Finland. During the first two weeks of the course, we started to unfold the brief, understand the complex present situation with some of our stakeholders, and learn about policymaking, anticipatory planning, and networked governance.
Zooming in and zooming out: Complex contemporary problem and human-centred perspectives
The challenge we face is made of multiple layers, and our understanding of the issues related to public transport chains in Finland keeps growing as we go.
Public transport connects people in their everyday life, allows for vivid social life, it also supports businesses and secures job. At the same time, it has a great impact if we look at the bigger picture too; in fact, public transportation can be an alternative to travelling more sustainably and mitigating climate change.
We used our first weeks to zoom in and out, circle around the brief, frame the problem, and define our research questions: Here, one of our biggest challenges will be to imagine a model of collaboration between all the stakeholders from the public and private sectors. A fruitful collaboration would answer most effectively the user's needs. But what are the users' needs now and in the future?
"We must therefore look into developments in design practice that meet changes in governance and what it means to be a citizen. In this, the relationship of public and private sectors becomes progressively more complex, as do the design frameworks and methods that are employed."

– (Julier, 2017)
Anticipatory Innovation, Human time scale and uncertainty
"Without visions of the future, our action is diluted to reactions"

– Demos Helsinki, 2023
Policy-making is all about thinking of the long-term future. However, in modern democracies, elections' schedule doesn't necessarily encourage long-term vision, and politicians tend to react or adapt rather than anticipate (OECD, 2022). So, how can we tackle this issue?
Future studies aim to empower citizens through participation. By integrating long-term visions at institutional levels combined with an effective feedback system, future studies actively try to redefine the notion of citizenship.
One of our visitors these past two weeks, Vera Djakonoff (Demos Helsinki), works with future thinking. During her discussion, we learned that one way to understand a complex issue is through trends. This way, we can understand cultures, anticipate risks, events and developments even in a longer timescale.
In our case, the ageing Finnish population is a "mega-trend" that helps to draw the importance of the issue in the near future. As Janne Lautanala from Finntraffic mentioned during our roundtable discussion, we are the future users in need of this accessible design.
Indeed, a look at the population structure on the Finnish Institute for Health and Welfare shows a share of 22 per cent of the population already aged over-65-year-olds. The prevision forecasts an increase of up to 26 per cent by 2030 and 29 per cent by 2060.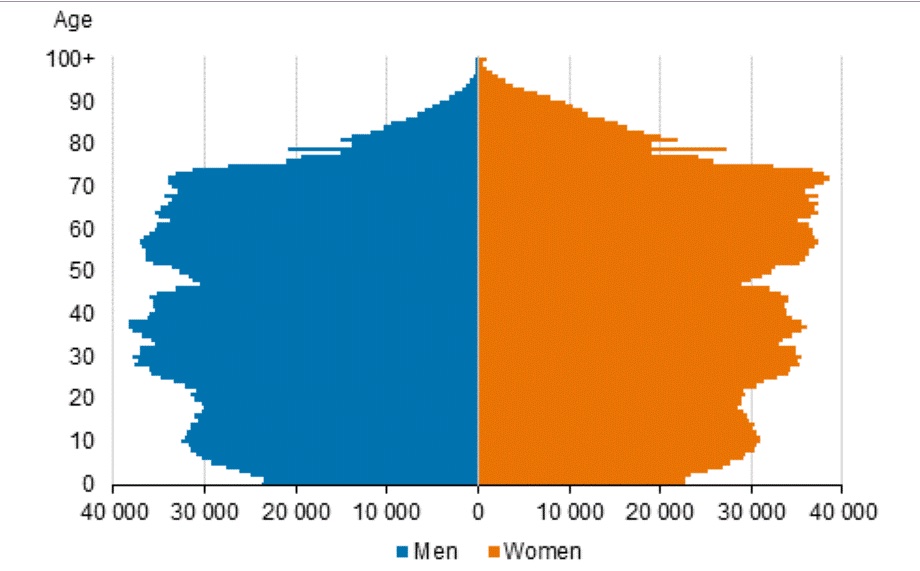 Population according to age (1 year) and gender 2020 (Statistics Finland). Population structure data is available from the Statistics Finland website also in table format and as an excel file. Statistics Finland website
Assumptions, bias and lenses
"Every policy designed and delivered carries implicit or explicit notions of the context in which it will be implemented, the intended consequences, and its potential effectiveness. Often these notions are based on expectations, forecasts, predictions, and assumptions – mental models – about what the world will look like and how it will work"

– (Wack, 1985)
From theory to practice – First roundtable with our partners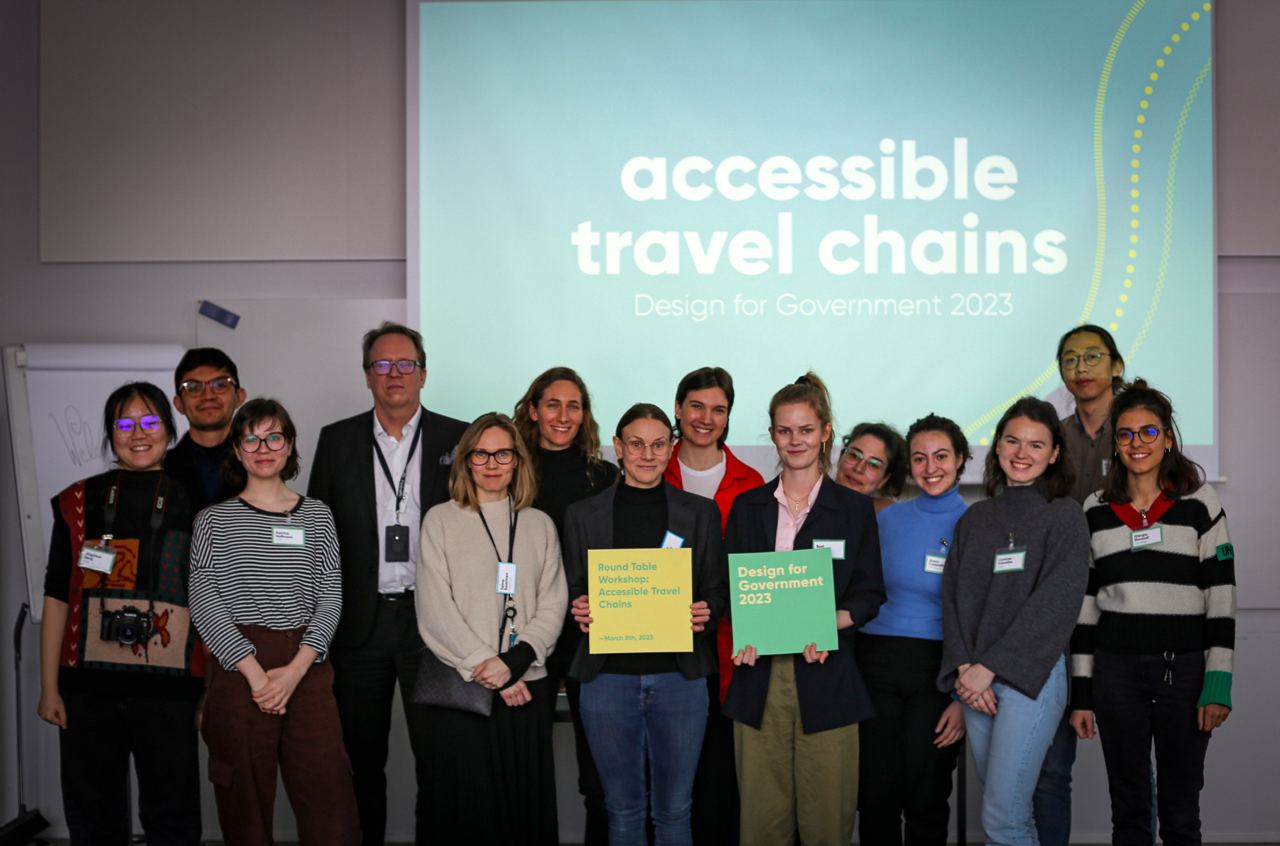 As a first design intervention, we met with some of the actors of the public transport system in Finland asking them for their insight on the network, decision-making processes, and views of the challenge at hand.
We prepared for this roundtable with the two other groups working on the same topic. We had a very nice collaboration as a super-group and after a lot of debates and organization, we had a plan, with a role for everyone. We distributed the roles among students (visual and sound designers, main speaker, workshop facilitators, interviewers, trouble-shooters, photographs, notetakers…) to make sure things would go as smooth as possible for our first meeting with partners and ensure we could collect all the valuable information and data to continue our work.
The session allowed us to hear from experienced workers and highlighted the different takes on the issue from the different institutions represented at our roundtable. One interesting moment was the creation of a map where we asked our guests to draw the relations between themselves (see picture below).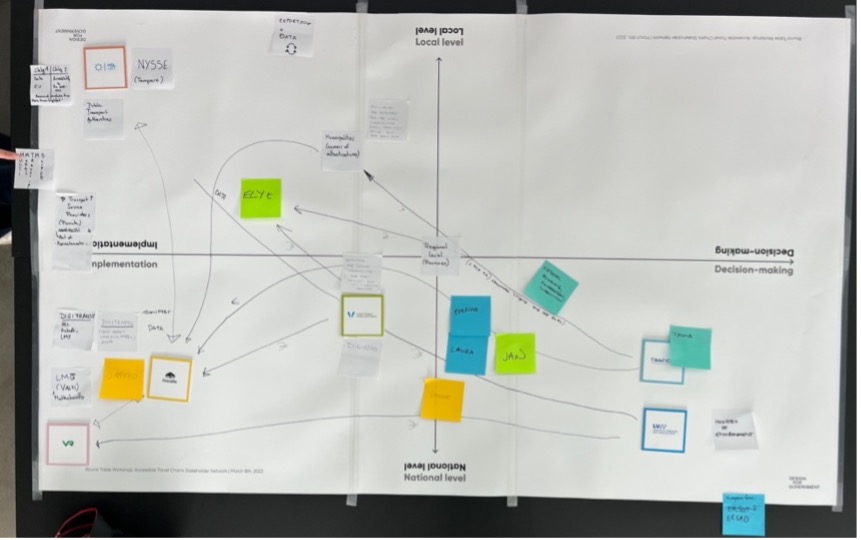 We can happily say that this roundtable session opened up our views to their perspective! In addition, it was a good way to dive immediately into the topic and experience what it is like to host a meeting with professional stakeholders.
To conclude, our two first weeks brought us a lot: we discussed how a design approach could bring a more human-centred perspective into a systemic issue to avoid falling into just managing a system or avoiding risks; we learned about future thinking, anticipatory innovation governance and its incentives and most importantly we dove into our project brief, met some of the stakeholders and started to plan our research actions!
We found a name for our research group: "the urban drifters", and we formulated our main research question: What would be the most valuable action to implement to improve the Public Transport Service for Everyone? Because, yes, working with accessibility means ensuring everyone is on board!
As our next stop on the road toward more accessible travel chains research, we will be gathering information focusing on the users-perspective through interviews and fieldwork.
Drifting to the futures,
The urban drifters
References:
Julier, Guy.(2017) Economies of Design, chapter 8, SAGE Publications. http://ebookcentral.proquest.com/lib/aalto-ebooks/detail.action?docID=5942904.
OECD (2022) Anticipatory innovation governance model in Finland: Towards a New Way of Governing. 1; Need for a new future-oriented model of governance. https://www.oecd-ilibrary.org/sites/a31e7a9a-en/1/3/1/1/index.html?itemId=/content/publication/a31e7a9a-en&csp=66eaf255f965fffb910ef76b7d20883d&itemIGO=oecd&itemContentType=book#chapter-d1e290
Wack, P. (1985), "Scenarios: Uncharted Waters Ahead", Harvard Business Review, https://hbr.org/1985/09/scenarios-uncharted-waters-ahead (accessed on March 2023).
The DfG course runs for 14 weeks each spring – the 2023 course has now started and runs from 27 Feb to 31 May. It's an advanced studio course in which students work in multidisciplinary teams to address project briefs commissioned by governmental ministries in Finland. The course proceeds through the spring as a series of teaching modules in which various research and design methods are applied to address the project briefs. Blog posts are written by student groups, in which they share news, experiences and insights from within the course activities and their project development. More information here about the DfG 2023 project briefs.