This blog post reports on our current work-in-progress within the DfG course! The post is written by Katrina Hoffmann, a member of group 2A, which includes Gabriel Fuentes from the Collaborative & Industrial Design program, Katrina Hoffmann from the Collaborative & Industrial Design program, Suvi Onne from the Creative Sustainability – Chemistry program, and Mina Rostami from the Creative Sustainability – Design program. Together, we work in collaboration with the Ministry of Transport & Communications' brief on 'how to make Finland's public transport system more accessible'.
Written by: Katrina Hoffmann
Being human does not boil down to one clear thing. We are constantly in motion, pieces changing and slotting together, creating a sense of 'self' to others as much as for our own benefit. No two people are the same. This also means that no two people have the same needs.
These differences in needs are something that Finland aims to continue to work on, and particularly the accessibility of the public transport system has the opportunity to improve (Joukkoliikenteen matkaketjut vammaisryhmien näkökulmasta, 2022). Together with two other groups belonging to the Design for Government course, we embarked on this journey alongside the Ministry of Transport & Communications. In the upcoming weeks, we will investigate what we might contribute to bringing Finland closer to the goal of accessibility for all in the scope and timeframe available to us.
This core task of 'accessibility for all' – our project brief – stems from the new National Transport System Plan, a long-term twelve-year plan for the guidance and development of transport in Finland as a whole (The National Transport System Plan for 2021–2032, 2021). Submitted to the parliament in 2021 (National Transport System Plan, 2023), it provides a strong foundation to act on as well as serving as an opening to get to work and start exploring our options.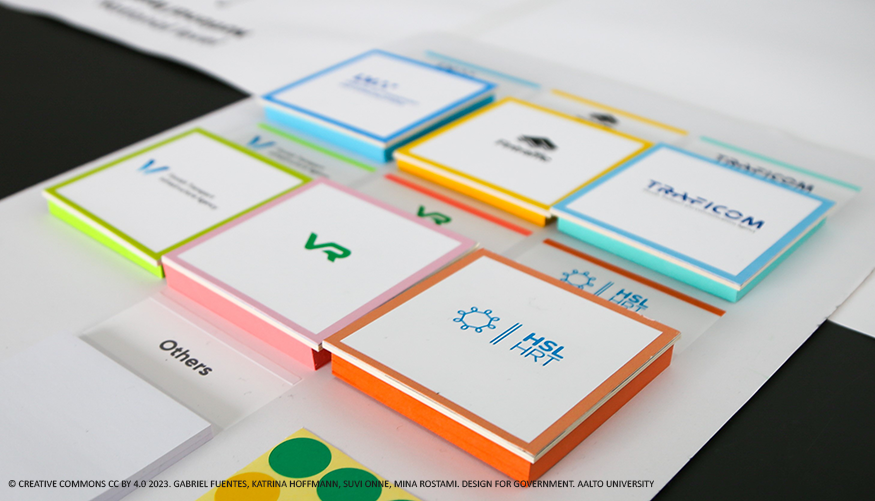 Representations of institutions and sticky notes as tools for the network mapping in the roundtable discussion.
Here we are, all together: the roundtable discussion
To know where to begin this exploration, we needed to properly understand our brief and make sure we were all on the same page about expectations and terms connected to the task at hand. To do this, we offered our partners an opportunity for co-creation: a shared roundtable discussion where representatives from the Ministry of Transport & Communications (LVM), Fintraffic, Traficom, and the Finnish Transport Infrastructure Agency (VÄYLÄ) were present.
The chance to have all these institutions in the same room gave us not only a greater understanding of where we were situated in our brief, but also allowed us to create a network map together. Taking a closer look at this map after the discussion made me think deeper about the meeting that had just happened between us designers and institutions. In a way, I had been wondering how much a design approach would be able to accomplish on a governmental level. Lewis et al. (2020) bring up and discuss the impact of design thinking in policymaking in practice and saw that it may not have long-lasting impact as it is used today, resulting in one-time projects or interventions that lose momentum. However, having experienced the roundtable myself, perhaps this opportunity to meet and notice where we align and where we fill each other's knowledge gaps is – at this stage of the project – a good enough base for building something worthwhile.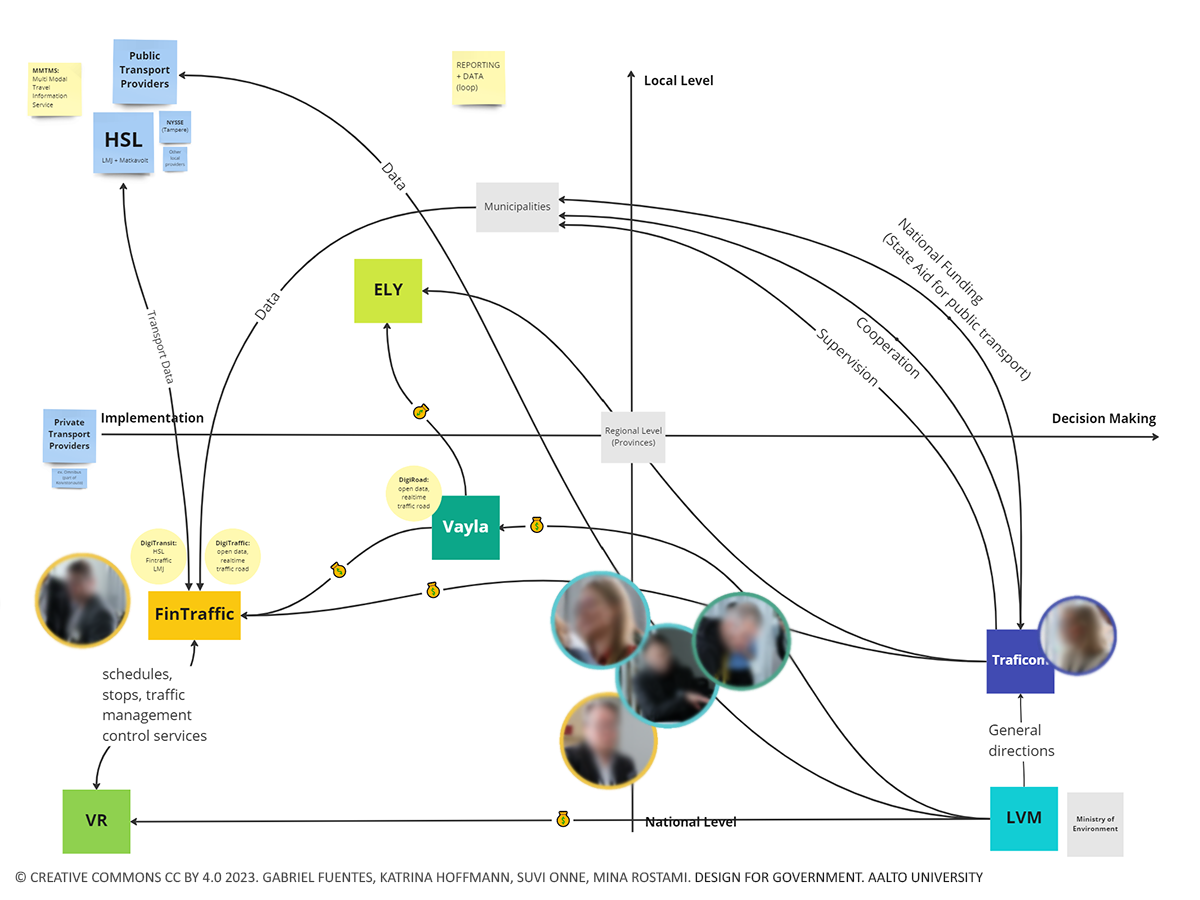 The resulting network map from the roundtable discussion, with links and position of our partners mapped out.
The Human in the institution – the institution in the human
This meeting between us 'designers' and 'institutions' was additionally important on a personal level: the fact that I made this distinct mental division in the first place. Not only this but while going over the transcripts and notes, each person 'represented' their institution in what they said and how they acted, whether they were students or partners. Of course, the idea of the roundtable discussion was to get insight into how everyone thought about the brief and the work ahead. But going back to the very beginning of this blog post, I would again anchor this to the notion of being human.
Our goal is to be human-centred in our thinking. This means that the needs of the individual and the very humans involved should be the focal point of our work. However, this example of all of us taking on a role for this roundtable discussion shows that leaving it as one individual filling one role is not entirely representative of our complex reality. Instead, one human fills many roles depending on the context. In the end, institutions and larger structures cannot be disregarded; rather, you need to find where the human is in the institution – and vice versa – to keep an outcome or process 'human centred.'
A mindset of accessibility
In line with the idea of a person fulfilling different roles depending on the context, the roundtable discussion cemented the goal of 'accessibility for all' rather than 'improved accessibility' for our group. While our project brief and talks with our partners so far have mentioned what measures can be used for accessibility in the transport system, we started to wonder if this knowledge is truly the crux of the issue. Should a person need to constantly check if they can use a public service? What need would there be for individual measurements and data on accessibility if all vehicles were fully accessible in the first place? All the stations? All the services?
What if accessibility was the absolute baseline rather than a law-abiding accommodation?
This is also the key question our group carries as we narrow down our research scope and continue with our investigation.
So, where do we go from here?
To tackle this in our project, we would need to combine the ability to see the human and the institution at the same time. While our approach to this part of the process has been human-centred, it has also become clear that these humans and the roles they take on need to be situated in the larger picture to fully understand them.
Indeed, even as I'm writing this, a personal update on the project so far, I am not writing this as myself. I am writing this as a student part of Aalto University. While each of us is constantly in motion, with pieces that slot together and form a sense of 'self,' perhaps the next phase of the course – which focuses on systems thinking – will allow us to properly situate all these individuals and thus institutions we've met so far, and the people and groups we are yet to meet.
References:
Joukkoliikenteen matkaketjut vammaisryhmien näkökulmasta—Esteettömyysdemon luonnos 7.11.2022 (p. 29). (2022). LVM – Liikenne- ja Viestintäministeriö. https://www.traficom.fi/sites/default/files/media/file/MatkaDEMO_yhteenvetohuomioistaAvaava.pdf
Lewis, J. M., McGann, M., & Blomkamp, E. (2020). When design meets power: Design thinking, public sector innovation and the politics of policymaking. Policy & Politics, 48(1), 111–130. https://doi.org/10.1332/030557319X15579230420081
National Transport System Plan: Towards an achievable, sustainable and efficient transport system. (2023, April 15). Valtioneuvosto. https://valtioneuvosto.fi/en/-/national-transport-system-plan-towards-an-achievable-sustainable-and-efficient-transport-system
The National Transport System Plan for 2021–2032 (p. 142). (2021). Finnish Government. https://julkaisut.valtioneuvosto.fi/bitstream/handle/10024/163391/VN_2021_77.pdf?sequence=1&isAllowed=y
The DfG course runs for 14 weeks each spring – the 2023 course has now started and runs from 27 Feb to 31 May. It's an advanced studio course in which students work in multidisciplinary teams to address project briefs commissioned by governmental ministries in Finland. The course proceeds through the spring as a series of teaching modules in which various research and design methods are applied to address the project briefs. Blog posts are written by student groups, in which they share news, experiences and insights from within the course activities and their project development. More information here about the DfG 2023 project briefs.