Project description
The Ministry of the Interior will set a strategy for the expatriate Finns for the years 2022-2026, which will be published in December 2021. This new strategy aims to explore the sustainable means that can increase participation of expatriate Finns in Finnish society (politics, culture, education, employment). It also looks to broaden the representation and inclusivity of Finns who live, plan to move or are returning from abroad. The DfG project aims to result in design concepts or a model for how to increase the participation, cooperation and communication of expatriate Finns with Finland.
There are around 2.000.000 persons that have roots in Finland, 300.000 that have Finnish citizenship and 254.000 that can vote (Statistics Finland, 2019). They lived mostly in Britain, Sweden, The United States and Spain. In the year 2019, 10.000 Finns moved abroad and 800 returned to the country. During 2020, and due to Covid-19 there were more Finns coming back than leaving. The most common reasons for moving abroad are marriage or work. Most of the Finns leave the country temporarily.
Creating the new strategy is a collaborative effort that will be done together with other ministries, governmental agencies, private sector representatives and the expatriate Finns. The Ministry of the Interior coordinates this work. The new strategy aims to inform policies across Finnish ministries and services, that can better support the employment, education, culture or voting abilities of those living abroad. The goals of this project align with the aims set in Sanna Marin's government program: building an inclusive and competent Finland.
Read more about the process in the blogs!
This project was showcased during the 2021 Final Show.
Student proposals
Check-in Finland
project by Chloe Pillon, Ruta Serpytyte, Kaisa-Maria Suomalainen and Liisi Wartiainen.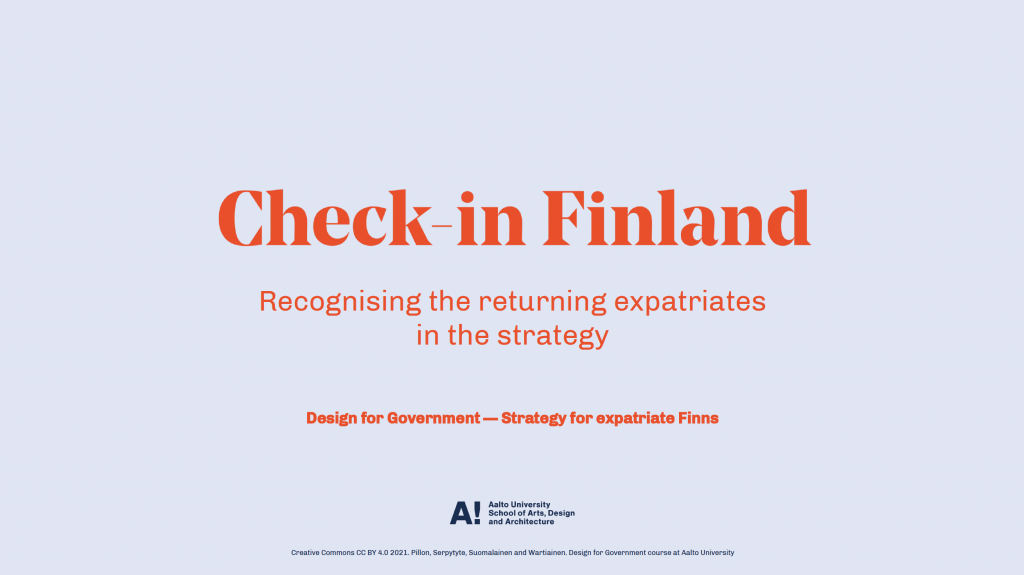 Strategy for Finns Worldwide
project by Hannah Roche, Amir Tahvonen, Savannah Vize and Shuaijun Zhang.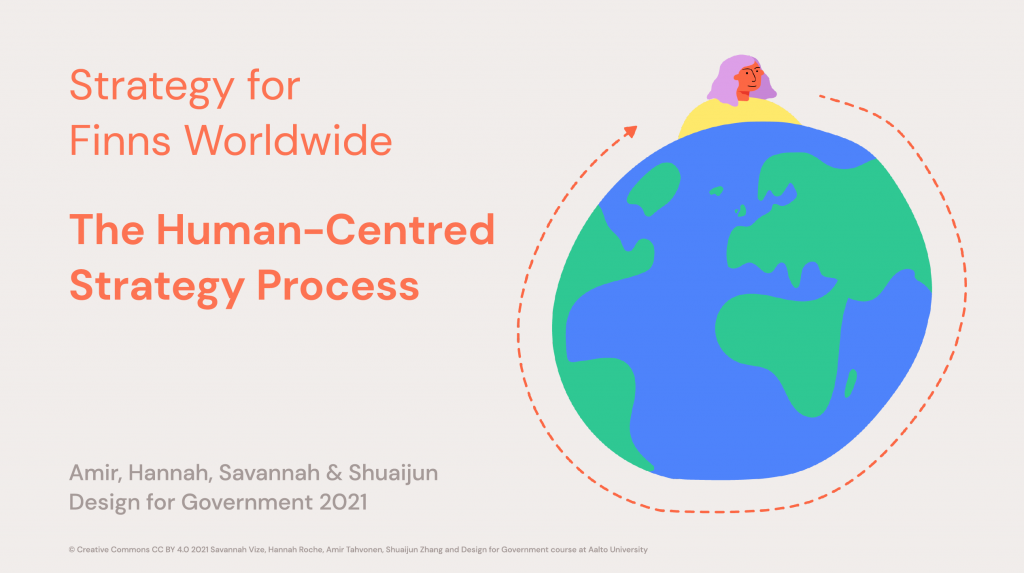 Understanding Young Expatriate Finns' Participation
project by Nicholas Colb, Lõmaš Kama, Phuong Nguyen and Mariela Urra Schiaffino.