These blog posts report on work-in-progress within the DfG course! The posts are written by groups

dealing with the Ministry of Interior's 

brief

on 'Strategy for expatriate Finns'. 
 —
Group 3A:

Rūta Šerpytytė and Liisi Wartiainen from Collaborative and Industrial Design program, Chloe Pillon from Creative Sustainability program, and Kaisa-Maria Suomalainen from Future Studies

 

program (University of Turku)

.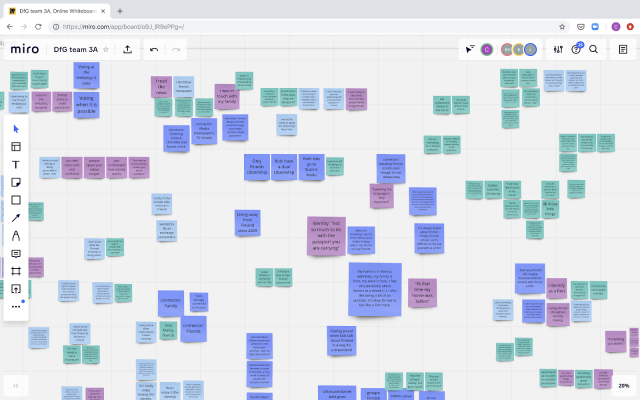 The Ministry of Interior aims to create a new strategy to increase the participation, cooperation and communication of expatriate Finns with Finland. Early April, we have been working on the brief for over a month and our team of four is now well acquainted with the issues surrounding expatriate Finns. In the last few weeks, we have been conducting a questionnaire, seven interviews and cultural probes. These methods enabled us to compare and classify these findings in order to refine our understanding of the system that surrounds the expatriate Finns.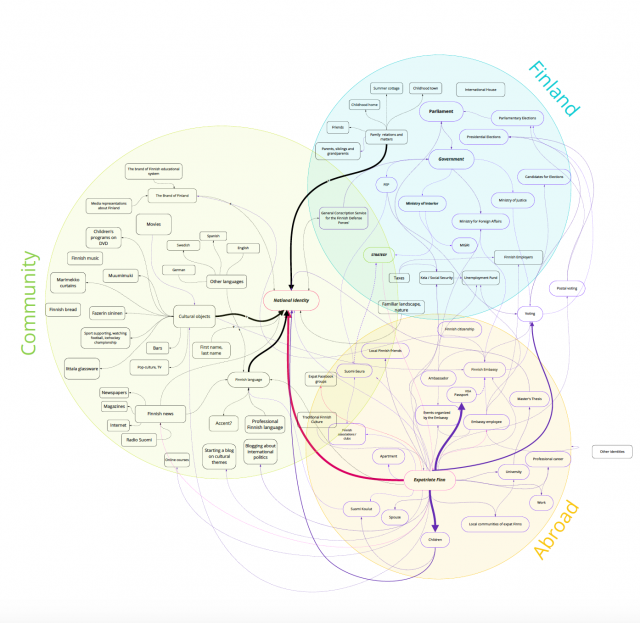 'Imagined community' beyond borders
First, we created a Systems map to better understand the structure, networks and links between different elements of this project. We started by identifying key elements from our initial brief, such as "Expatriate Finns", "National identity" and "Government", and then added new elements as we proceeded with our research. Quite soon certain parts of the map became more prominent like the number of cultural objects that were mentioned. The map allowed us to identify the links between elements. The highlighted links show relations the expats have with their national identity, their passport (citizenship), voting (participation). Also, we could see that the strongest elements of national identity include language, cultural objects and family relations. The map shows that besides geographical borders (Finland and the country abroad), we are dealing with an imaginative border of community that is not dependent on geography.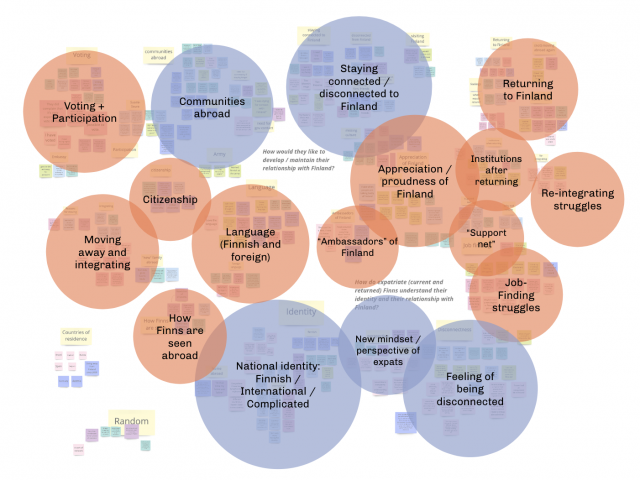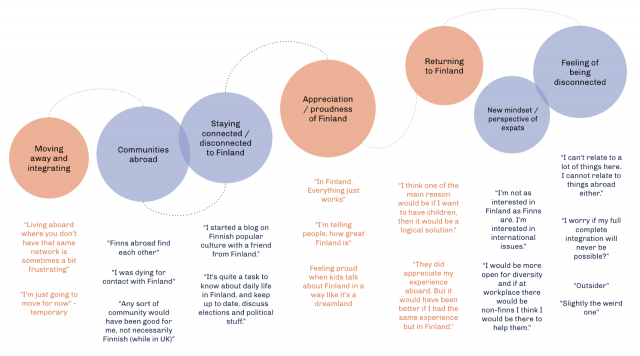 Various feelings about identity
Together with the two other teams working on the same brief, we conducted a questionnaire that received 844 respondents. To build on the data we gathered seven semi-structured interviews with Finnish expatriates. Those were professionals of their field, age ranging between 28-40. Three of them were living abroad and four had returned to Finland. To make sense of their opinions, we organized and clustered our observations in different categories, which you can see in our Affinity Diagram, a tool for data analysis. By cross-checking these categories with the questionnaire, we have observed that feelings about the national identity vary. Some expatriates "feel more and more disconnected from the culture every year", some feel "no change", others see themselves as "more international than Finn", others say that moving abroad gave them "a wider perspective" (quotes from the questionnaire) and the majority still assume that moving abroad has strengthened their sense of 'Finnishness'.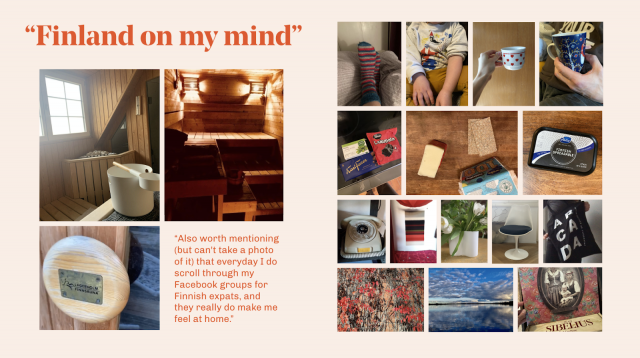 Focusing our research on returned expatriates
Returned expatriates share a certain level of disconnectedness after their return. The question of national identity is both complex and straightforward at the same time. While some people reported that moving away has strengthened their Finnish identity, others felt the experience had shifted their identity and made them partial to the world rather than Finland. How can the government make their decisions friendlier towards these 'citizens of the world'? The Government wants to motivate Finns to come back, however, many expatriates who have returned do not feel fully integrated, even after several years. If returned expatriates felt accepted and integrated after returning to Finland, they might be more willing to return. Caring and listening to the voices of returned expatriates could attract more people to come home. Could we broaden the definition of Finnish expatriate to the extent of the ones who have returned or are about to return?
What is the next destination?
844 respondents to the questionnaire in less than a week. Almost 5 hours of recorded interviews. This means that there is definitely a need to share the experience of being an expatriate. The impact of the experience is not fully understood – or appreciated. How to benefit from the experiences of expats and their International mindset? How to see this as an asset? Facilitating the integration of returning expatriates can be part of the strategy for the Government. In the coming weeks, we'll start to develop our concept with the aim to focus on returned expats and expats who are willing to return soon.
—
The DfG course runs for 14 weeks each spring – the 2021 course has now started and runs from 01 Mar to 24 May. It's an advanced studio course in which students work in multidisciplinary teams to address project briefs commissioned by governmental ministries in Finland. The course proceeds through the spring as a series of teaching modules in which various research and design methods are applied to addressing the project briefs. Blog posts are written by student groups, in which they share news, experiences and insights from within the course activities and their project development. More information

here

about the DfG 2021 project briefs. Hold the date for the public online finale online 09:00-12:00 AM (EEST) on Monday 24 May!