This blog post reports on work-in-progress within the DfG course! The post is written by the group dealing with the Ministry of Economic Affairs and Employment's brief on 'Reducing the carbon footprint of procurement services'.
Group 2c: Joosep Laht and Loren Córdoba from Collaborative and Industrial Design program, and Tessa Kauppinen and Junrui Li from Creative Sustainability program.
After five very interesting and quickly passing weeks in this course investigating public procurements and maternity package, we are almost done with the research phase. Until now we have only focused on understanding the process and the problems there might be in the way of more sustainable public procurements. 
With the other two groups working with the same brief, we did a total of 19 interviews with different stakeholders. From the interviews with governmental actors, sustainability experts, maternity package suppliers and parents that have received the box, we got a broad view from many different angles. We have been mapping our findings with systems map and affinity diagram.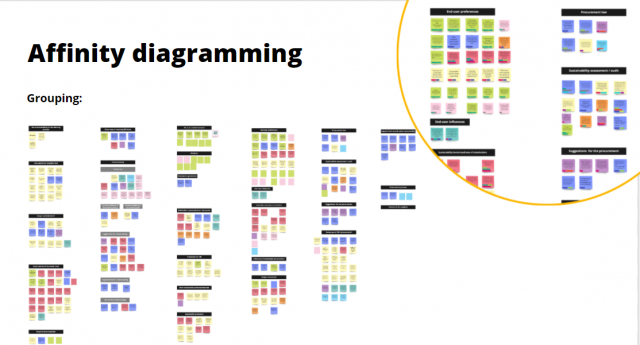 This part of the course culminated in midterm-review presentations where we presented the problems we had identified at this point to our stakeholders from the government. 
Communication is the key 
The first problem space that we identified was that during the procurement process there is a lack of horizontal, proactive and open communication between the stakeholders. Especially between procurer and suppliers, but also more collaboration from procurer with experts and end-users could be beneficial. The lack of communication and collaboration is making it difficult for suppliers to fulfil all requirements, procurers to know the best criteria to use and is hindering new ideas and innovations from getting implemented. Also, fear of not understanding the criteria or law is hindering actors from more sustainable procurements. The comments from our stakeholders from the interviews highlight the needs for more communication:
"Companies would have ideas and suggestions that are never heard by the public sector"
– VTT representative

"Lots of samples are made, shipped, and wasted because suppliers are not sure what is wanted and there's a lack of sufficient feedback about the reasons why samples are turned down."
– Supplier representatives
WHAT IS SUSTAINABILITY?
Another problem space is that Kela's and stakeholders' idea of sustainability doesn't match. There is a demand for better quality and more information about product sustainability from end-users, and also suppliers would be ready for higher sustainability levels, but the procurement process and criteria are not encouraging suppliers to offer more sustainable products yet. The brief is also mostly about reducing carbon footprint, whereas parents and suppliers are more considering material choices and supply chain responsibility, for example.  
In the Finnish textile industry, there are great innovations already and more ambitious sustainability goals developed continuously. Public procurements should be a way to promote these more sustainable innovations. This problem is also highly linked with communication – better interactions would help all participants understand sustainability needs better.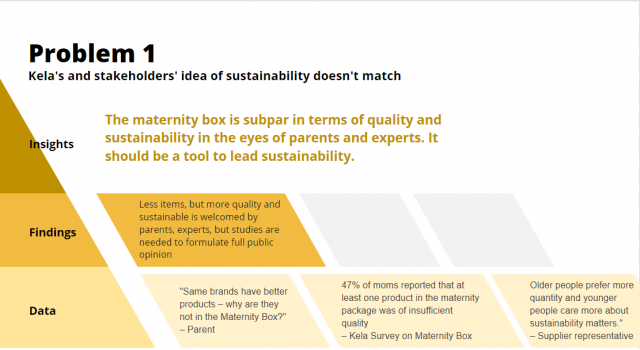 VALUABLE FEEDBACK
However, in the midterm review, we got a good insight as feedback from the government side that more open dialogue is sometimes difficult because companies are still competing against each other and don't want to give each other their ideas. Definitely an interesting topic to dive deeper into! We also got feedback from the stakeholders that our findings are interesting and giving them something to think about. This was encouraging and gave us more excitement to move forward with this project.
FROM FINDINGS TO SOLUTIONS
During the next few weeks, we will be wrapping up our research phase and starting to move from findings to ideas for solutions. However, before that, we will have a relaxing Easter break, after which we are definitely ready to take this project to the next phase.
—
THE DFG COURSE RUNS FOR 14 WEEKS EACH SPRING – THE 2021 COURSE HAS NOW STARTED AND RUNS FROM 01 MAR TO 24 MAY. IT'S AN ADVANCED STUDIO COURSE IN WHICH STUDENTS WORK IN MULTIDISCIPLINARY TEAMS TO ADDRESS PROJECT BRIEFS COMMISSIONED BY GOVERNMENTAL MINISTRIES IN FINLAND. THE COURSE PROCEEDS THROUGH THE SPRING AS A SERIES OF TEACHING MODULES IN WHICH VARIOUS RESEARCH AND DESIGN METHODS ARE APPLIED TO ADDRESSING THE PROJECT BRIEFS. BLOG POSTS ARE WRITTEN BY STUDENT GROUPS, IN WHICH THEY SHARE NEWS, EXPERIENCES AND INSIGHTS FROM WITHIN THE COURSE ACTIVITIES AND THEIR PROJECT DEVELOPMENT. MORE INFORMATION 

HERE

 ABOUT THE DFG 2021 PROJECT BRIEFS. HOLD THE DATE FOR THE PUBLIC ONLINE FINALE ONLINE 09:00-12:00 AM (EEST) ON MONDAY 24 MAY!