These blog posts report on work-in-progress within the DfG course! The posts are written by groups

dealing with the Ministry of Interior's 

brief

on 'Strategy for expatriate Finns'. 
—
Group 3A:

Rūta Šerpytytė and Liisi Wartiainen from Collaborative and Industrial Design program, Chloe Pillon from Creative Sustainability program, and Kaisa-Maria Suomalainen from Future Studies

 

program (University of Turku)

.
From organizing a co-creation workshop towards a finalized proposal and final show presentation
The last couple of weeks of the course have been the most intensive so far. We have gone through organizing a co-creation workshop to developing and defining our proposal and finally presenting our 12 weeks of work in the final show of the course.
Co-creation workshop with expats
We organized an online co-creation workshop with expats who have returned or are planning to return to Finland. We recruited people from a Facebook group Paluumuuttajat, Finns returning to Finland. We got 11 responses in a couple of days and finally, 6 took part in our workshop. The workshop was organised in the online working platform Miro. We planned 3 tasks to be completed, but in the end managed to go through only 2 of them: a warm-up task "Getting to know each other" and a "Timeline of returning expat" task where we asked participants to illustrate their returning process on a timeline and highlight the pain points which they have faced. We have learned that when organising an online workshop, you always need to reserve some extra time. Our participants were late, they took time learning how to use the platform, were extremely talkative, so eventually, we didn't manage to create new ideas together.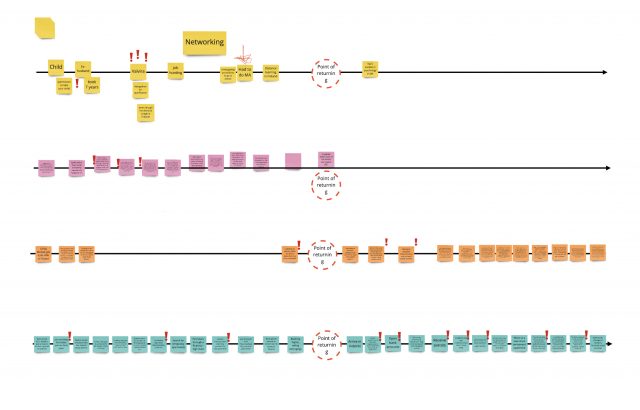 In the workshop, a few recurring themes emerged. Participants expressed their frustration for the lack of appreciation in their professional experience as well as struggles in validating their foreign degrees. Almost every participant complained about the complex and bureaucratic process of returning. Information is hard to access, and it's scattered around different web pages provided by different authorities. One participant said "When you don't know, you don't know. So, you don't know what to ask." referring to how hard it is to find something when you are not even certain what you are looking for.
To have some ideation together, we asked our participants how the process of returning could be improved. Almost everyone spoke for clear instructions for the returning process and hoped that all the information needed would be in one place. A step-by-step guide for returning expats was suggested. Participants also emphasized that just creating a guide wouldn't be enough. The whole system needs to be changed inside-out.
Our proposal – "Check-In Finland"
Even though expatriate Finns are Finns, they have unique needs that should be taken into account. We have learned from our research and workshop that currently the system does not recognize or address these needs. The category of returned expatriates does not exist officially and there are no services provided to help them in the returning process.
We wanted to create something that would help to bridge this gap. After our team's brainstorming session, we combined our best ideas and came up with an online platform for expatriates planning their return. Check-In Finland is an easy-access, one source information platform and a step-by-step guide to help expatriates navigate the complex bureaucracy matters. The service would provide customized help and to-do lists based on the expatriates' profiles to meet their individual needs. Check-in Finland would not be an answer to all of the questions in the returning process, but rather a guide, where expats could be directed to different pages that are relevant for them. The service could also provide some relevant content, such as knowledge about the social security system, the healthcare system or Finnish culture and language. Some extra articles or blog posts about specific matters could be provided as well.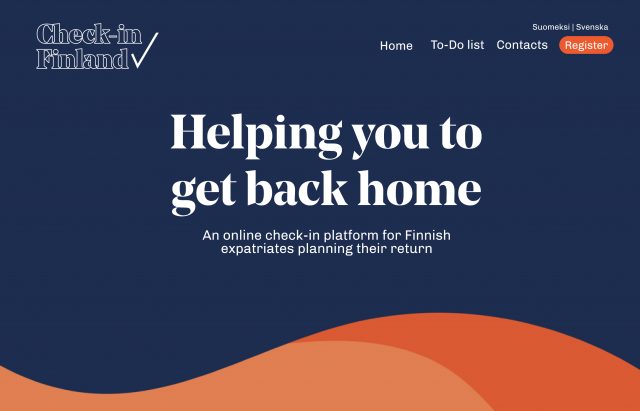 Our proposal meets the needs of both expatriate Finns and the Finnish Government. By registering to the service, expats would officially mark their status as "returning" and give new statistics and analytics to the Government. Later on, this data could be used as a measuring tool for the current strategy and give valuable insights for the strategy 2027. The government would also attract more Finns to return and get a hold of expatriates who are thinking about returning.
Shift in mindset
Taking into account our discussions in the workshop with expats we wanted to highlight that our proposal is not just a new service solution. We are suggesting a shift in mindset that goes deeper than the surface. We want to make changes in the way returned and returning expats are being seen in Finland. We want expatriates to be recognized as an underrepresented group and we want their complex, international identity and the skills gained abroad to be acknowledged and valued in Finnish society. Check-in Finland is a launch point where expatriates can take the step in moving back to Finland and feel welcomed by Finland.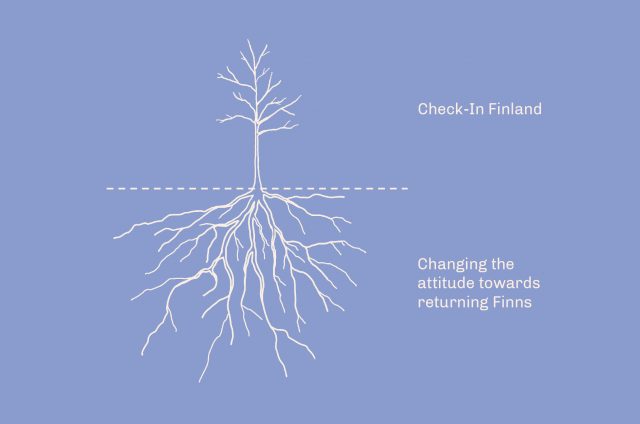 Reflections
Our team is satisfied with the work we have done. Our proposal is a natural outcome of the journey we have taken in the past 12 weeks. We are happy that we were brave enough to narrow our scope but yet still include our early and perhaps the most crucial finding of complex international identity and mindset in our final proposal. To be critical, we had a thought that our idea wasn't original or unique enough but, in the end, it was something that was truly lacking from the system. The idea of the service might sound simple but there is a complex process behind it.
Final show & celebration
The final presentation went well, and we got good feedback from our stakeholders. We got an invitation to present our work to the Ministry of Economic Affairs and Employment which can also be considered as a validation of successful work.
After the final show, it was time for celebration, and we finally met with our team face to face!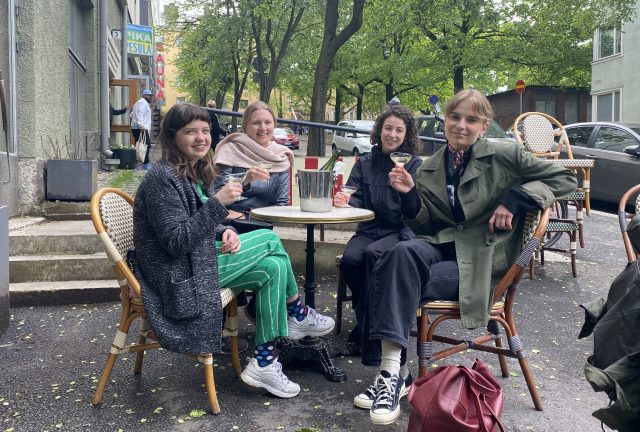 —
Group 3B: Amir Tahvonen and Savannah Vize from Creative Sustainability, and Hannah Roche and Shuaijun Zhang from Collaborative and Industrial Design.
A human-centred strategy process
The last few weeks have seen us translate leverage points into ideas as we waited for an 'a-ha!' moment to materialise from our discussions. Through the help of a collaborative workshop with survey respondents, regular check-ins with the Ministry of the Interior and numerous revisions to our work, we navigated the tumultuous final stages to reach our design proposal – which we have now presented to our stakeholders during the Design for Government final show.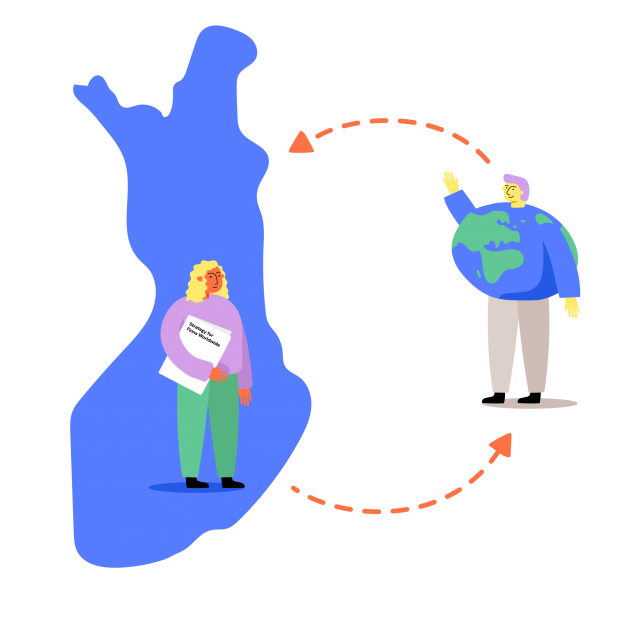 Empathy has been a recurring theme from our research stage all the way through to our leverage points. Our previous blog questioned how policy-writing could be written to take expatriate perspectives into account in an authentic and genuine way – which is exactly where our final few weeks steered us to explore.
It was less the 'a-ha!' moment we were anticipating, and more a case of all our research, drivers and intervention points slotting into place. Rather than searching for a specific area or stage at which to implement change, we decided to zoom out and look at the policy-writing process in its totality. Here, we set out to understand the actors and voices at play and the timeline by which decisions are designed and made. Through this mapping, we located potential change-points, for both policy writers and Finns worldwide and developed 4 key tools, informed by 4 key identified opportunities:

A back-and-forth with our stakeholders helped us finesse an improved strategy-writing process that collaborates and considers the diaspora throughout. It became clear through our conversations with the Ministry that budgeting and resourcing restrictions would play a key role in the implementability of our proposal. This encouraged us to design a staggered introduction of our tools and processes, embedding human-centred design approaches slowly into the system.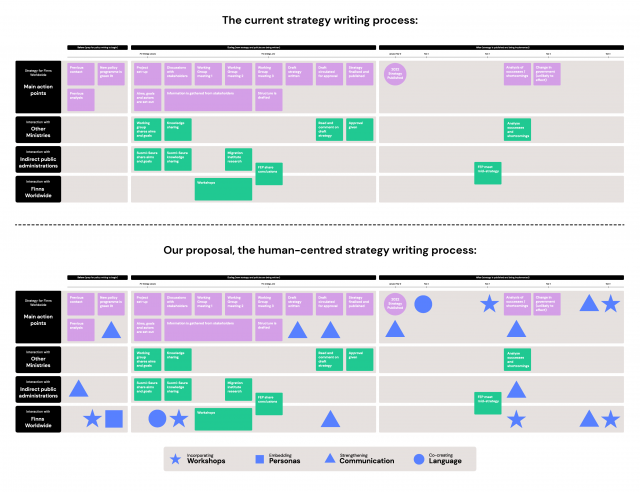 We were also aware of the Ministry's desire for a solid solution with tangible applicability. When working at this high level, it proved difficult to balance solidifying our tools with extensively planning their use and implementation, given the limited time available to us. As we maintained a close line of communication with groups 3A and 3C, however, it was apparent that the 3 separate proposals had the potential to slot neatly together. Whilst our proposal gave a holistic yet detailed redesign of the process, the other two support and engage specific target groups with more tightly defined tools. This complementary nature of the 3 approaches was something we highlighted during our final presentation.
The bulk of our presentation, however, focused on the implementability of our redesigned strategy writing process, with a look to the near and far future via a storyline set in 2027. This framing seemed well-received by both our stakeholders and service-design experts in the audience. They agreed on the importance of looking at the bigger picture, both in terms of timeline and methods, and working on a systemic level.

Whilst we avoided the usually inevitable pre-presentation panic, there were still moments of confusion or difficult decision making in the last few weeks. Settling on a single proposal does of course mean waving goodbye to other seedling ideas. On strict instruction to save ideating for the latter half of the project, our group had created an ideas 'bin' in the far corner of our sprawling Miro board. Whenever we drifted towards solution mapping before appropriate, we parked our ideas on this page and moved on (with the promise of no-peeking!). Now that we have reviewed these nuggets of inspiration, it is interesting to see how our thoughts and ideas have shifted, progressed and grown with each stage. Though we couldn't realise all these concepts, we hope that our proposal has gone some way to embed the values and drivers they represent into the proposed system.

As a final note, we'd like to thank all our stakeholders in the Ministry of the Interior, Ministry of Employment and Suomi-Seura for their commitment to collaborating on this project: your continuous expertise and opinions have been so valuable, and we hope our final proposal will prove useful. Thank you also to groups 3A and 3C for communicating with us so openly throughout, and also to all our interviewees and workshop attendants who have been generous with their time and ideas. Finally, a huge thank you to our tutor Núria Solsona who has been an endless resource and support throughout the process!
—
Group 3C: Phuong Nguyen from the New Media Design program, Mõtus Lõmaš Kama from Collaborative and Industrial Design program (Exchange), Mariela Urra Schiaffino, Creative Sustainability program (Design track), and Nicholas Colb from Information Networks program.
Reaching the final goal: Supporting participation from an inclusive and empathic point of view
In this blog post, we will present an overview of the evolution of our group's work during weeks 9 and 11, the time in which we conducted the last phases of our project – ideation, proposal development and final presentation.
By the beginning of this period we had already identified the participation of young expatriate Finns as the main leverage point in which we wanted to focus – this is the area of the system in which we think our proposal can have the most significant impact. As we had become aware during our research, and also our stakeholders had recognized, there is a need "to create a model that gives young people a more visible role in the activities of the Finland Society and the Finnish Expatriate Parliament and thus decision-making in Finland on expatriate Finnish issues,…and also to provide young expatriates an opportunity to network" [Suomi Seura, 2021]
Once recognized the need for an intervention, there are many alternative paths one could follow in order to reach solutions. In our case, increasing young expatriate's participation can be addressed from several different perspectives, and choosing one probably means leaving others behind. So how to choose the right approach? The following stages require both the use of creativity and the validation of ideas for solutions.
Validation and Ideation
Our group had a great opportunity to prove some of our initial ideas when we were invited to collaborate along with group 3B in the online event "Youth Forum for Finns Worldwide" organized by Suomi-Seura on May 6th. The event aimed to collect thoughts and feelings about the personal experiences of young Finns living abroad and was attended by 10 participants from all over the world. We were able to have more accurate input on what kind of activities connected our target group to Finland and how this connection has impacted their participation. In parallel, we conducted a collaborative ideation session with teachers and students from the Design for Government course in which together we brainstormed possible interventions that would reach our intended goal of increasing young expats participation. Further validations were conducted by interviewing our stakeholders and during our tutoring sessions.
At this point, we had many ideas and it was time for deliberation. Some questions we asked ourselves during this phase were: who is the final user of our proposal, is it the government, a specific stakeholder or the expatriates themselves, and in which phase of the policy-making can this proposal be implemented? After in-depth analysis and reflection, we decided to focus our intervention on providing a common language around diasporic youth participation in ways that the topic could be brought into government deliberation. We believe this common understanding of the personal experience of the expatriates is essential for the different actors involved to bring up their expertise in the topic and collaborate with each other. Therefore we designed a tool for data gathering and analysis that  create more empathy towards our target group – from a human-centred design perspective.
Proposal and presentation 
In the last phase of the course, we concentrated both on giving a definite form to our proposal and on creating a narrative for our presentation that can communicate our work to the stakeholders who have been involved from the beginning. Both processes, the proposal and the presentation, are not excluding, but instead, they complement each other. When we do this communication exercise, we can generate better understanding among ourselves, and detect possible areas of improvement.
 Our final proposal takes form in a set of tools designed to help policy-makers and other stakeholders involved in the Expatriates Strategy (Suomi-Seura, Finnish Expatriates Parliament, The Finnish Migration Institute) become aware of the needs of young expats towards participation and explore possible ways to answer those needs. The first tool is the Expatriate Life Events Model, which aims to identify specific events in the life of young expats that trigger connection or disconnection from Finland. Identifying these events, especially the ones generating disconnection, helps to identify needs that can be covered in future strategies. The second tool is the Policy Exploration Map, a template that helps policy-makers in exploring interventions to increase participation. This tool is based on the Engagement Principles, a set of 7 principles that our research suggests as guidelines for developing solutions.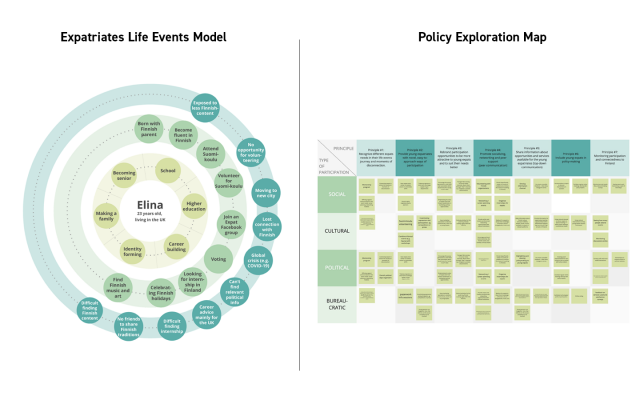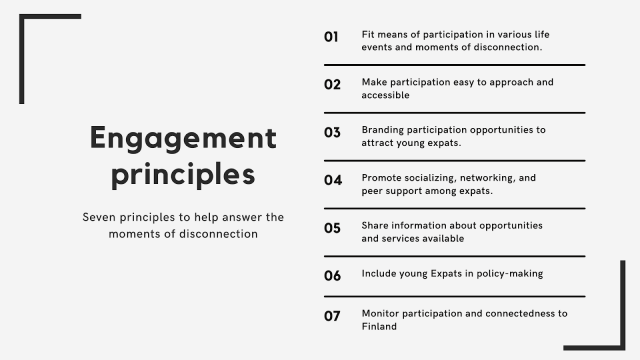 To make the use of these tools understandable, and recognizing the great diversity of expatriate profiles, we created a fictional character – Elina– informed by the many interviews and workshops we held with real expatriates. We presented this persona's story and used it to illustrate the intended application of the tools. The use of personas is common in Service Design as it helps to create empathy towards the users and imagine real-life situations, and in our case, helped us bringing the tools from the abstract realm into a real application. The idea is that the tool can be used in a wide range of personas representing the many archetypes of expatriates. And even though we focus our attention on the younger generations, it can also be easily adapted to include other age groups as well.
Lastly, the final show was held on May 24th and was a big success. It was very fulfilling to see how the interventions of the three groups working in the Expatriate Finn's brief complemented each other so well. This was not a coincidence as we collaborated very closely with each other through discussions and sharing resources from the very beginning. In the end, each group took a different path, but we were all informed by the same level of analysis. We believe that through our proposals we have achieved the goal of inspiring innovative solutions that include the users' perspectives into policy-making. Thank you for following our progress! For more details on our proposal and implementation, we kindly invite you to check our presentation once it becomes available on our website. All feedback is much appreciated!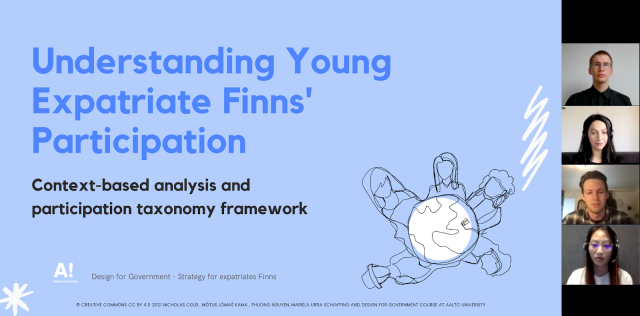 References:
Suomi-seura (2021) Parliamentary simulation for expatriate Finns. https://suomi-seura.fi/maailmalla-asuva-suomalainen-nuori-tule-mukaan-vaikuttamaan-ja-hankkimaan-uusia-kokemuksia-3/
—
The DfG course runs for 14 weeks each spring – the 2021 course has now started and runs from 01 Mar to 24 May. It's an advanced studio course in which students work in multidisciplinary teams to address project briefs commissioned by governmental ministries in Finland. The course proceeds through the spring as a series of teaching modules in which various research and design methods are applied to addressing the project briefs. Blog posts are written by student groups, in which they share news, experiences and insights from within the course activities and their project development. More information

here

about the DfG 2021 project briefs.