These blog posts report on work-in-progress within the DfG course! The posts are written by groups dealing with the brief on 'Pilot project for Personal Budgeting Model', provided by the Ministry of Social Affairs, Finnish Institute for Health and Welfare (THL), and the Social Insurance Institution of Finland (Kela) in collaboration with the ORSI project.
—
Group 1A: Senni Alho, Katriina Kenttamies

and Naiquan Gu from the Creative Sustainability program, and Ondřej Zajíc from the Collaborative and Industrial Design program.
Journey to Supported Autonomy
After identifying our design leverage points and design drivers, we focused on the detailed ideation and design section. What kind of design can achieve our drivers at these leverage points? Over the past few intensive weeks, we've answered that question through co-design workshops and design works.
Co-design Workshops
As a method that can bring opinions and ideas from different stakeholders together, hosting co-design workshops was a consensus inside the team at a very early stage.
We started with an Ideation workshop that invited one THL staff and one person with disabilities. After the introduction of our project background, design drivers, and problem areas, we organized two brainstorms sections that emphasize both quantity and depth. A lot of interesting and valuable ideas emerged from the workshop.
After the first ideation workshop, all the ideas have been reorganized into our simplified system map to help us better locate and understand them. After group discussion and voting, we chose five preliminary proposals to proceed to the next stage, which are: Info package; Support person, and Increasing value of social workers.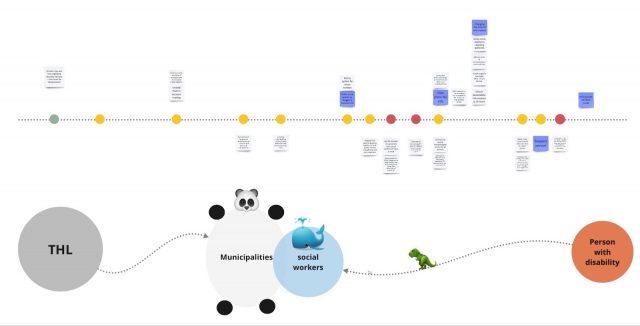 However, we were not sure whether these proposals really met the needs of different stakeholders or what problems they would encounter in the real system. So we organized another evaluation workshop with 1B.  Another THL representative and a municipal employee were invited to evaluate the three proposals. They emphasized, in particular, the fact that from the government's point of view, the money issues should be paid more attention to.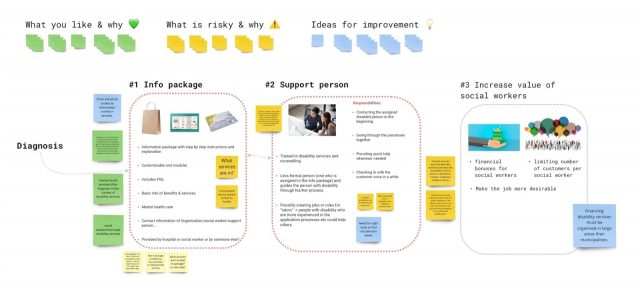 The successful holding of the two workshops made us more confident about our project. This co-design method greatly helped us to get closer to the real system and the specific consideration of the stakeholders. Also, as designers, we need to balance the ideas of our stakeholders with our own instincts to find the common area that will work best.
Proposal: Supported Autonomy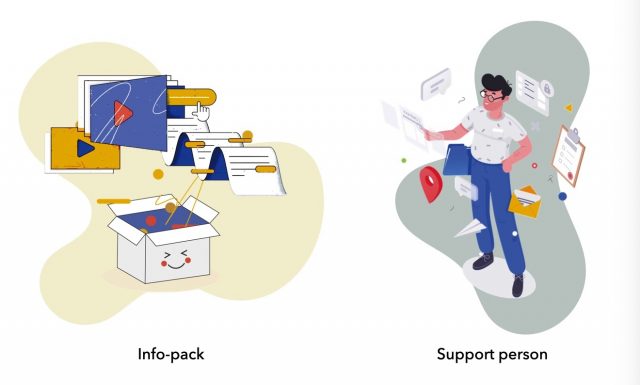 1.Info-Pack
The first part of the proposal is the info-pack. It will solve the problem of information being hard to find and understand by bringing the information about disability services into one place in various accessible formats. As we described earlier in research, information about disability services is scattered and usually communicated in a difficult and formal language. So, instead of end-users having to look for the information themselves in a vulnerable life situation, the information would be brought to them in the form of an info-pack.
The info-pack is a modular product that can be easily personalized to each user. It consists of three types of content: national, local, and personal content.
National content is the information that is applicable to all the people with disabilities in Finland. The second part is the local content, which includes information about the services provided by the municipality. This would also include a list of local support groups and associations. The third part is the personal content, which includes info about the services, benefits, and support groups that are specific to the disability that the person has. This content is provided by the municipalities.
The info-pack comes in various different formats (for example video, audio, digital or paper pamphlet, plain language, etc.) so the end-user can choose to receive the information in the format they find most accessible. Info-pack will be provided by the municipality after a person gets a diagnosis of a disability, or when there is a change in a disabled person's situation
This means that end-users will not have to search for the info themselves from various sources that may be unreliable, conflicting, or not applicable to their situation. Instead, end-users would receive a readily curated info-pack from their social workers.
2.Support Person
The second part of our solution addresses the issue of people with disabilities needing more support with understanding their needs, applying for services, and understanding how the system works. Currently, social workers do not have time to provide this level of support.
Our proposed solution is that everyone with a disability diagnosis will have the right to a support person. People with disabilities can directly contact their support person with any questions or concerns they may have, big or small.
The support person helps the end-user with practicalities, like understanding what services they need and how to apply for them.  Support people receive training from multiple stakeholders, like the municipality, disability associations, and Kela, as well as basic training in counseling.
Anyone can apply for the support person training, but priority is given to people with disabilities, who already have experience with the disability service system.
3.Additional recommendations
From our research, we identified additional changes that need to be done to support people with disabilities to have more autonomy.
Firstly, we would strongly recommend capping the number of customers per social worker.
Secondly, we recommend moving towards more centralized information channels, by creating a unified website for all information, as well as creating one-stop-shop service points.
Presentation & The End
After completing the design task, we connected the problems we were dealing with and our proposals by telling a story of Liisa, a virtual character. We spent a lot of time on the visuals, and the feedback of the final presentation proved it was worthy. We avoided overloading the project with content, instead, we put as little text as possible to make sure the whole story is understandable.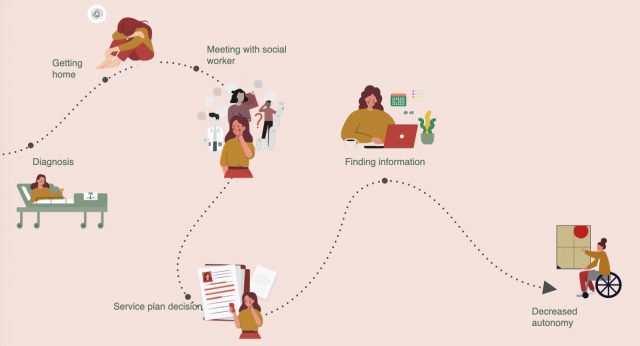 As a course project, we are not sure whether the government will really push forward with our proposal, as we understand that many areas have not been fully implemented. But we all agreed that we had already created a lot of valuable discussion among stakeholders in the workshops and final presentations, not to mention the knowledge and skills we learned from them.
Thanks to all the help from stakeholders and teachers, this DfG experience will undoubtedly make us more confident to face the complex system problems we will deal with in the future.
—
Group 1B:

Helena Eharand from International Design Business Management (BIZ) program, Lucia Llerena from International Design Business Management (ARTS) program, Matleena Inget from the Creative Sustainability (BIZ) program, and Ruta Jumite from Creative Sustainability (ARTS) program.
Transition to a thriving & inclusive society
How to transition to a thriving and inclusive society? In the last few weeks, we have been trying to answer the question. During that journey, the systems thinking methods helped us to see the underlying issues of the disability services system, whereas future visioning methods enabled us to imagine the ideal future for society and people with disabilities. As a result, we have developed a solution that would promote systemic change as transition to desired futures. Our proposal is a strategy that would firstly be implemented in the Personal Budgeting Model, but has the potential to further inspire other organizations to create a wider impact.
A Strategy proposal for hiring people with disabilities in governmental institutions based on the Personal Budgeting Model.
We used a closed flower bud (image 1) to illustrate the current design process for the Personal Budgeting Model. The graphic arrows demonstrate the top-down approach where the Personal Budgeting Model is designed by governmental actors, and people with disabilities are seen only as receivers.  As we wanted to make this flower bloom and make the design process of the Personal Budgeting Model open up, we identified that involvement is essential for an inclusive world. Furthermore, especially meaningful employment plays a key role in one's identity and sense of belonging (Jackson 2017).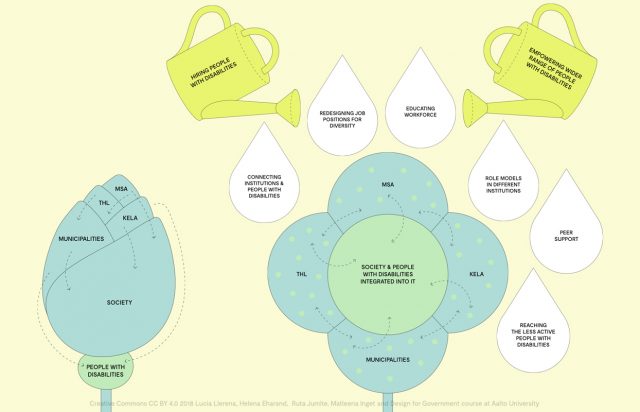 Therefore, we re-briefed the goal for our project as To employ people with disabilities in relevant institutions, so they become creators and decision-makers of the disability services. And, as our vision is a systemic change, our solution proposal is a Strategy for hiring people with disabilities in governmental institutions based on the Personal Budgeting Model.
We developed the strategy by defining 2 main goals which complement each other (image 2):
Hiring people with disabilities

Empowering a wider range of people with disabilities
We advocate "Hiring people with disabilities" since they are the only ones who understand their actual needs and therefore, are the ones who can design a fully functioning Personal Budgeting Model. In addition to creating opportunities for people with disabilities to get hired, another issue is that because of the paradigm in society, people with disabilities often do not recognize their own abilities. Therefore, we also want to "Empower a wider range of people with disabilities". As one of our workshop participants described it:
"People have skills and lots of potential which is not seen.. Whatever is their passion, they can take it and make it a job for themselves. But it is not easy if you do not have someone coaching, supporting, or helping you.."
– an expert of an organisation specialising in recruitment of people with disabilities.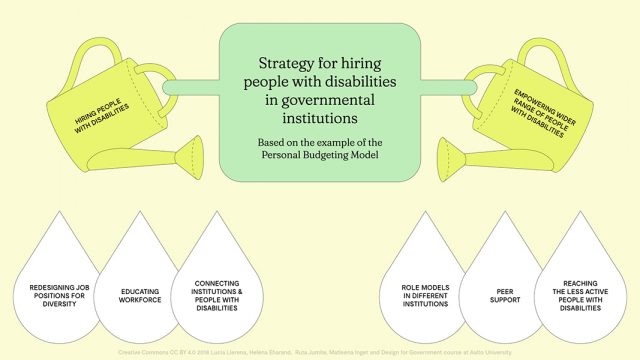 The two main goals are illustrated by watering cans, as they hold within the nurturing water, which in our case are the 6 sub-goals of the strategy.
Hiring people with disabilities:
Redesigning job positions

Educating the workforce

Connecting institutions and people with disabilities
Hiring a wider range of people with disabilities:
Positive role models in different institutions

Peer support

Reaching the less active People with disabilities.
(In order to find a more elaborated description please find the final presentation on the Design for Government web page)
As illustrated (image 1), the implementation of the strategy would make the flower of inclusivity and collaboration bloom. In other words, empowerment through employment would create a transition to a thriving & inclusive institution where the Personal Budgeting Model would be created by the end-users. The arrows demonstrate the cooperation and the free information flow between the stakeholders, who share knowledge together as equal participants. Successful implementation of the strategy would ensure a functioning Personal Budgeting Model, where the real needs of the users are met.
Furthermore, the successful implementation of the strategy in the Personal Budgeting Model could become a benchmark to accelerate wider impact, to inspire other organisations and businesses to become diverse and inclusive.
Eventually, this could lead to a thriving & inclusive society, where every person with disabilities would be an active citizen who can flourish at meaningful work, design the services for themselves, and be an integrated part of society.
The next steps
As a result of this course, we are handing over the strategy proposal to the governmental institutions related to the Personal Budgeting Model. However, the next steps are in their hands. Firstly, the strategy should be introduced in the institutions that are involved in the development of the PB model. Secondly, an action plan needs to be developed to bring strategy to life, which would be followed by the implementation part.
On the last note, on behalf of my team, we would like to thank all the stakeholders who participated, our project partner KELA and the teaching team for the constant support and inspiration! It has been a challenging, yet inspiring journey for us.
Resources:
Jackson T. (2017) Prosperity without growth. Routledge
—
Group 1C: 
Eve Nieminen and 
Diana Becares Mas 
from the Creative Sustainability program,  Esko-Matti Helin from the Collaborative and Industrial Design program, and Faye from Human-Computer Interaction Design program
.
Making public transport a relevant option for disabled people
"How did we end up having this many ideas in two weeks? I would have never thought!" This what I said to my group mates during the final weeks of the project. In May 2021, our group has focused mostly on ideation and finding a solution for our customer. As you may know from the previous blog posts, our brief is to develop a service to support disabled people in their multimodal mobility services.
After finding out our leverage points, we decided to focus on the two-way communication between disabled people and social services + mobility service providers. From our research work, we had found out, that the personal budgeting and the kilometer-wallet in the mobility services are already in a pilot face and the users seem to be quite satisfied. On the other hand, we saw, that some disabled people had some fears or misunderstandings about personal budgeting in mobility services. This is when we understood that we should focus on the open communication of the disability services. From this face we as a group found out that sometimes you just need to make a decision – when we decided to focus on communication, we could start developing more concrete solutions.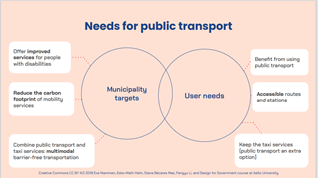 Next, it was time to find out the different ways of communication in mobility services. We found out that the communication from the social services happens mostly when applying the services and when reconsidering the needs of the services. It seemed, that the users were on their own all the time using the services.
Mobility services are a wide range of different types of travel options. Currently, disabled people use mostly taxi as it can be difficult for a disabled person to move from home to the station of public transport. In our interviews, one disabled person commented that they find the HSL services of great quality, but they still are not fully accessible for them, and how to know when there are accessibility issues. We got inspired by this idea and agreed this could be a potential starting point for ideation with our group.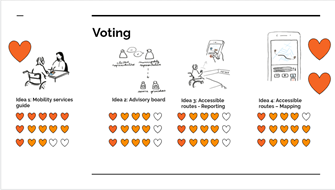 In the ideation workshop, we got lots of ideas and four of them stood out the most. We developed the ideas further and organized a validation workshop for some disabled people and the municipality social service stakeholders. With them, we had an open discussion, and in the end, they had the opportunity to vote for the ideas they found the most valuable. The result was clear – most of them voted for a combination of the accessibility alerts and accessibility filter combinations. From them, we got good advice to include our concept into the existing webpages/apps HSL Route finder and Palvelukartta (Service map). From the validation workshop and the ideation session, I learned, that in a design project it is always important to have an outside perspective. Both workshops gave us a new spirit and important viewpoints to our project.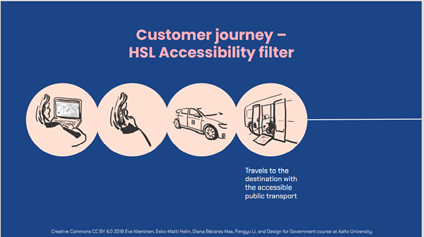 After the validation session, we developed customer journeys and prototypes from the two chosen concepts. We came up with a user persona Sara and through her story, we explained our concept in our final presentation. The finalizing was a tough ride, but it paid off – I am truly proud of our concepts, that make public transport a relevant option for disabled people.
From making the project presentation our group learned that it is important to bring a story to describe your concept or service – it brings the concept alive in a totally different way!
—
The DfG course runs for 14 weeks each spring – the 2021 course has now started and runs from 01 Mar to 24 May. It's an advanced studio course in which students work in multidisciplinary teams to address project briefs commissioned by governmental ministries in Finland. The course proceeds through the spring as a series of teaching modules in which various research and design methods are applied to addressing the project briefs. Blog posts are written by student groups, in which they share news, experiences and insights from within the course activities and their project development. More information

here

about the DfG 2021 project briefs.