Blog IV – Reducing the carbon footprint of public procurement – Kela Maternity package
Group 2A: Xinghua Meng, Kalle Kaisko, Michael Buchta from the Creative Sustainability program and Amandine Fong from the Collaborative and Industrial Design program.
The final four weeks of this twelve-week marathon were intense, exciting, and confusing. We used them to refine our intervention suggestions and to flesh out our proposal. An insightful co-creative workshop with key stakeholders reinforced our direction and gave us new momentum to structure our design solution. We were now pleased to present our results in the Design for Government final show.
"It's always more difficult if you don't discuss with others."
– Producer of textiles in our stakeholder workshop
Becoming master of the situation AND creating long-term change
Our focus is mainly on what is not quite right in the process between the procurers and the producers. The workshop in particular reminded us once again about the lack of communication and collaboration on both sides leads to a lot of uncertainty, misperceptions, and the missing of great potential in the joint development of a more sustainable baby box. With all of this in mind, it was important to us that on the one hand, our clients could quickly and relatively easily take feasible first steps towards a lower-carbon procurement process, but on the other hand, ensure sustainability is at the center of procurement and ultimately stays there in the long run. Therefore, we have divided our proposal into three phases, progressive in how deeply they cut into the system and change structures. These phases can then be implemented sequentially and, in some cases, building on each other.
All good solutions come in threes
First, the primary goal was to create equal ideas and sustainability visions between producers and procurers. The first phase achieves this by introducing a five-year feedback cycle and creating concrete incentives through well-thought-out criteria linked to the price. In the second stage, we wanted to create more time for procurers to engage more in market dialogue and to think about and develop the actual procurement content. Therefore, we argued for an extended procurement phase of the baby box from a one-year interval to a two-year interval. In the third phase, we wanted to create a new responsible body that professionalises sustainable procurement and takes this task away from the already busy procurers. This would also be able to introduce sustainability criteria for all the different contract procurements and integrate them, along with tools for more collaboration, into existing electronic communication and planning systems for procurement.
On the importance of finding the right frame
We were aware that our three interventions, while complementary in content, were very different in nature. This made it all the more important for us to link them together through their commonalities. We tried almost until the end to elaborate which frame could surround our three proposals in order to embed them in a comprehensible and meaningful way. Ideal for this would be a metaphor that explains problem, intervention and solution as intuitively as possible. The value of this framing was held very high by our tutor, Taneli. We realized when we finally found the framework and framing our goals suddenly became much easier: We saw the procurement process as opaque, confusing to producers, and ambiguous in communication and sustainability goals. Our interventions provide clarity and a clear view. Like a horizon becoming "Unclouded". We are exploring the clear skies of collaborative procurement as a stimulus for sustainability.
The values of being face-to-face
I would like to take the opportunity here once again to draw attention to the value of physical collaborative working. Our team was finally able to meet outside of Zoom windows in the final weeks of this project. Not only was it brought back to our attention how many opportunities we miss out on with a home office instead of a normal university setting. It especially showed us how valuable time in the team is beside the project work, where you have fun, get to know each other better and start to care for one another. In the virtual you are focused on work, everything superfluous is irritating, the shorter the zoom call, the better. That also has advantages. But mutual understanding, better assessment of the performance, strengths and weaknesses of the others – for the development of these core competencies you need the real world.
A thank you to all involved
Finally, our team would like to thank all involved and committed stakeholders from all directions, especially Kela, but also producers, NGOs and partners of the KEINO network. We have encountered highly committed voices that are ready for change. Thanks to the other two teams of our brief who put collaboration before competition. And thanks also to our tutor Taneli Heinonen for his continuous good advice and ability to keep the bar of motivation high.
After a successful presentation we celebrated well with pizza and good weather:
—
Group 2B:

Andre Helgestad, Nicole Grekov and Sara D'Angelo from the Creative Sustainability program and Shreya Shrivastava from the Collaborative and Industrial Design program.
Our journey to ASKEL
Chaos into tangible outcomes: future visions
The last few weeks turned out quite hectic, which is nothing new as the solution space is where chaos turns into tangible outcomes. It is difficult for designers to know when to stop as complexity always involves evolving, changing and questioning. However, this time we had to stop and let our journey to the end begin. Ending the project started with our final workshop, where seven stakeholders attended. We had the Ministry of Economic Affairs and Employment (TEM), Familon, Touchpoint, Motiva, Keino, Business Finland and KELA; our project partner. The content was co-created with the supergroup and steered towards our already different uncovered directions. The workshop was initiated with a task to envision the future vision for the maternity box, followed by a discussion on better-communicating sustainability to the user and ended with a procurement timeline exercise. The workshop unleashed diverse and inspiring responses together with a future vision that informed our final intervention; ASKEL.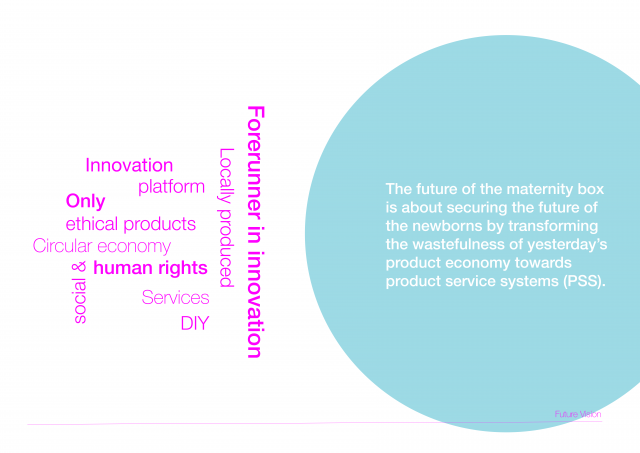 Our proposal
ASKEL was derived from, but also tested through the workshop. Our intervention uses futures thinking and visions as a potential departure for the proposed strategy, which has been now introduced to the stakeholders. Askel means "steps" in Finnish, thus aiming to gradually provide new means of collaboration, by serving as a strategy for creating a shared understanding of sustainability, aligning stakeholder goals and promoting ambitious targets. These were the initial drivers that we identified through our research. So, what do you do with a shared understanding of sustainability and alignment of goals? Through ASKEL, you can formulate criteria that can turn into a checklist, which can inspire or filter out companies for participating in the tender. Ultimately, ASKEL seeks to direct producers towards more circular economic practices. Currently, sustainability criteria are limited to product-level, our intention is to widen the focus to supplier and system level, shifting the thinking from recycling to reducing, rethinking and refusing.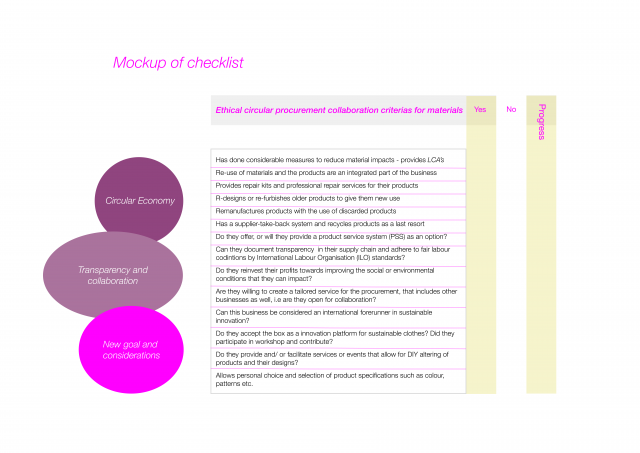 ASKEL seeks to indeed show stakeholders how to get there. Circular textile futures call for the substitution of linear take-make-waste cycles with product-service systems. Moving beyond fixating on changing parameters, such as carbon footprints, and rather tackling the goal of the system; a deeper Leverage Point that will more efficiently impact the parameters according to Meadows (1999). Deeper leverage points such as changing goals require both increased individual efforts and institutional backing. Being aware of the negative systemic impacts of the textile industry, we recognise that reducing "bads" are not enough to change the system for the "better". Thus, ASKEL attempts to create seeds for higher awareness and shifts in mindset, processes and actions.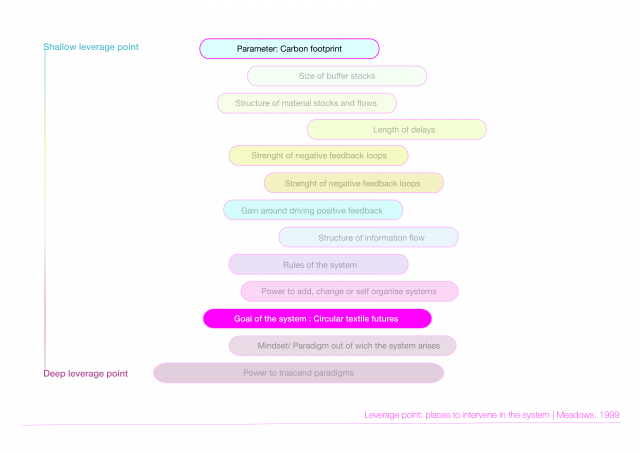 The agenda is limited as well as time. It is crucial to rethink the criteria in place and align all on urgent priorities. Surely, our strategy cannot be taken as it is as it would require iteration and piloting together with stakeholders. Yet, it can hopefully be seen as pragmatic and doable within the government. We used government as a system taxonomy to crystallise the intervention and communicate the steps with a language that is familiar to our partner. It helped visualise ASKEL in its all phases, situating the strategy in a short- and long-term spectrum. Overall, the delivery evolved until the end and if one was to ask us at the beginning if we ever envisioned ASKEL. I would say no, but it was worth the journey. A journey that I hope can take us further in the present and allows us to be part of a change that we all long for.
References:
Meadows, D.H. (1999.) Leverage Points: Places to Intervene in a System. Vermont: The Sustainability Institute.
—
Group 2c: Joosep Laht and Loren Córdoba from Collaborative and Industrial Design program, and Tessa Kauppinen and Junrui Li from Creative Sustainability program.
Turning the Maternity Package into an educational driver for a more sustainable society
In the last weeks of the project leading up to our final proposal, the saying 'Taking the Maternity Package back to its roots' was acting as a beacon of light in the group. Whenever we hit a roadblock or were second-guessing our thinking, we reminded ourselves of that sentence. Because while the project brief was about fostering innovation in the future procurement processes, we found that there is great value in reflecting on how and why the package was born. Understanding the fact that the original package was born as an answer to a social issue important to Finland and was more than a box of items, with every part of it playing an important role. So, what we mean by saying going back to the roots, is adapting the original thinking to the current socio-economic landscape, tackling the issues at hand and making the Maternity Package a part of the foundation for a sustainable future for Finland.
Back to the roots for a flowering future
Working towards our final solution we became aware of the potential in opening up to the parents about the sustainability goals and leveraging the deep societal meaning of the Maternity Package in Finland to nudge parents to more sustainable lifestyles. Inspired by that, we took an intentional approach of going outside the procurement process itself and tackling the relationship between the government and the parents receiving the package. While still trying to influence the choices made during that. Taking inspiration from the original meaning, we set our sights on making the package an educational driver of sustainability. Integrating the idea of dealing with a current social issue important in Finland. We also decided to go for a more inclusive name for the package, going from Maternity to Family, reflecting that the package is meant for the whole (and any type of) family.
"Would be a message that at the same time that we think about our babies' wellbeing, we also think about our environment."
– Maternity Package researcher
To achieve our goal of turning the Family Package into an educational driver for a more sustainable society, we decided to organise the actions taken into three layers:
What's in the package

Making the package and its contents more sustainable

How to better use the package

Introducing tips around use and after use of the package items

What can be achieved beyond the package

Nurturing change in overall lifestyle and thinking of the parents (and society)
Breaking it down like this also helped us think about the whole lifecycle of using the package from the parents perspective. Starting with the pregnancy and first visits to the healthcare centre all the way to the end of the use of the package. All the layers share the goal of educating, nudging and exposing parents to more sustainable options and choices, broken down into smaller digestible actions to take, which together would lead up to bigger and longer-term societal impacts.
Aimed at parents, beneficial to all
While the final proposal is predominantly aimed at educating the parents, the three-layer approach of our proposal is able to provide benefits and motivation to all stakeholders involved. The higher visibility of sustainability goals of the package will encourage suppliers to also adopt more sustainable practices and use them as a good way to build their brand. The Finnish Government and Kela especially can build trust and show commitment to their goal of sustainable futures, and further, deepen the societal meaning of the package.
We believe that becoming an educational driver for a more sustainable future for Finland is just one step of change from many to come for the Family Package. As the deeper meaning behind our proposal is to always reflect and adapt, evaluating if the package is still true to its original meanings. As the social issues in Finland change, so should the Family Package, always making sure that the children born in Finland have a future.
As a final side note, we would like to extend our thanks to everyone involved in these past 2 periods. Starting with both Kela and The Ministry of Economic Affairs and Employment for giving us this opportunity and their commitment and cooperation throughout the project. All stakeholders and other actors who participated in our interviews and workshops. The teaching team and especially Taneli Heinonen for the support and guidance. And finally the other two groups in this brief, 2A and 2B for the collective work, great shared communication and efforts.
—
The DfG course runs for 14 weeks each spring – the 2021 course has now started and runs from 01 Mar to 24 May. It's an advanced studio course in which students work in multidisciplinary teams to address project briefs commissioned by governmental ministries in Finland. The course proceeds through the spring as a series of teaching modules in which various research and design methods are applied to addressing the project briefs. Blog posts are written by student groups, in which they share news, experiences and insights from within the course activities and their project development. More information

here

about the DfG 2021 project briefs.