This blog post reports on work-in-progress within the DfG course! The post is written by the group dealing with the Ministry of Interior's brief on 'Strategy for expatriate Finns'. 
Group 3B: Amir Tahvonen and Savannah Vize from Creative Sustainability, and Hannah Roche and Shuaijun Zhang from Collaborative and Industrial Design.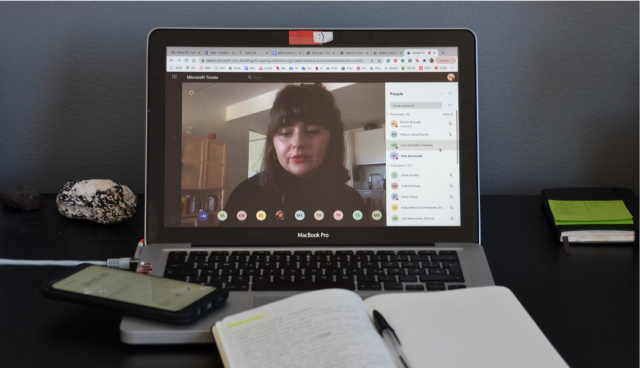 During the first two weeks of Design for Government, our main objective was to understand our project brief: the Strategy for Expatriate Finns, and the people affected by it. We started by doing preliminary research, organising fieldwork activities such as interviews and surveys, and participated in a round table discussion with our main project stakeholders. The participants of this remote meeting included members of the Ministry of the Interior, the Migration Institute, Suomi-Seura, and the Ministry of Economic Affairs and Employment. Together, our goal was to create a shared understanding of the brief by resolving any questions or concerns, especially regarding the emotional needs of Finns living overseas, the desired scope of participation, and stakeholder expectations.
Some of our main takeaways from the round table discussion were that current information networks need to be coordinated, that there is currently no system for staying in touch with Finns once they leave and when they return, and that young people are interested in participating in Finland from abroad, but need to be enabled via the right channels. Most stakeholders also agreed that maintaining ties to Finland through language and/or culture is vital. Perhaps this can be explained by the fact that these elements often tie us to our heritage: shared ways of communicating or participating in traditions that stay with you no matter where you are.
Our brief focuses specifically on how we might "increase the participation, cooperation and communication of expatriate Finns with Finland" (DfG Strategy for expatriate Finns – Project brief, 2021). Emphasis was placed on wanting to gain active involvement from the 300,000 citizens living overseas, reinforcing their liaison with Finland, whilst also bearing in mind the Sustainable Development Goals. In addition, our stakeholders hoped we might identify who the most underrepresented groups may be, and help map the strategies / policies other countries have in place to support expatriates.
"We are looking for ideas and concepts that relate to how we could better integrate expats into the strategy (…). With that in mind we are also interested in mapping what services are provided, and need to be provided, tomorrow and for the faraway future."

– Mariana Salgado, Ministry of the Interior
Perhaps this need for a new strategy is all the more important now, with 1,657 Finns immigrating home in 2020. This is the first time in 10 years that there has not been an excess of Finns emigrating: in 2016 a record 4,079 persons left Finland (Finnish Migration 2010-2020. Statistics Finland). Whether a result of the global pandemic or general feelings of uncertainty, it seems that Finns want to return to their home country which is worth investigating. Another explanation may be that, even with postal voting introduced in 2019, the highest voter turnout amongst expatriates was just 13.9%, during the 2012 presidential election (On the Borderlines of Voting, 2018). In addition, a survey of over 1,000 Finnish expatriates showed that 54.6% were not very interested in the political situation in Finland, or lacked the knowledge to make an informed decision (On the Borderlines of Voting, 2018).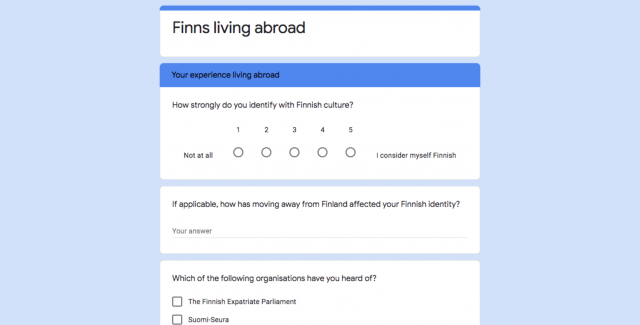 Cultural identity is an incredibly complex issue that many expatriates and dual-citizens have to come to terms with. Therefore, our group is especially interested in the long and short-term needs of this target group, and how we can best provide solutions for them. This is due to the incredibly diverse (emotional) experiences these individuals go through: regardless of how long they stay abroad, everyone reacts differently to new surroundings and requires different levels of support at different stages. To better empathise with our users, we have started to arrange a series of interviews with service designers / organisers, researchers, and a multitude of expatriates in order to hear more about the emotional side of this experience. In addition, we have created a survey with our supergroup in order to gather qualitative and quantitative data to further our understanding. At the time of writing, our survey has received over 800 responses. This high level of engagement is an insight in itself, perhaps indicative of people's keen interest in this topic, and how it relates to their journey.
—
The DfG course runs for 14 weeks each spring – the 2021 course has now started and runs from 01 Mar to 24 May. It's an advanced studio course in which students work in multidisciplinary teams to address project briefs commissioned by governmental ministries in Finland. The course proceeds through the spring as a series of teaching modules in which various research and design methods are applied to addressing the project briefs. Blog posts are written by student groups, in which they share news, experiences and insights from within the course activities and their project development. More information

here

about the DfG 2021 project briefs. Hold the date for the public online finale online 09:00-12:00 AM (EEST) on Monday 24 May!