This blog post reports on work-in-progress within the DfG course! The post is written by group 2C working with the Ministry of Transport and Communication's brief on 'Accessible travel chains'. The group includes Callisté Mastrandreas from the CS Design program, Jingchun Zeng from the CoID program, Greta Cappellini from the CS Design exchange program, and Sara Rynefors from the CS Design program.
Written by: Sara Rynefors
And… Action! We have entered scene three of our journey towards Accessible travel chains. After a break and leaving the project brief for a bit, Urban Drifters are now reunited and ready for new challenges. Since we are now in Period V we have moved from investigating, collecting and analysing, to ideating, intervening and proposing. From a personal point of view, I have moved from a feeling of confusion to a feeling of being on the right track. I am therefore happy to tell you more about the weeks we have been through.
Design interventions
Starting Period V meant a lot of things. Not only did we finally get to open the doors to possibilities, but we also had to face our fear: committing. Doors might be open, but others will close. Since we have a want to explore anything that comes in our way, let's just say shutting doors has not been our greatest skill throughout this course.
Looking back to our last update, we showed four pillars of what the transport of future Finland should be: Inclusive, digital, collaborative, and integrated. From those pillars, we also presented five insights that we have discovered throughout our research. As for now, five insights were now going to be one. Although it seemed to be a hard task at first glance, it slowly appeared to us that one of them stood out from the others. At the mid-term presentation we received a question and some thoughts from one stakeholder which stayed in our minds: What is a Travel chain? And what is then an Accessible travel chain? Where does it start, and where does it end? Quite philosophic, yet interesting and important concerns to answer. For us, after some talking, the definition of an accessible travel chain would already start at the traveller's door. Every season, regardless of the weather. In other words, it would be our First and Last mile insight.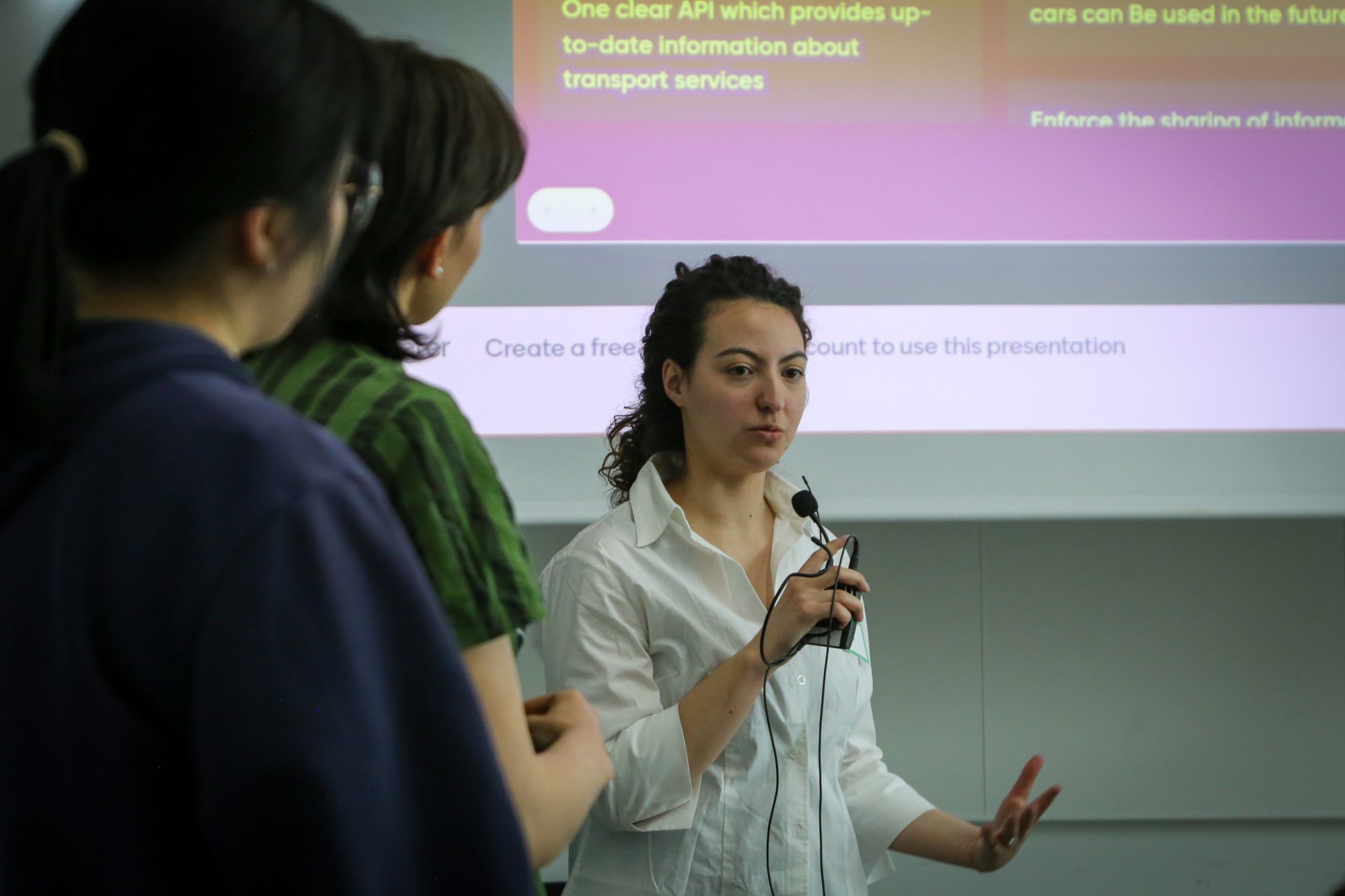 From the ideating session with the stakeholders
Changing the current narratives
It was time to explain the things that need to change, if we wanted to start ideating with the stakeholders. Based on our interviews and research, road maintenance, especially in winter, plays a key role to enable a well-functioning first and last mile. One of the quotes which made the biggest impression on me was from a wheelchair user in Helsinki:
"Kesällä käytän paljon talvella tosi vähän."
(In the summer I use [public transport] a lot, and very few times in the winter)

– A wheelchair user
In its simplest form, the quote sums up the situation of people with accessibility needs very well. Therefore, to create a story which could help explaining the current scenario, we had to think of why users, with accessibility needs, go by public transport considerably less in the winter. The main difference is the harsh weather, which brings a feeling of uncertainty and makes users hesitant. Going by private car which is parked next to your house is more convenient than having to go through snow and slippery streets to the nearest bus, tram or metro stop. This scenario felt important enough for us to share with the stakeholders in our ideating session. As it can help us understand the essence of the desirable change. We created two characters, Lotta and Liina, two retired women living in the Helsinki Metropolitan Area. They share different mindsets of trying new things, where Lotta is willing to go by public transport even in winter, and Liina is feeling rather unconfident not choosing her private car. In their conversation, it is clear that the uncertainty of how the weather will be the day of the journey can affect the whole experience, and their willingness to try it again. After presenting this in the ideating session, we received several interesting ideas and thoughts which will help us elaborate further.
Where can we intervene?
As Meadows (1999) explains:
"Leverage points are places within a complex system where a small shift in one thing can produce big changes in everything." (Meadows, 1999, p. 1)
Leverage points could also be perceived as our clues for finding solutions. And some answers to how this scenario can change. Looking back to the beginning, we have narrowed down our scope tremendously. Yet, it has been difficult to exclude pieces in our scope, since so many of them feel important. For the last couple of weeks, we have been iterating our ideas over and over. Creating a catalogue of different interventions, and comparing it to Meadows' (1999) leverage points definition to find some guidance on where we are heading. Eventually, leverage point number four felt the most accurate to our ideas and visions. To create self-organisation within a system there has to be clever rules. There is also a need for experimentation and innovation. Because if there is none, the system will not self-evolve (Meadows, 1999). These were not only my favourite part in the reading for class, it was also a helpful way for us to start twisting things around. And then, when we least expected it, lightbulbs started to appear above our heads. In other words, now the fun part will begin!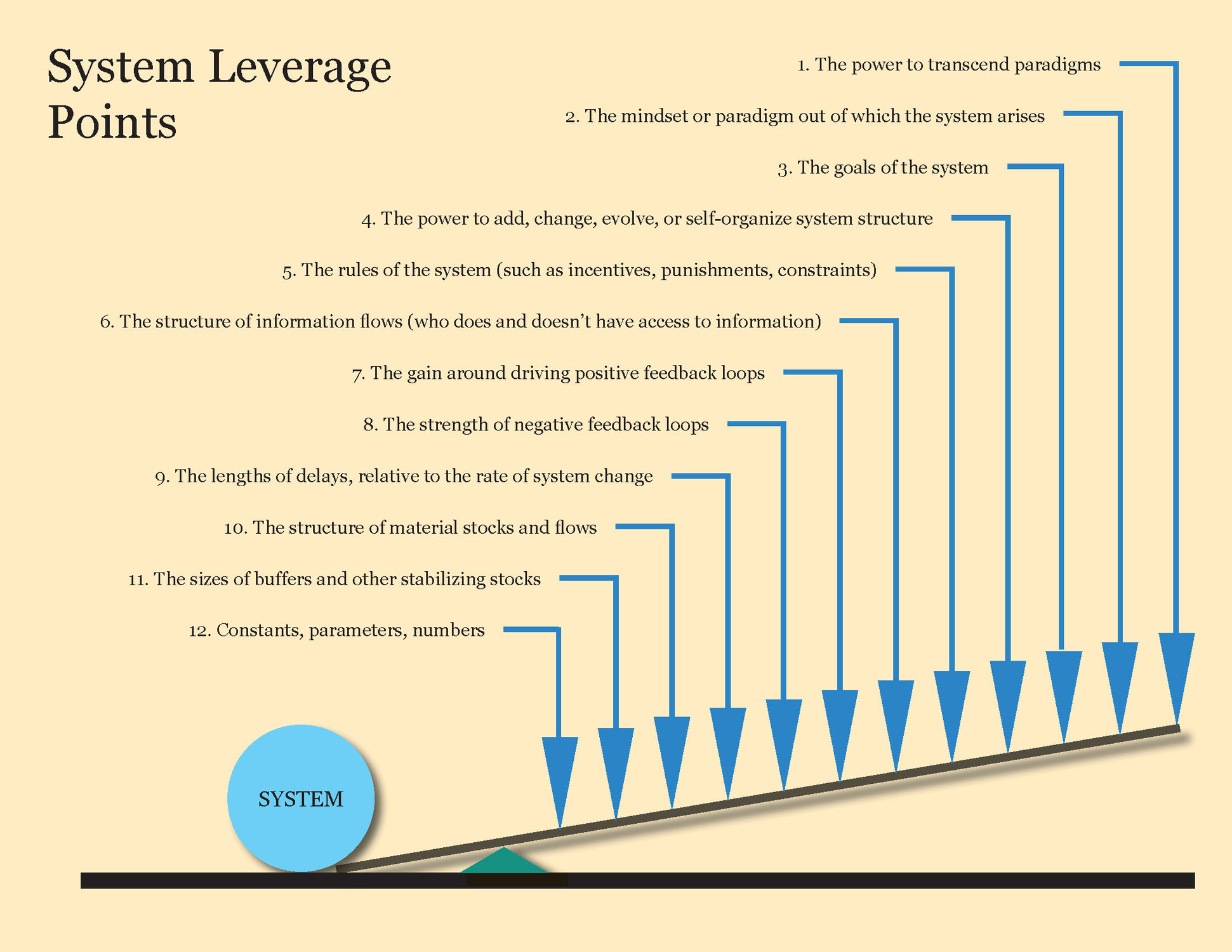 Donella Meadows 'Leverage Points' shown as a graph (Leverage Points, n. d.)
Next steps
Before the break, I had a hard time believing and trusting the process. The last couple of weeks, however, have been reassuring. The process continues, and we are making progress. It can also be that we have been better at taking breaks. Leaving the concerns for a bit, so we can have a better focus when it is time to talk. For the upcoming weeks, we will let our intervention grow to a well-fleshed proposal. We will connect our proposal with one or several of the four pillars from before, and then prepare for the final show.
I hope you will be in the audience!
References:
Leverage Points. (n. d.). [Graph]. Available at: https://investigationsquality.com/2019/01/01/layering-metrics/ (Accessed 15. May 2023).
Meadows, Donella (1999) Leverage points: Places to Intervene in a System. The Sustainability Institute.
The DfG course runs for 14 weeks each spring – the 2023 course has now started and runs from 27 Feb to 31 May. It's an advanced studio course in which students work in multidisciplinary teams to address project briefs commissioned by governmental ministries in Finland. The course proceeds through the spring as a series of teaching modules in which various research and design methods are applied to address the project briefs. Blog posts are written by student groups, in which they share news, experiences and insights from within the course activities and their project development. More information here about the DfG 2023 project briefs.