This blog post reports on work-in-progress within the DfG course! The post is written by group 1A, working in collaboration with the Digital Population and Data Services (DVV) and the Ministry of Finance (VM) on the project 'Life events for a dignified old age'. 'Life events for a dignified old age'. The group includes Elena Amaglio, Jisoo Kim and Iiro Torma from the Collaborative & Industrial Design program and Shutong Zhang from the Creative Sustainability program.
Written by: Iiro Törmä
Our multi-talented and always hard working team 1A came to the conclusion that harmonization of the public digital services for their user experience will alleviate digital exclusion. The benefits would be concrete, especially for the oldest population, who often lack sufficient digital skills.
After researching and analyzing the problem space from the perspective of the end users, we turned our attention to the ecosystem that produces the services.
How did we understand the challenges on the way to a more standardised service ecosystem and how our final proposal took shape? Let me take a broader look into digitalisation and what it means from a governmental perspective of developing digital services.
CO-CREATION AND USER CENTRISM IN GOVERNMENT DIGITAL SERVICES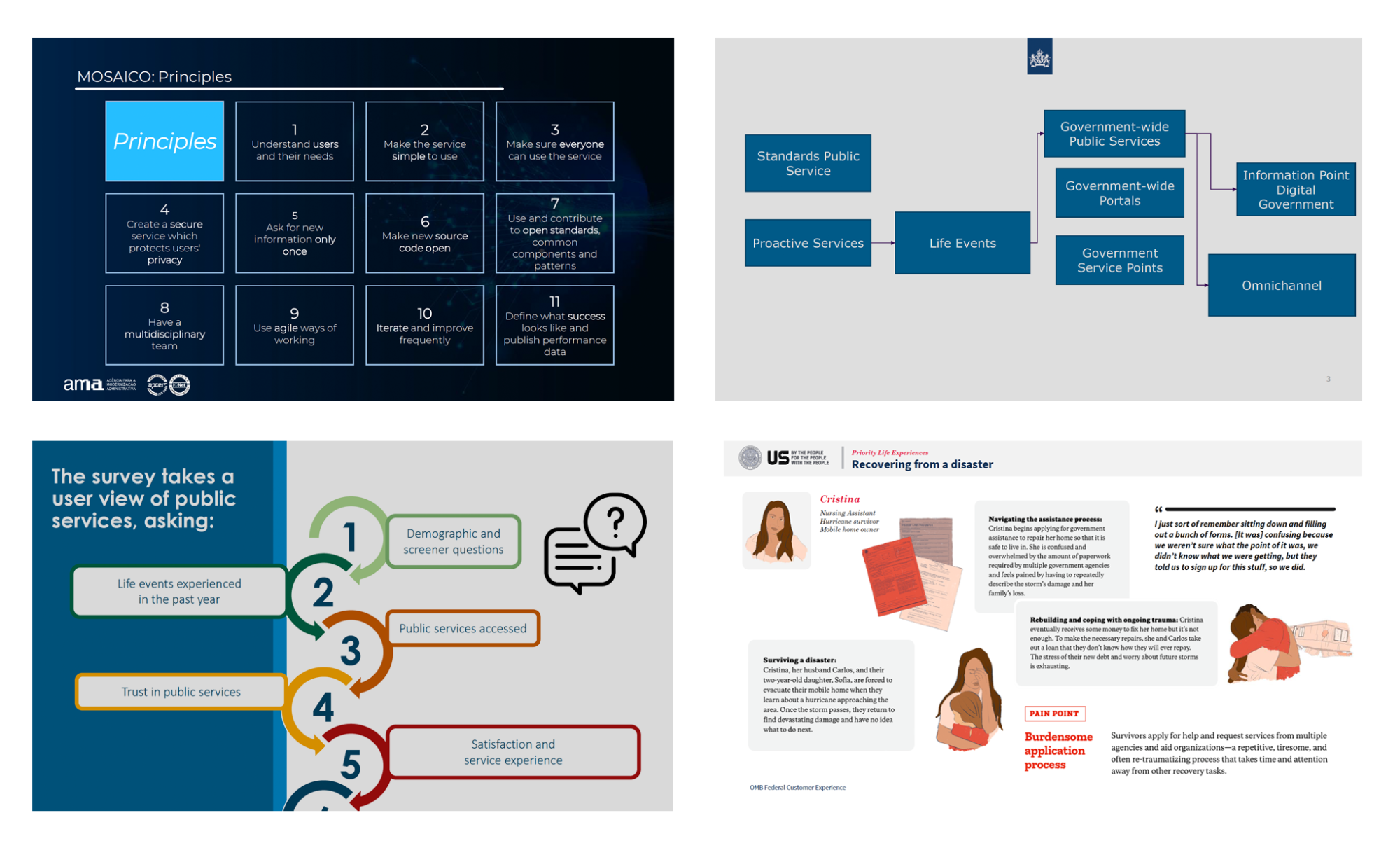 There is a widely acknowledged need for digitalising governmental services. The brief of our project is based on the Finnish Government's digital strategy. (Parliament of Finland 2022). The primary driver of digitalization is financial, but also peoples' preference to use digital services over analogous ones is clear.
Saqib Saeed et al. (2018) say that "electronic government is about harnessing the information revolution to improve the efficiency of government processes and the lives of citizens". They highlight the need for user-oriented approaches in developing digital services and also the availability and accessibility of them to avoid exclusion. 
Recent presentations in an OECD meeting from multiple countries by state and design experts,  who are working on the theme of government services, such as Portugal, Ireland, United States and Estonia, all highlighted similar notions of service availability, accessibility, users' ability and co-design (OECD Public Governance Committee Symposium 17.4.2023). The primary problems associated with user experience and service development are also seen similarly: Co-creation is difficult in the context of government, and services often compromise accessibility.
Lou Downe in her presentation for OECD (ibid.) points out that certain elements in the user experience are non-negotiable: Services must be easily found, and the logic of use must be clear.
Our goal was to understand the Finnish reality in developing government services. I entered this stage with a slight hesitation because there is a rather broad conception – or maybe a myth – about governmental officers who are reluctant to change. How will our stakeholders enter into deeper discussions with us designers? 
UNDERSTANDING THE CURRENT SERVICE ECOSYSTEM OF RETIREMENT-RELATED DIGITAL SERVICES IN FINLAND
From the apparent fragmentation of the services, we concluded that there is also fragmentation of working processes in the service production side. What will our stakeholders think about this? We had the chance to run a brief 30-minute workshop with multiple participants from DVV and a more focused meeting with two experts from DVV. We also met VM's Niko Ruostetsaari. They brought forward multiple challenges.
Unclear role assignment on different levels of collaborative projects seems to be one of the main painpoints. This was mentioned when discussing the "Death of a Loved One" – a project that has been underway for over three years between DVV, Finnish Tax Administration and Kela.
In a laws regard, in Finland, there are laws in place that require public services to be accessible, highly available and straightforward to use. A problem that was brought up is that these laws are not enforced enough.
Relative independency of different service providers in designing the services seems to be causing some of the fragmentation too. This can be spotted as very different visual looks of websites, when local branding ideas are put in use.
Differing language and terminology used in different organisations may cause communication problems when the organisations collaborate.
General siloing of the actors within the ecosystem is hard to tackle. Personally, I am a bit afraid that because of the public sector mindset and working culture, there is a certain attitude that tries to avoid conflict or even talking about difficulties is present. 
So: Myth busted! We got valuable visions, insights and also a lot of encouragement from our stakeholders already working from the Government!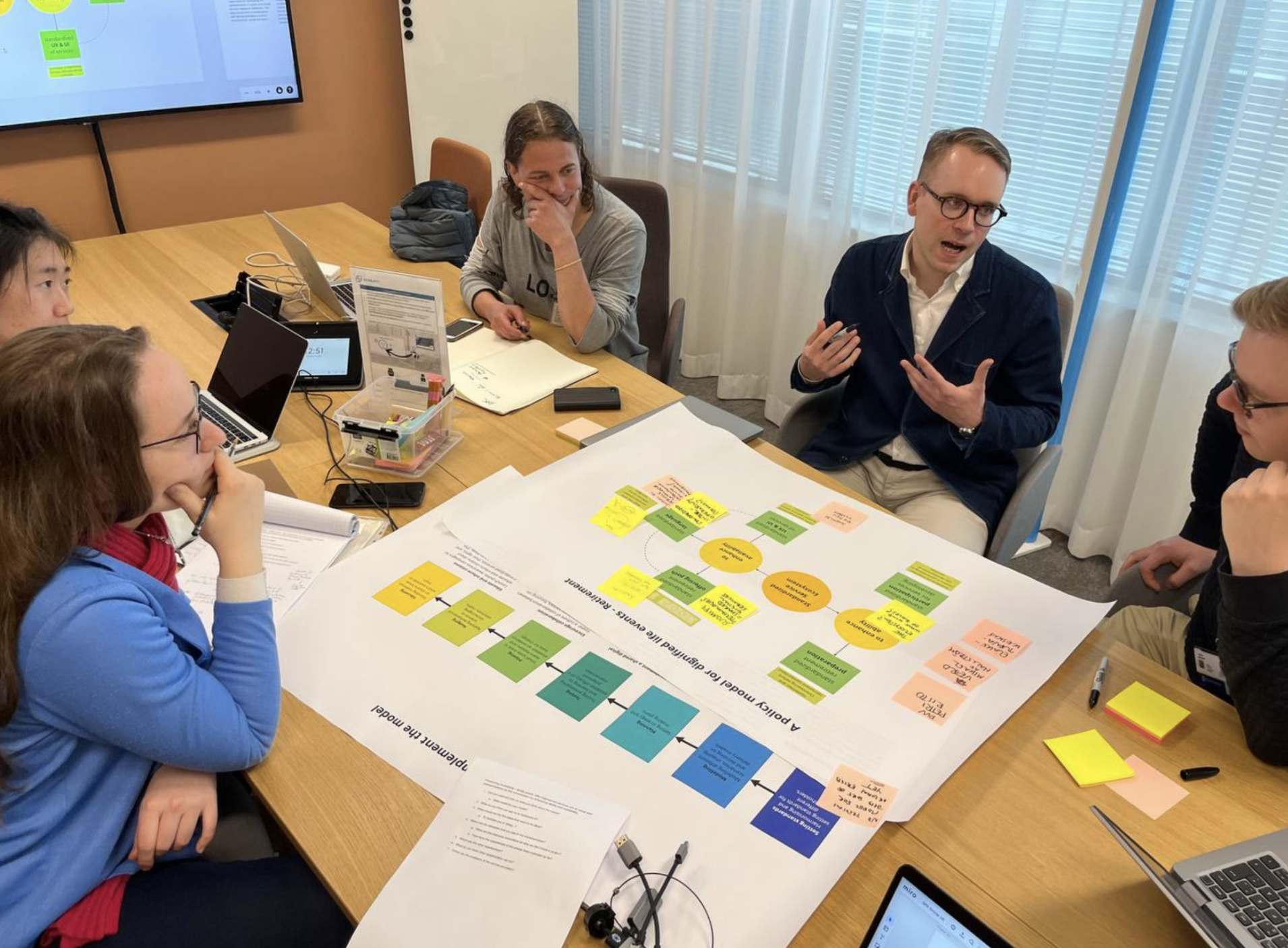 Team 1A in a meeting with DVV's Eetu Jokela and Joonas Aitonurmi.
PROPOSAL FOR CHANGE
The proposal we came up with is a development process model consisting of a series of iterative cross-organisational meetings. The aim is to understand and align the different actors' approaches to the availability and accessibility of the services provided.
Citizen participation is a very necessary element throughout the process. The process goes from developing mutual understanding via sharing knowledge, to general service development, UI/UX, issues of language and terminology, to actual service delivery. 
The backbone of the process is a checklist intended to ensure that the different aspects of service development that affect service availability are considered. 
The role of DVV is already central in producing governmental digital services. We strived to develop an understanding of what the whole service ecosystem looked like for the different stakeholders within it. Because of time pressure, we had to rely mainly on getting the necessary information from DVV and VM. Our previous research focused on understanding elderly citizens as users of public digital services.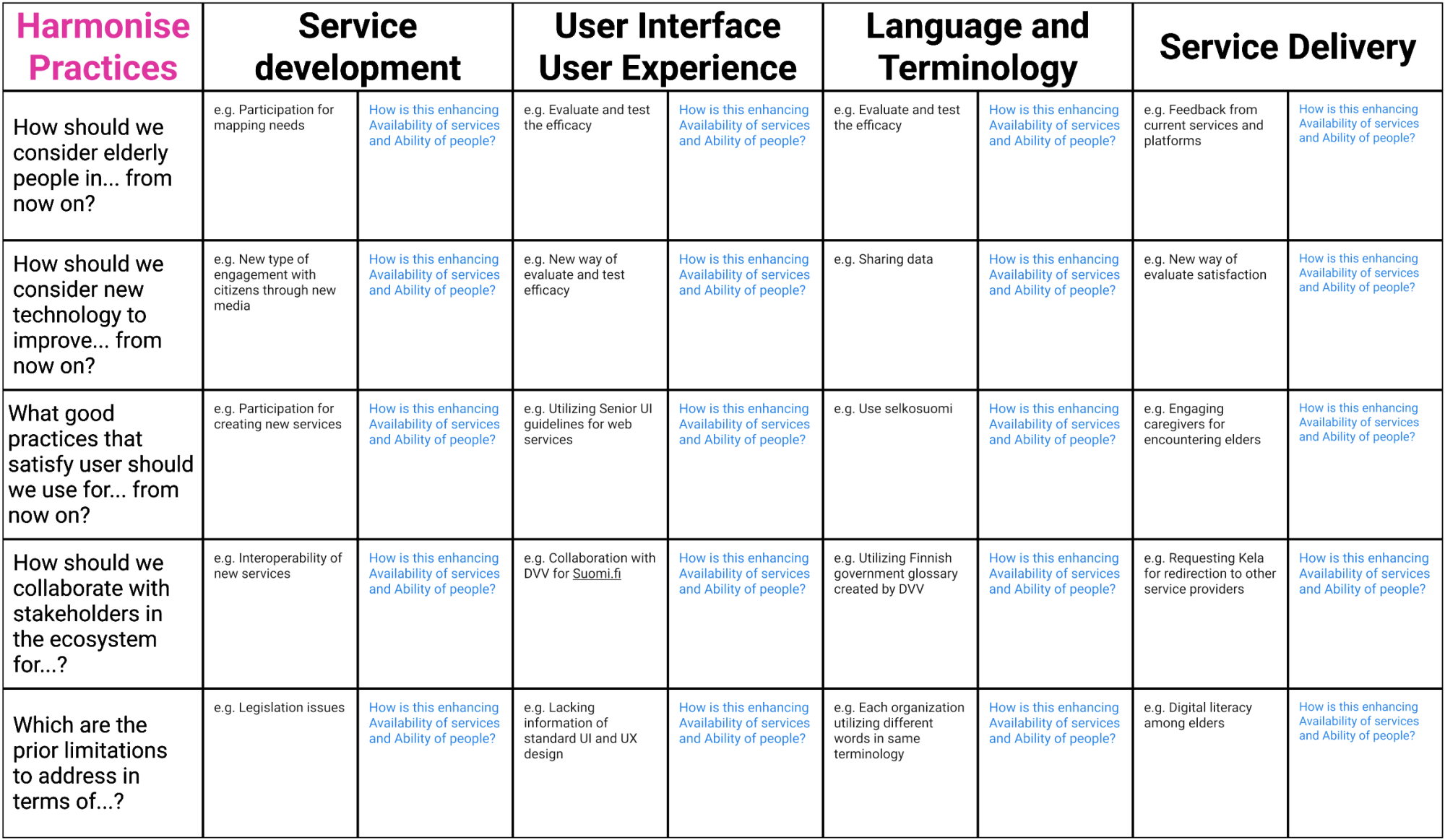 Table from the toolkit for harmonising practices between stakeholders.
CONCLUSION AND FEEDBACK FROM STAKEHOLDERS
Implementing this model should be treated as a pilot or prototype. The experiences and learnings should be discussed openly and constructively. Should the model provide good results, it could be adjusted to suit developing other life event-based service ecosystems.
Benefits we see for the service providers are more effective working processes and also seeing the services improving for the end users.
It has certainly been a valuable learning process for us. The feedback from our stakeholders was also very positive. Actually, it was appraising. It will be interesting to see whether and to what extent it is implemented. 
Group 1A to DVV: You can do it. Over and out.
References:
Parliament of Finland. 2022. Valtioneuvoston selonteko. Suomen digitaalinen kompassi. https://www.eduskunta.fi/FI/vaski/JulkaisuMetatieto/Documents/VNS_10+2022.pdf
Saeed, S, Ramayah, T, Mahmood, Z. User Centric E-Government. Springer. 2018.
OECD Public Governance Committee Symposium 17.4.2023. Presentations by: Lou Downe. United States. Ireland. Estonia. Australia. The Netherlands. Portugal.
The DfG course runs for 14 weeks each spring – the 2023 course has now started and runs from 27 Feb to 31 May. It's an advanced studio course in which students work in multidisciplinary teams to address project briefs commissioned by governmental ministries in Finland. The course proceeds through the spring as a series of teaching modules in which various research and design methods are applied to address the project briefs. Blog posts are written by student groups, in which they share news, experiences and insights from within the course activities and their project development. More information here about the DfG 2023 project briefs.