Project description
Transformations in our society necessitate parallel transformation in civil servants' work practices, cultures and roles. Responsive and effective and trustworthy policy-making today (in the 'post-truth' era) requires a high degree of awareness, collaboration, agility and trust within diverse 'ecosystems' of stakeholders working together across sectors towards common societal challenges and goals. This paradigm shift from the historical silos and individualistic working cultures of the traditional civil servant work is the goal of the major long-term initiative Civil Servant Work 2.0 within the Finnish government. In DfG'17, the Transport Code to be launched in 2017 will provide a specific case to examine the complexities of stakeholders, interactions, working environments, tools involved in civil servant work and policy-making processes.
Today we have both a critical moment and an appropriate window of opportunity – during Suomi100 centenary year themed 'togetherness' – to look back and forward to how civil servant work must be transformed within and across ministries, stakeholders and citizens.
Read more about the process in the blogs!
This project was showcased during the 2017 Final Show.
Student proposals
Better Together: Civil servants and the future
project by Yuri Fukamati, Vilma Hämäläinen, Brad Mullen, Emilija Veselova and Chinny Wong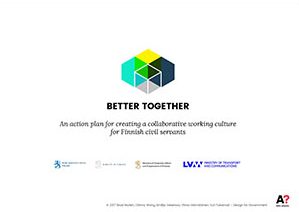 Kyky: New competencies for civil servants
by Laura Domingo, Eeva Lehto, Maya Pillai and Yiding Zhang