The 2017 Final Show of the Design for Government (DfG) course showcased new ways that multidisciplinary design can address policy-making and public-service provision! For an audience of 150, 4 highly-committed and talented student teams presented their research and proposals addressing challenging project briefs commissioned from within the Finnish government.
The theme 'togetherness' was in focus during this centenary year of Finland (Suomi100). DfG'17 addressed 2 project briefs – for the first time in DFG history, both project briefs involve multiple ministries! The 2017 project briefs are A Model for Regional Sustainable Circular Food and Civil Servant 2.0: Future work of civil servants. These projects demonstrate the ministries commitment to the kind of collaboration and crossover thinking necessary for addressing complex societal challenges.
Below is documentation of the 2 DfG'17 projects – including videos of the presentations, presentation slides, each team's final report, as well as pictures of the Final Show.
Welcoming Words
Welcome from Eero Eloranta (Vice President, Education, Aalto University) and introduction to Design for Government from Professor Ramia Mazé
Link to video (30 min)
Showcased Projects
Final Show in Pictures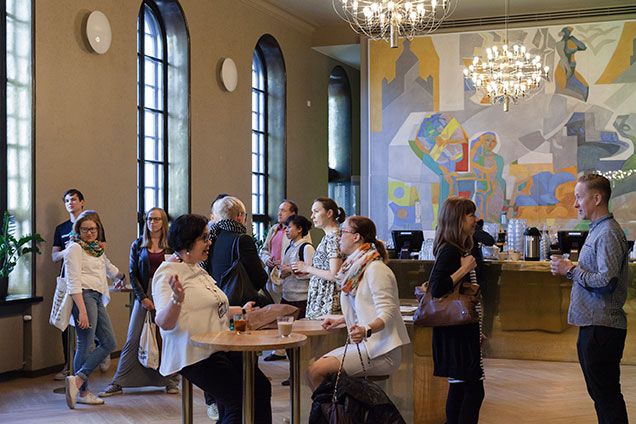 FINAL SHOW ON TWITTER
Check out the show's twitter stream #dfg2017 with images and thoughts from the audience that included governmental and design stakeholders as well as a wide range of perspectives from the public!
Warm thank you to our video and photo team, Glen Forde (video) and Heidi Konttinen (video support and photography).
More:
Complete Flickr photo-album, photo credit © Creative Sustainability
Aalto Festival photos, photo credit Alisa Javits
The show took place 09:00 – 12:00, Tuesday, 23 May 2017, at Valkoinen Sali in downtown Helsinki. The show was a part of Aalto Festival, and included an introduction by Eero Eloranta (Vice President, Education, Aalto University). Complete program and more info and images at aaltofestival.fi and #aaltofestival