This blog post reports on work-in-progress within the DfG course! The post is written by one of the three groups dealing with the Ministry of Environment's project brief on 'Just transition to post-oil heating in homes'. The group includes Hsin-Yun Lai, Daniel Leiviskä, Anh Nguyen, and Emile Rebours.
---
In answering the questions on how to get rid of oil heating in Finland, we investigate two issues. Firstly, how to effectively promote the largest reductions in household energy use carbon emissions in a way that is fair especially to those with low incomes? Secondly, how to make the transition process transparent and simple to the people living in oil heated houses?
Since the last blog post, our group has interviewed a relatively large amount of people whose heating solutions relate to oil heating. We also create a complex system mapping, which covers stakeholder mapping, institutional mapping, heating system mapping. We also conduct research and work together to brainstorm new ideas and analyze our results. The digital tool we have been using are Zoom, Miro, Flinga, Google Drive.
Our first key findings are sharp and brief as followings:
The financial support system for energy renovations doesn't cover everyone, not just because there is no support or them, but also because they don't know about it.
We have been interviewing from retirees to educated professionals. We are surprised that even well-informed working people are not aware of granting packages i.e. ARA. For those who have the budget and intention to switch, they already have back up plan or working towards switching. For people who are not motivated such as pensioners or those who cannot afford the transition, our current view is that people these groups need clear instructions and generous grants for them to transit or through banning force from the governments. Otherwise, it will take years for them to switch. 
There are moments in people's lives when they are more ready or motivated to change their energy systems. At these points, people need information about energy solutions, but it's often provided mainly by the companies selling them. 
As companies who sell heating solution has budget and motivation to communicate to the public, the information by them is most popular. We worry that the information is tilted towards marketing purposes. It is critical that customers are given the right information. This is problematic and can be made worse by the government being too neutral towards different solutions. People have different situations that need different solutions, but according to our research, the right to choose is not as important to people as the oil heater company organisation told us. What people seem to want is just some reasonable solution to them. If Motiva is providing less biased information to people about what is best for them, they have not reached everyone.
Going forward, we will analyze each stakeholder in our system map in more detail to potentially find the synergies how these players can work together to create synergies. We also have contacted several parties to ask for possible interviews.  However, in the next phase, we will focus on crunching the current documentation and follow the strategies we come up with within the first part of the course. Below is the visual summary of our system map.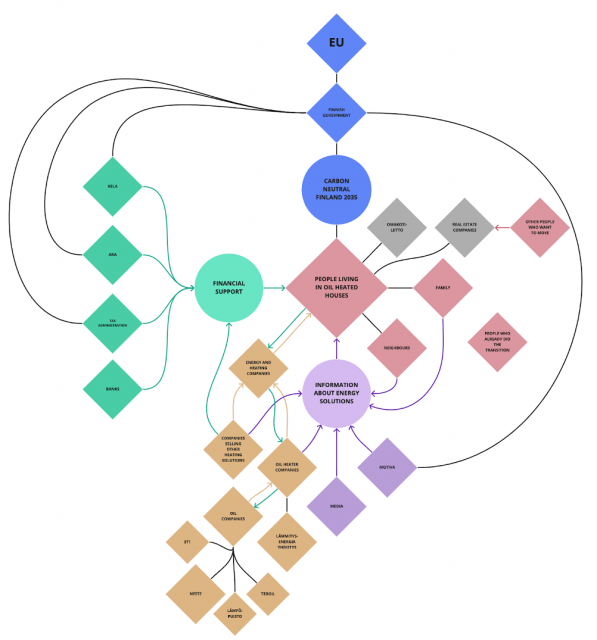 ---
The DfG course runs for 14 weeks each spring – the 2020 course has now started and runs 25 Feb to 19 May. It's an advanced studio course in which students work in multidisciplinary teams to address project briefs commissioned by governmental ministries in Finland. The course proceeds through the spring as a series of teaching modules in which various research and design methods are applied to addressing the project briefs. Blog posts are written by student groups, in which they share news, experiences and insights from within the course activities and their project development. More information here about the DfG 2020 project briefs. Hold the date for the public finale 09:00-12:00 on Tuesday 19 May!