The Design for Government Final Show is free and open to the public – and it will be held online for the first time! The Final Show is always fully-booked and places are limited. We warmly welcome you, register here now.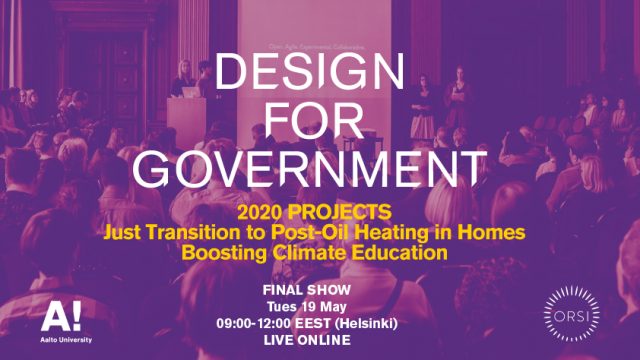 Design for Government 2018 Final Show
09:00 – 12:00, Tuesday 19 May 2020
Online via Zoom (registered attendees will receive the link) Registration link
2020 DESIGN FOR GOVERNMENT PROJECTS
Just Transition to Post-Oil Heating in Homes (Ministry of Environment & ORSI research project/consortium)
Boosting Climate Education (Ministry of Environment, Ministry of Education and Culture, Finnish National Agency for Education & ORSI research project/consortium)
Check out summaries of the project briefs here!
---
The DfG course runs for 14 weeks each spring – the 2019 course has now started and runs 25 Feb to 19 May. It's an advanced studio course in which students work in multidisciplinary teams to address project briefs commissioned by governmental ministries in Finland. The course proceeds through the spring as a series of teaching modules in which various research and design methods are applied to addressing the project briefs.