This blog post reports on work-in-progress within the DfG course! The post is written by one of the three groups dealing with the Ministry of Environment's project brief on 'Just transition to post-oil heating in homes'.  This group includes Ásta Ágústsdóttir, Sumi Moon, Ville Pellinen, and Shreya Sood.
---
This blog post gives you a glimpse into the progress of our work after the mid-review presentations. During this period, we managed to gather information from around 1000 oil heated households, 800 previously oil heated households, and 2100 other households through a questionnaire sent via Omakotiliitto and from 3 volunteers participating in our cultural probes examining their everyday life with oil heating. Ville and Ásta have been synthesizing the reports and we collectively as a team have jumped energetically into the ideation phase of the project. Upon summarising our insights in the last phase, we have narrowed the problem statement to focus on 'What kind of regional pilots could the government organize to encourage residents and companies in those regions to perform certain energy efficiency improvements in households?'
Gap between people's intentions and their behaviour
To gain an understanding of possible solutions the supergroup held an interview with Peter Lund from the Finnish Climate Change Panel. He helped us in understanding that there is a gap between people's intentions and their behaviour due to the information and financial barrier. Thus, he emphasized the importance of behavioural economics as well as different hybrid solutions (i.e. concentrating on energy efficiency improvements on a broad scale) a lot. This is evident from the answers that we got from our most recent qualitative and quantitative research as well. He also offered insights towards considering budget-friendly yet efficient ways of energy conservation rather than a transition towards a whole new technology. As we grasped a closer understanding of the context, we defined 'easy, voluntary, equality, and clarity' as the framework, or design drivers, for our proposal. As we identified that the perceived cost of the transition is a hindrance, our group decided to leverage on 'choice architecture and financial incentives' as ways to reach out to people and assist them in becoming transition heroes and set an example for the rest of the community.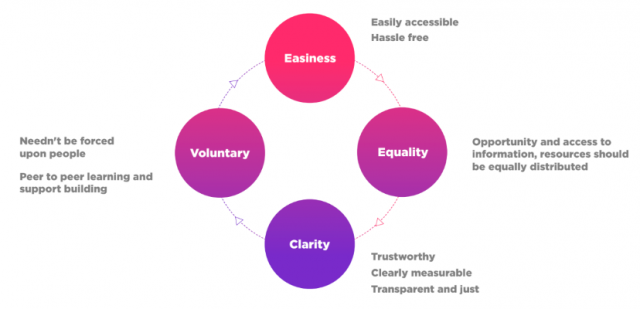 Personalised attention and upfront incentives
Most households did not choose oil heating as a preferred source in the first place. Even though they are aware of the climate impact and show willingness to change, there is an overwhelming amount of information and a lack of trust to an extent in companies for putting profits over the greater good. We plan to run a pilot project with a certain region ("maakunta") to begin with, to test, learn, and adapt which measures work and what could be learned from the mistakes. Our first step would be to send personalised letters to all households within a given region to invite them to be the 'transition heroes' if they are heating their houses with fossil fuels. Once we have formed a team of volunteers from the region, we go on conducting an audit to assess the situation of the houses. This audit could either be done by individuals on a digital platform, or they could request an in-person auditor. Upon gathering information from the examination, the household would be offered alternative measures. This is the stage where we harness the power of defaults, by nudging them to the most favoured, preset option. The intention is to save people from decision fatigue and simplify their choices. This kind of an easy transition offered with a turnkey model we identify as the single most powerful leverage point in our initial proposal.
Second, we want to encourage them to uptake the energy-efficient solutions by offering them upfront incentives. Some of the incentives that we could offer are monetary vouchers, or even sharing success stories on social media platforms to further inspire other people to be the transition heroes. Since people have a strong desire to maintain a positive self-image, we want to leverage on the potential gain of maintaining a 'good citizen' image as a powerful incentive. Third, we plan on holding a 'follow up energy efficiency measurement' to make the cause stronger and increase people's willingness to be a part of the movement.
We will utilise the next few days in detailing out the proposal and make visual presentations to be showcased on May 19.

Reference:
EAST Four simple ways to apply behavioural insights Owain Service, Michael Hallsworth, David Halpern, Felicity Algate, Rory Gallagher, Sam Nguyen, Simon Ruda, Michael Sanders with Marcos Pelenur, Alex Gyani, Hugo Harper, Joanne Reinhard & Elspeth Kirkman.
---
The DfG course runs for 14 weeks each spring – the 2020 course has now started and runs from 25 Feb to 19 May. It's an advanced studio course in which students work in multidisciplinary teams to address project briefs commissioned by governmental ministries in Finland. The course proceeds through the spring as a series of teaching modules in which various research and design methods are applied to addressing the project briefs. Blog posts are written by student groups, in which they share news, experiences, and insights from within the course activities and their project development. More information here about the DfG 2020 project briefs. Hold the date for the public finale 09:00-12:00 on Tuesday 19 May!