This blog post reports the final stages of our 14 weeks journey in the Design for Government DfG 2017 course! It is written by one of the two groups working with the brief of 'A Model for Regional Sustainable Circular Food ' commissioned by The Ministry of Agriculture and Forestry and The Ministry of the Environment, with Sitra and Motiva. The group includes Nurgul Nsanbayeva and Anna Kokki from the Creative Sustainability MA Design Programme, Tito Williams II and Tilda Jyräsalo from the Collaborative and Industrial Design Master Programme, and Elisabeth Fried from the Master of European Studies in Design (MEDes) programme, Elisabeth is currently doing her exchange at Aalto University.
---
Our journey
Our work process in Design for Government started in February with extensive research conducted by two teams working on the project brief about circular food systems in a regional Finnish context. Our desktop research consisted of reviewing over 50 reports on the circular economy and food initiatives by the Ministries and other relevant actors such as government organizations and institutions. Using 'empathic design' methods, we conducted over 25 interviews with different stakeholders of the food industry, including farmers in Southwest Häme, Forssa municipality agriculture office leader Mari Pentti-Tuomisto, a Ryyniremmi food circle advocate among other professionals with relation to the food business. We analyzed these findings, feelings, and words to turn the collected data into useful insights. Based on our results, we mapped all relevant stakeholders in the system including their relationships to one another.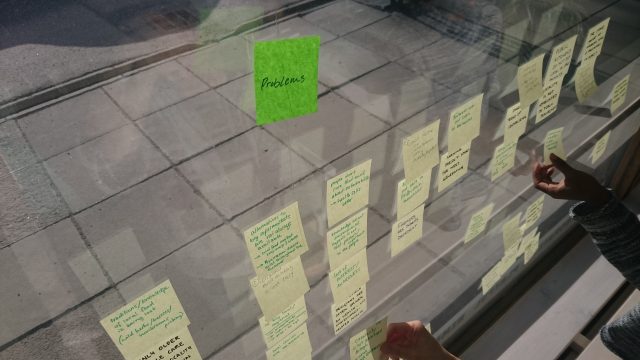 In addition, we had an initial workshop with our main stakeholders Birgitta Vainio-Mattila from the Ministry of Agriculture and Forestry and Hanna Mattila from SITRA (described in this earlier blog post). Afterwards, we organized a more comprehensive 'Atlas Game' workshop with Birgitta and Hanna, who were also joined by Taina Nikula from Ministry of the Environment and Kirsi Viljanen and Minna Huttunen from the Ministry of Agriculture and Forestry.
System semantics – what difference does it make?
Our team's work was influenced by empathic and systems approaches taught to us during the course. After interviewing farmers of Southwest Häme region, we discovered that the farming occupation is no longer desirable due to long and unregulated working hours, centralization of the food system, high opportunity costs for small farms, and popularity of other non-manual career choices. Through our research, we also discovered that there are many government programs that aim to boost interest in the farming career and assist to existing farmers. However, those programs have not realised their potentials.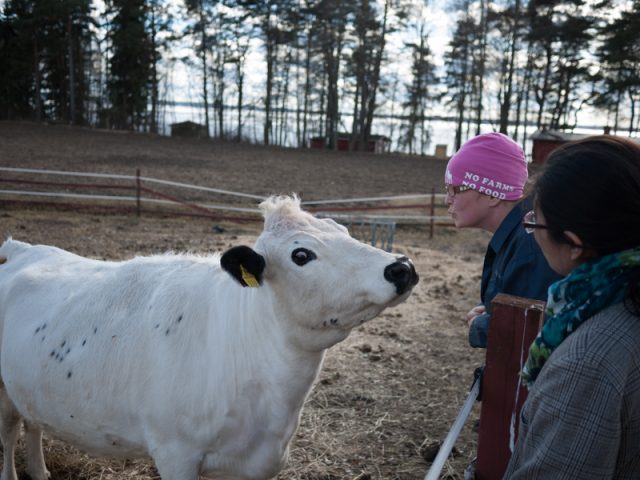 In our team, we concentrated on the meaning behind language and actions, as we broke down the brief and clarified our interpretation of it in order to understand what we want to communicate about regional sustainable circular food.
We started asking questions: How can one apply the term 'semantics' to a complex system? What are the meanings behind the current Finnish food system?
The Final Show
On the 23rd of May, we presented our findings "Food Systemantics: The semantic system of regional sustainable circular food" at the final show of Design for Government (DfG) 2017, which was part of Aalto's Suomi 100 events and Aalto Festival. We used the existence of an orange carrot, (which was originally developed in the honour of Sir William of Orange), as an example of systemantics, and we proposed three possible actions for the ministries build upon in future work.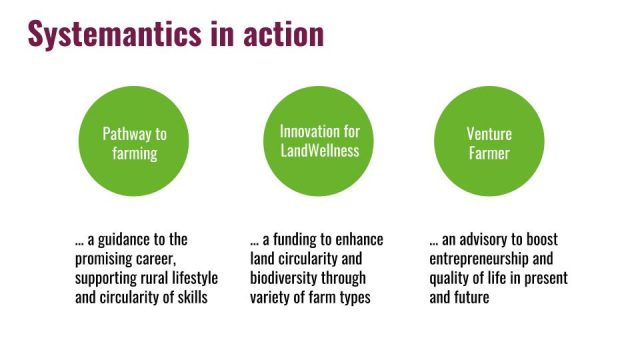 The final show was a highly rewarding experience – it was great to listen to final presentations of other teams and get constructive feedback and praise from the audience. We also enjoyed informal conversations after the show with course staff, representatives of ministries and DfG Alumni. The past 14 weeks have been an exciting journey, exploring the complex food system in Finland by focusing on the Southwest Häme region.
For our team, a carrot will never look the same again!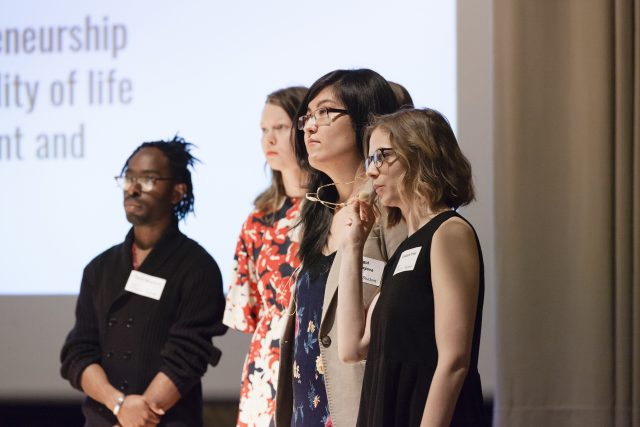 See pictures, reactions and comments from the Final Show on Twitter under hashtag #DfG2017. Final presentations from will be updated soon to DfG homepage. Follow updates on DfG Facebook or Twitter page! You are also encouraged to take a look at previous blog posts that describe the process: design games were described within the first blog post by the other Circular Food group. In previous blog posts, the two other groups in DfG2017 who worked on the project brief 'Civil Servants 2.0' described their take on how to make sense out of data and develop ideas.
---
The DfG course runs for 14 weeks each spring – the 2017 course has just ended (21 Feb to 23 May). It's an advanced studio course in which students work in multidisciplinary teams to address project briefs commissioned by governmental ministries in Finland. The course proceeds through the spring as a series of teaching blocks – Empathic Design, Systems Thinking and Behavioral Insight – in which various research and design methods are applied to addressing the project briefs. Blog posts are written by student groups, in which they share news, experiences, and insights from within the course activities and their project development. More information here about the DfG 2017 project briefs.