The Design for Government final show is now open for the public! The event is free, but due to limited seats at the venue, the event requires registration. We've previously been fully booked, so register here and now!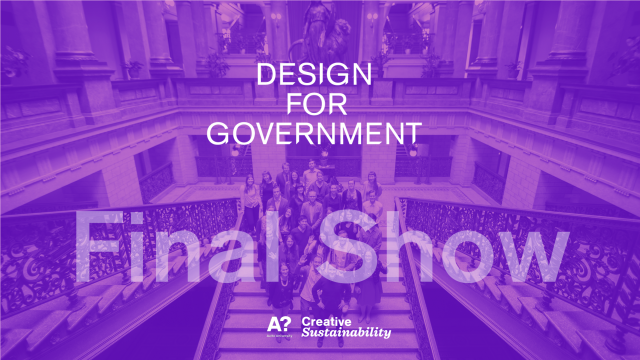 Design for Government 2017 Final Show
09:00 – 12:00, Tuesday, 23 May 2017
Valkoinen Sali
The 2017 Final Show of the Design for Government course showcases new ways that multidisciplinary design can address policy-making and public-service provision! 4 highly-committed and talented student teams will present their research and proposals addressing challenging project briefs from within the Finnish government: 'Civil Servant 2.0: Future work of civil servants' by the Ministry of Finance, Ministry of Economic Affairs and Employment, Prime Minister's Office, and Ministry of Transport and Communications and 'A Model for Regional Sustainable Circular Food' by the Ministry of Agriculture and Forestry and Ministry of the Environment with with SITRA and Motiva.
The projects this year demonstrate the ministries commitment to the kind of collaboration and crossover thinking necessary for addressing complex societal challenges. Both the setup of the projects and the project themes will have a special focus during this centenary year 'Suomi100' marking Finland's independence. The final show is also part of the Aalto 100 events of this year's Aalto Festival.