Editor's note: We offered this blog as a platform to the DfG course participants who are documenting the DfG course for readers to get a glimpse of how things went. This is one such post by Plastic bags – communication and education team
All groups presented their mid-term presentation on May 9. We had several guests from outside of Aalto, who all gave us fruitful comments which will push us further on through our journey.
From the Ministry of the Environment, we once again welcomed Tarja-Riitta Blauberg and Erja Väyrynen who have given us the initial brief. Outi Kuittinen joined us from Demos Helsinki, and Ira Verma from Sotera Institute. Each group gave a 15 minute presentation; Erja, Ira and Hella commented on the 3 accessibility teams, and Tarja-Riitta, Outi and Seungho commented on the 3 plastic bag teams.
Accessibility
Sub-theme 1: Communication Team
Barbara, Eeva, Lilli, Nina, Sasha
The accessibility communication team is focusing on regulations and guidelines, which are now bound to each other in a way that lead to confusions. There is only a monologue by the government now, and the system of making regulations and guidelines has no feedback loop. The team's concept is based on three stages: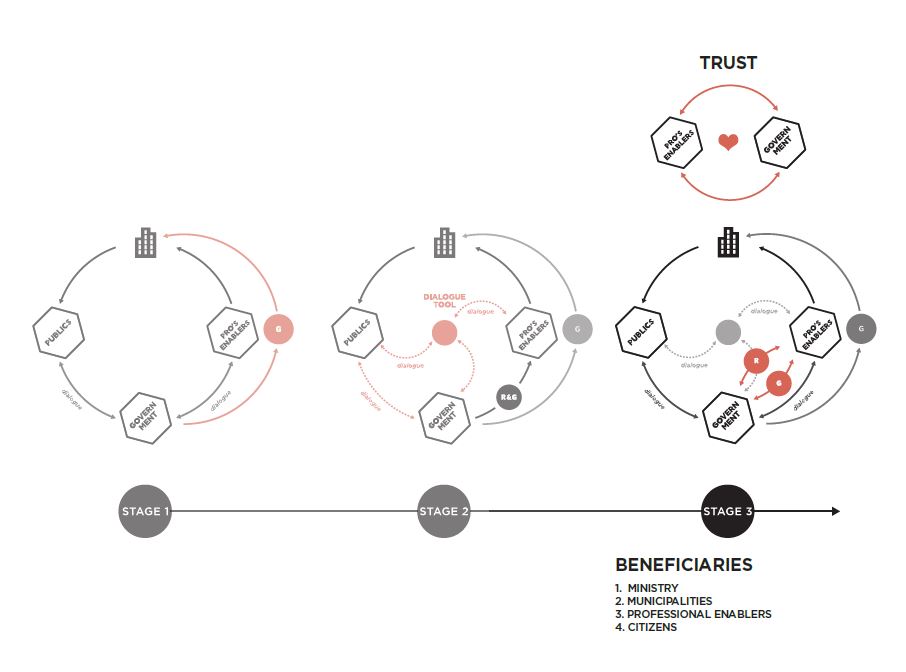 1. Stage 1: Create a dialogue
The first stage is to make dialogues for planners. The group proposed that storytelling needs to be done, notifying people of not only "what" but "why" regulations and guidelines are necessary, and making it more understandable.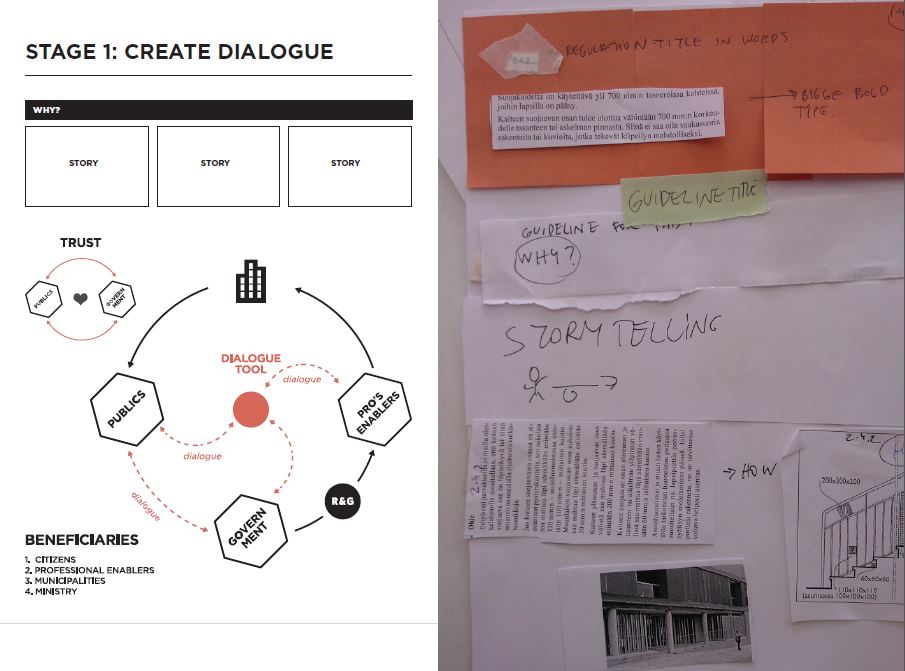 2. Stage 2: Create and maintain a dialogue
The second stage involves both creating and maintaining a dialogue. The current situation is that it is difficult to categorize the many different feedbacks. In order to improve this, a sticker campaign will be launched within a small, local community. People will be given stickers which say "Ei!" "Kyllä!" or "Muutos!" (no, yes or change) and they can attach them to places that can be either improved or they thought was easy to access. The feedback will be brought into a workshop where there are different stakeholders, then they are discussed and dialogues are opened.
3. Stage 3: Create and maintain new process for guidelines
The third stage is to create and maintain a better process of how guidelines are made. Now the process is only for lawyers.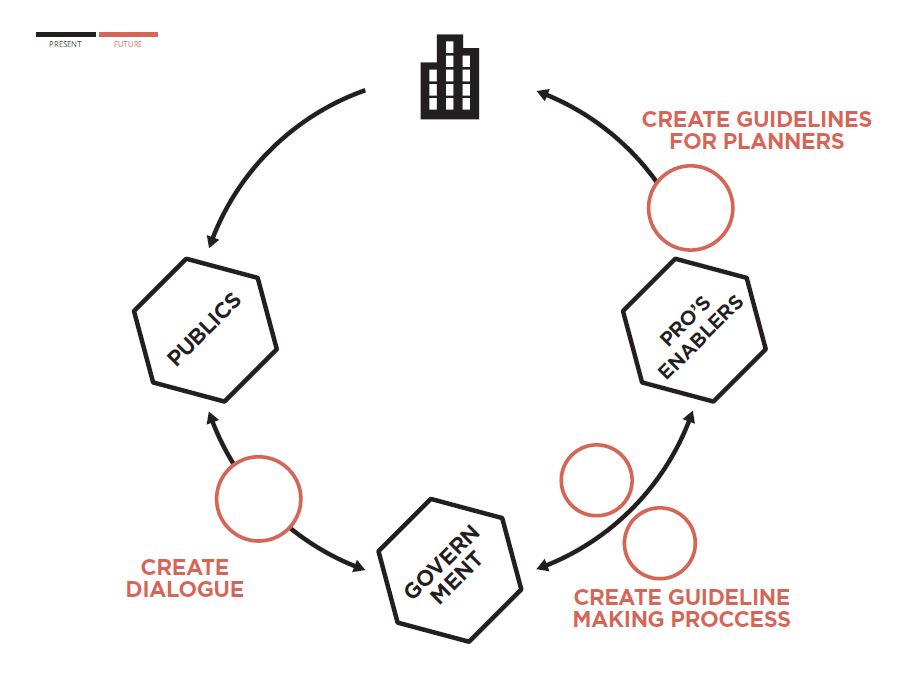 Feedback session:
The process of lawmaking is not changeable, but guidelines can be a dialogue.  The stickers can be quickly tested in a local scale, but it is important to get the stakeholders together to make a physical interaction. The smartphone usage may challenging to some in terms of accessibility. It is important that you, the organizers, collect the data with people, and to document it as well. The updated regulations have to be really ready for use. The concept is good because it is not only related to accessibility, but it could be very useful for other ministries to create other guidelines.
Sub-theme 2: Incentives Team
Anni, Heta, Netta, Ningfeng, Sarasati
The accessibility incentives team opened their presentation with the question: "What do you value in life?" Could accessibility be one of the values in the future?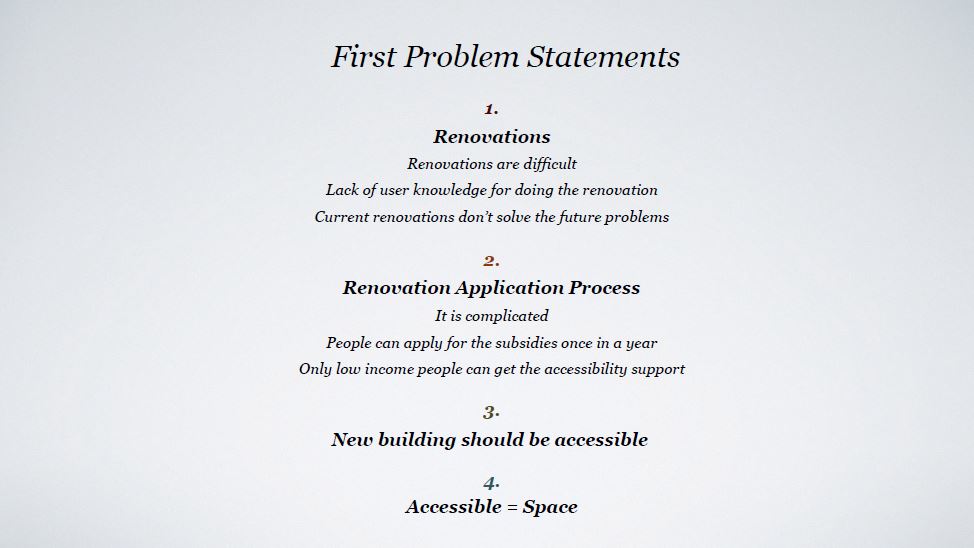 'The problems of the current situation'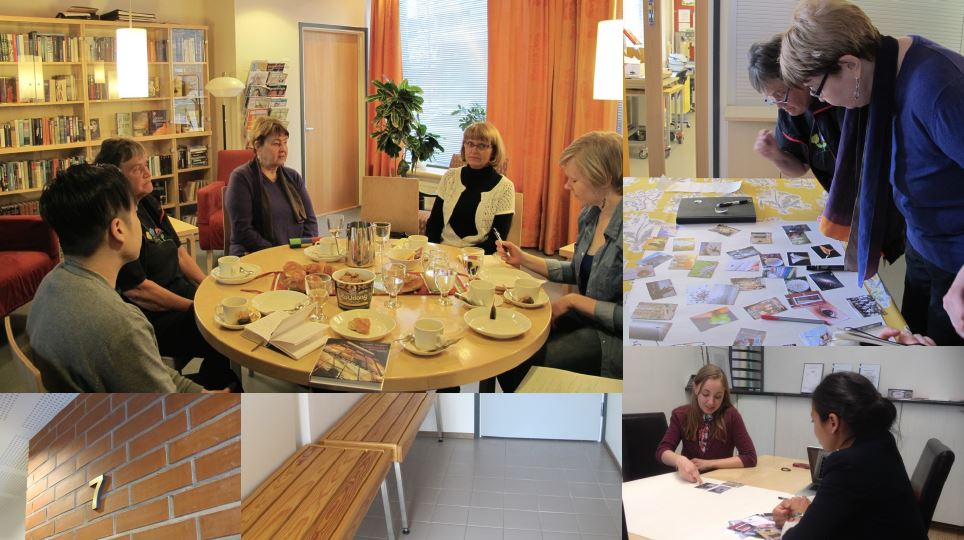 The 3 areas the incentives team are tackling accessibility are:
1. Housing Business
The problem in the housing business is that the people in charge of the construction are believing that they are delivering what people want, and not enough user studies have been conducted.
2. Current Subsidy Process
The present situation is that you can only get subsidies if you have a low income level, and it is a challenge to make the process equal for everyone.
3. Communal Living
Case study: "Loppukiri" is an apartment building with an active community, where responsibilities are shared and many activities are done together.
Taking these into account, their goal is to "increase the awareness of accessibility for a better life, improving support systems and introducing long term investment plan."
The team presented 3 concepts in different time spans:
1. Short term: Accessible Packages
Information is visualised about what to get subsidies for and how.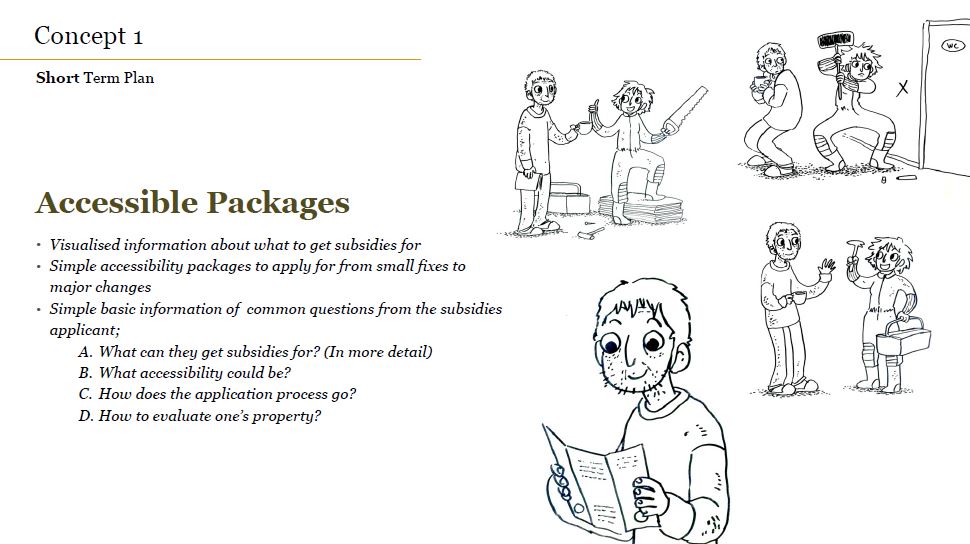 2. Medium term: Our Home
Municipalities can support communal housing projects through a service program, where people can work together to create a better living environment.
3. Long term: Investment for Future
There will be support so that people can start investing for their long term housing.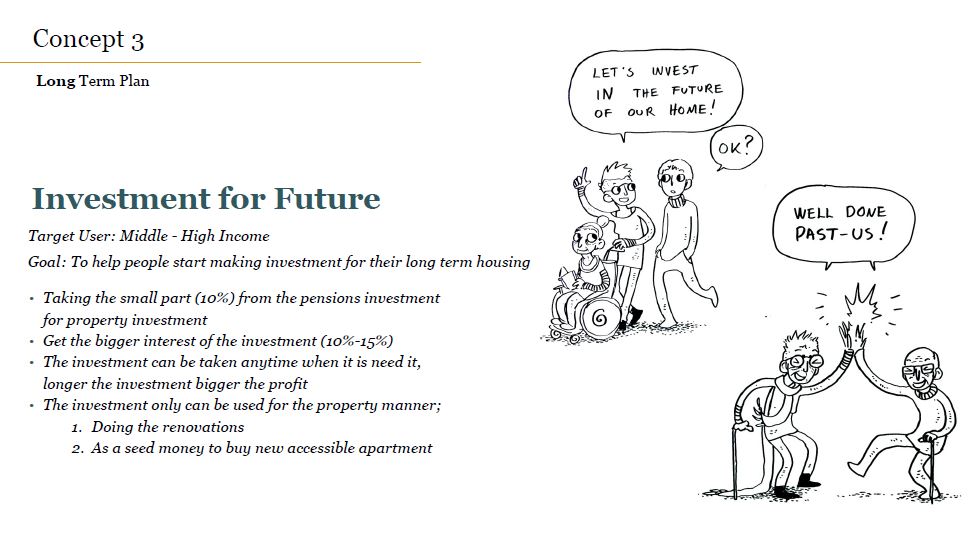 Feedback Session:
The concepts are quite ambitious, but the last one is innovative and very new in this field. The "Loppukiri" is well known and it is good, but it has not been replicated; it should inspire new groups to do something similar. It has also been a very heavy process for the ones who have been building it, so perhaps a tool for helping the builders would be a good idea. Easier access to subsidies is necessary.
Concentrating on renovation as the main problem is good, because it is the most difficult part of the problem. Providing subsidies at the same time the many old building are renovated is meaningful, and there are many elderly people living in those buildings.
Sub-theme 3: Implementation Team
Andrea, Anna, Johanna, Philip, Samuli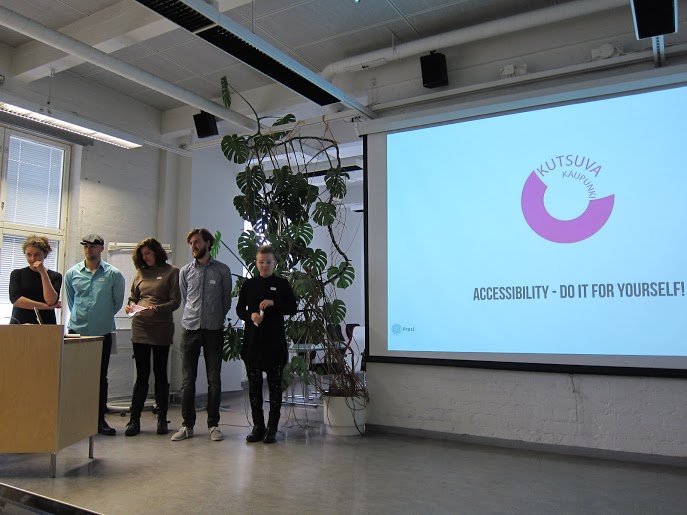 The implementation team started their presentation with a video introducing some of the quotes from their interviews with visually impaired people. They emphasized that these people are not the only target group, and that they are including all kinds of people in their concept. The research raised the question of what it means to live independently. Accessibility is not only a problem of movability in buildings, but also in means of transportation and to be active in societies.
When thinking about points of intervention, the team took the stance that all of us will become and may become disabled one way or another.
There are 170 or more NGOs that are related to accessibility, which are quite powerful and can affect the government. The government gives out the laws, and they rain down on public buildings and operators without informing them their reasons. One of the points that they identified is to create a connection and some activity between users and the public buildings and operators.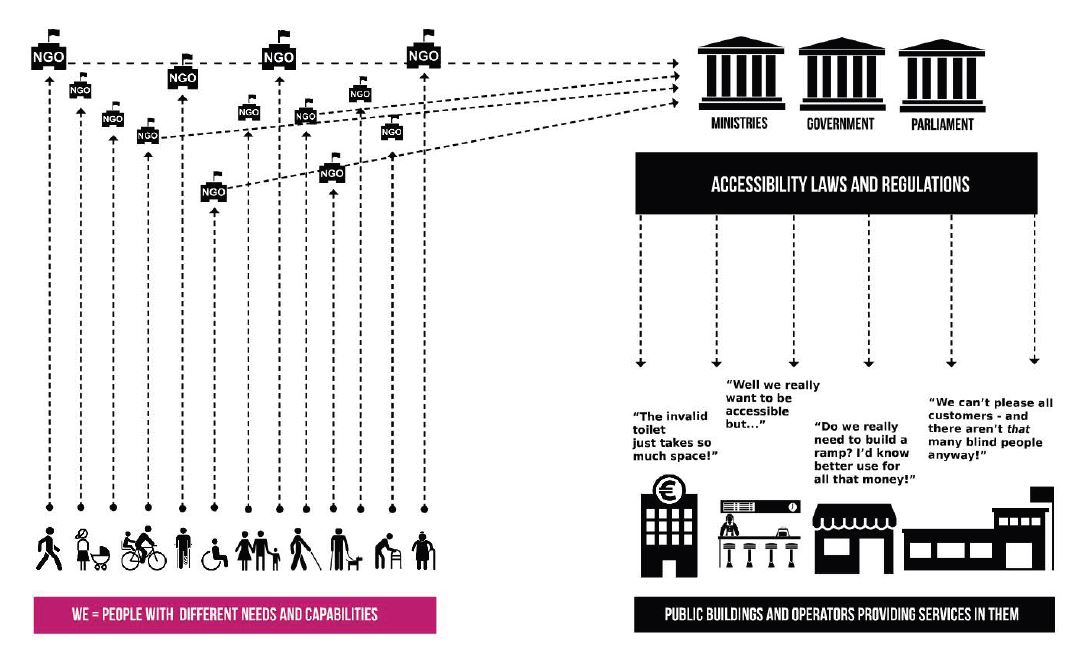 After analyzing the different needs of the government, operators, service personnel and users, they came up with the concept of "Kutsuva Kaupunki," or "inviting city." It will be a concept of a communication platform and will also provide information on accessibility. It will also provide benefits for different stakeholders including firms, NGOs and operators. It will be a collaboration of the government, designers, NGOs and companies. "Kutsuva Kaupunki": Accessibility, do it for yourself!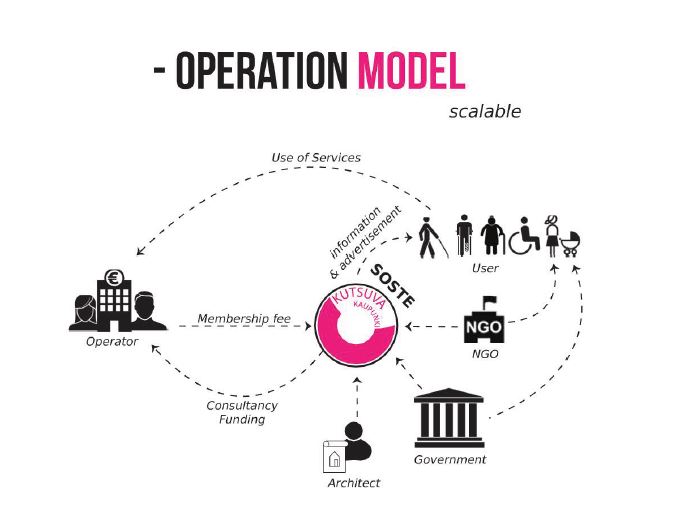 Feedback session:
How the team structured the problem is good. The platform is quite extensive and ambitious as well, but the operation model really shows how it should be. It can bring different stakeholders together and all the field would benefit from it. The concept is nice because "kutsuva" is very positive. It will help people to live independently, and it is good that people can do it for themselves, not for others.
There is a business opportunity of accessibility. The next step will be to discuss what the actual platform for this will be.
Overall (umbrella theme) feedback:
The three accessibility groups overlapped in some ways but each had their own perspective and they really complement each other.