Editor's note: We offered this blog as a platform to the DfG course participants who are documenting the DfG course for readers to get a glimpse of how things went. This is one such post by Accessibility – Implementation team
The inspiration block started off with a brief Q&A session on Skype with Kit Lykketoft, the Deputy Director of MindLab. MindLab is a Copenhagen based "cross-governmental innovation unit which involves citizens in creating new solutions for society". MindLab aims to help government and decision-makers to look at the processes and implementations from the users' perspective – which in this case means no less than the perspective of the citizens of Denmark.We were provided with three MindLab's publications some weeks before, each of which was read by two teams. Each team made an executive summary of each publication and came up with questions we wanted to ask to Kit.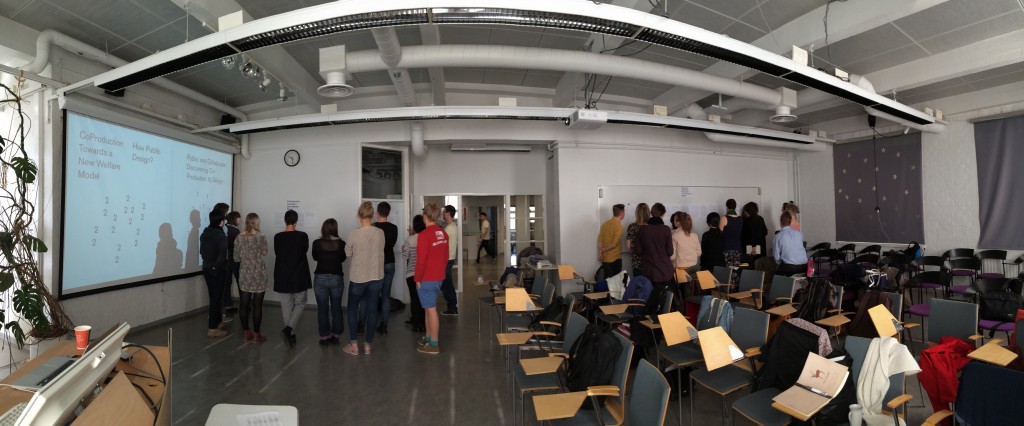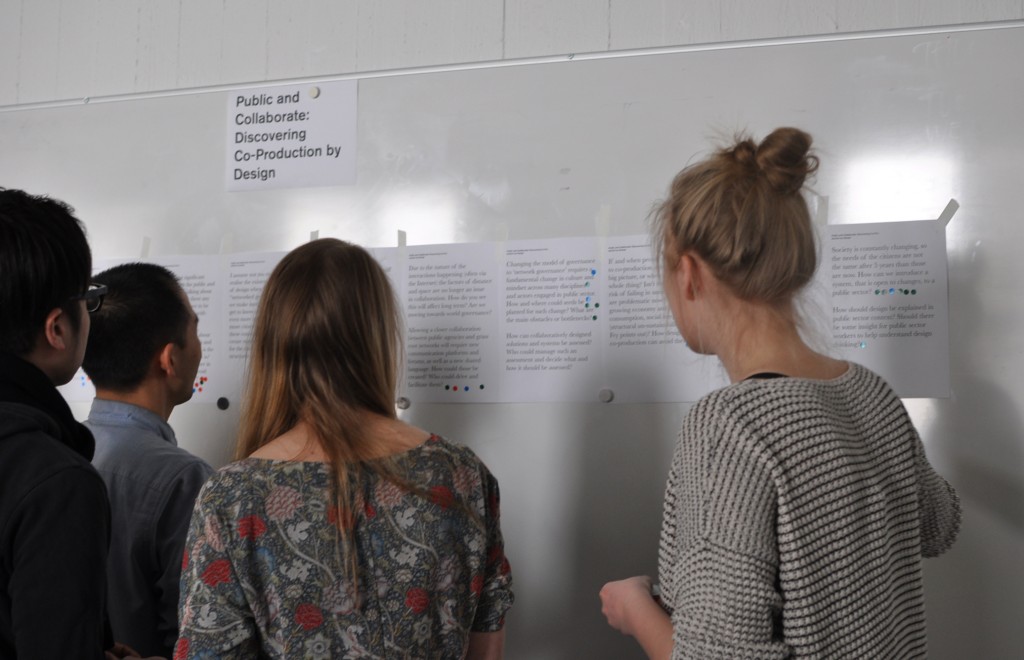 We got the chance to talk with Kit about the work done by MindLab and gain insight on how working with the government is like. We were interested in how to work with such delicate and complex issues as governance and decision-making. Kit emphasised that the the problems governments and public sector are facing are always wicked ones. This accordingly means that the working methods and solutions have to be flexible. The key in her eyes is to create feedback loops and systems that are able to learn and develop on the go. Another issue was how to share the information with the stakeholders – often a key factor to success in all projects. Kit's message was to keep the communication as simple and tangible as possible.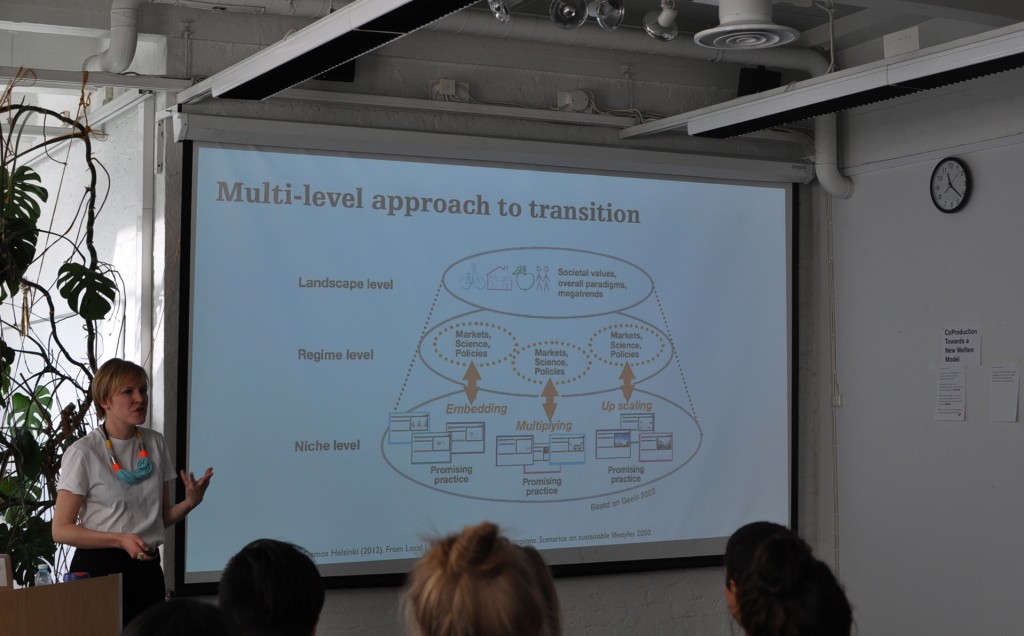 Later in the morning, we met Outi Kuittinen, the head of Co-creation at Demos Helsinki, a local think tank in Finland that work with both public sector and private sector. Outi brought up her experience with the challenges in transforming people, organisations and groups by collaborating with the public sector. Among different projects they have helped to redefine, prototype, and evaluate the change needed to address the complex challenges of today's world. For this transition, she emphasised, a multiple-level approach is required where the different levels of systems – from embedded practices of everyday and complex policies to societal values – are addressed. Holistic approach is taken to ensure a transition towards productivity, growth, and well-being. Projects like Peloton well exemplify the shared values between seemingly distant actors – enabling societal change that fulfils the needs of citizens and the role of government.

We finished the very intense but inspiring day with an evening with yet another Skype conference with Chelsea Mauldin from the New York based Public Policy Lab. "The Public Policy Lab is a non-profit organization committed to the more effective delivery of public services to the American people." Established in 2011, it consists of two full-time employees and have guest staff when the specific needs arise for a project. They only do projects with government agencies. During a project one or more PPL persons are working on site with the specific agency. She emphasised, although they work with various governmental agencies, that PPL's client is the end-user, the beneficiary of the public services the agency is providing – that PPL always starts a project by telling the partnering government agency that their client is the public. We thought PPL is taking co-design to the next level, since they do so not only with the end-user but also with the service provider whom according to Chelsea often are neglected as user to be studied.
Inspired by those insights on designing for government in practice, we – the implementation team – continued our fieldwork on different stakeholders and users. In our case, user study was mainly focusing on the visually impaired and interviews were used for gathering more information and also as a tool to validate and measure the need of our preliminary ideas. Later the week we had a very inspiring May Day, which we guess for many in DfG was the first Finnish May Day – Vappu – experience.
On monday May 5th we continued with more insight from the real world. Ira Verma, the project manager of the Service Network Project in Lauttasaari, from Sotera Institute gave us a talk on the problem of an ageing society. Together with Sotera, the City of Helsinki Social Services and other collaborators are trying to improve the quality of an independent life for the elderly, by redesigning the system of health and social services. Lauttasaari project is a great example of customer-oriented design. Workshops, walks, and meetings with users organised on Lauttasaari island helped confirm once more that the goal could be reached only if changes are made looking at the bigger picture.
Ira Verma mentioned that all strolls of the elderly always ended in a cosy cafe with a warm chat. It's a fantastic reminder of the fact that the elderly is not a remote user group but us in the future – and when this time come we would like to be social and active for sure! It clearly indicates that in addition to accessible buildings and good services "Comfortable Ageing" requires accessible environment with green areas, sport and cultural facilities and trustful public transportation.
Later in the morning the three teams of plastic bags theme met Satu Hassi, a member of the European Parliament for the Green League and formerly Minister of the Environment. She discussed the political challenges of environmental protection and sustainable development in Finland and EU level.
With this in mind we continued our fieldwork and interviewed four more people with diverse visual impairments in Ii­ris – The Ser­vi­ce and Ac­ti­vi­ty Cent­re for the Vi­sual­ly Im­pai­red – and a person in charge of accessibility in HSL – Helsinki Region Transport. The user research informed us an acute need for new services for the visually impaired, however the meeting with HSL personnel unfurled its ongoing projects, which (un)fortunately were quite similar to one of our ideas. We decided to continue with the other idea, which back then we called Kutsuva Kaupunki (Inviting City) and leave the public transportation-related idea behind.


This is not unique to our team. Preparing for the mid-term review where we will have a chance to talk to our client – the personnel of Ministry of the Environment, all the teams are reframing their problem area as well as the solution scape. Well, in design, there is no right wrong answer and a bit of disappointment, confusion and frustration in the iterative process between problem and solution is only natural.
So, stay happy!
Samuli, Anna, Philip, Johanna and Andrea – the accessibility implementation team