Design for Government (DfG) celebrates the New Year recognising great achievements over 2015 – 'Design for Government: Human-centric Governance Through Experiments', which we produced with Demos Helsinki for the Finnish Prime Minister's office. From Aalto, the 2015 DfG course served as an example of what a part of the proposed process might unfold, the course founder of DfG, Seungho Lee, has participated as one of the main researcher and Professor Tuuli Mattelmäki served as an advisor for the research project.
The report proposes a new, quick-to-implement model for including experiments and behavioural approaches into Finnish policy design. The use of behavioural approaches as part of governmental steering has been shown to make policy more user-orientated, targeted and efficient. The report has been used to inspire the current government programme's commitment to "culture of experimentation". Further, it is also used to plan the experiments to be undertaken and programme implemented for supporting experimental culture.
The proposed model consists of three parts: firstly, understanding the problem, secondly implementing an experiment, and finally, evaluating the impacts identified. The suggested model was built specifically for understanding the benefits of policy through experimentation that can be taken in as parts to influence the governments working culture. In the report, important stakeholders are identified including the ministry personnel and the change-maker network. An alternative route is to establish an experimental unit within the public administration.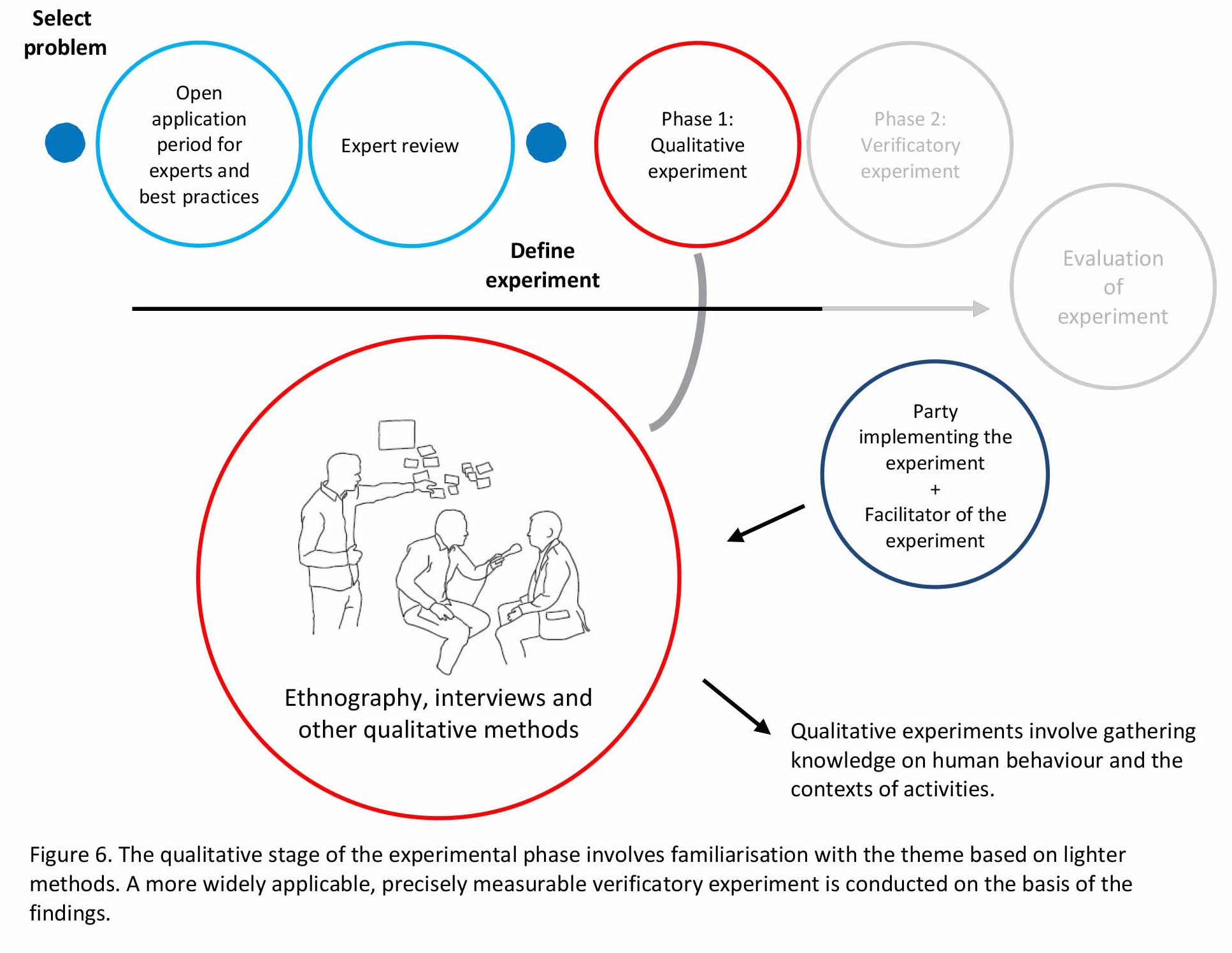 The proposed operating model is one element in our broader development towards a more people-oriented administration. … There is a clear need for new tools for the steering and development of the public administration. The nation is facing major reforms that are impossible to plan to perfection beforehand. … The purpose of the operating model is to make the planning of steering, and thereby the public administration, more open and democratic by involving people more effectively in the development of steering mechanisms.
– Page 22, Design for Government: Human-centric Governance Through Experiments
The consortium accompanied the research project with 2015 DfG course, upon which many empirical insights were based. In addition to the course, the research project included seven public events and workshops as well as large number of interviews with Finnish decision makers and leading practitioners around the world. In all, the events involved approximately 250 civil servants, designers, researchers, students and people in developing the roles design can play in the government and policymaking.
Just 2 years after the startup of DfG, we see increasing recognition of design's role in addressing various large-scale challenges in public sector and government. We are extremely happy to be part of the change, and will work hard to continue to advance the field!!
• Check out the full report in Finnish: Link
• Check out the main chapter in English: Link
• More about the research project: Link
• DfG 2015 results in video: Link