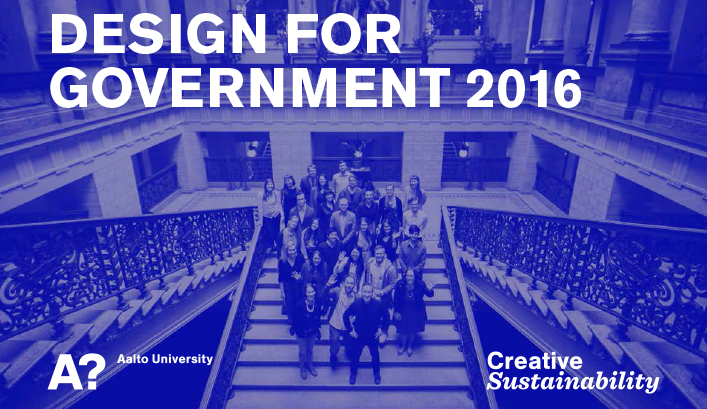 Are you interested in new and proactive ways of policy-making and public service-provision? What happens when multidisciplinary student teams take on policy design challenges? The 2016 Spring Final Show of the Design for Government (DfG) course will showcase some inspiring examples! Highly-committed and -talented student teams will present their research and proposals developed during the 14-week course addressing challenging project briefs commissioned from within the Finnish government.
Time and place
Tuesday May 24, 2016
8:30am to 12:30pm
Chydenia building, Runeberginkatu 22-24, trams 3 and 8 stop close to the venue.
3rd floor, room H-324
Program
08:30-09:00 Coffee and tea
09:00-09:15 Welcome!
09:15-12:00 Presentations by student groups
12:00-12:30 Discussion
Registration
The event is open to the public – Register here! Last year's final show was fully-booked, so we recommend you register well in advance!
Design for Government
Design For Government is a 10-ECTS advanced studio course. DfG develops uses of design and design roles addressing complex challenges within the government and public sector.
2016 DfG project briefs include:
• Bottom-up 'mobility as service' (Ministry of Transport and Communications)
• Energy and maintenance in Finnish housing companies (Ministry of the Environment)
• Waste prevention by extending (electronic product) lifecycles (Ministry of the Environment)
Check out summaries of the project briefs here!
In DfG, we apply empathic approaches to identify stakeholder needs, systems approaches to analyze the wider context of policies, and behavioural insight to identify and design relevant solutions. DfG builds on best practices in Finland and around the world. We think Helsinki Design Lab and Design Driven City, Policy Lab under the UK Cabinet, MindLab of Denmark, Public Policy Lab of New York are just the beginning. Since 2013, we have been developing skills, mindsets and examples of designers driving innovative and collaborative policy design.
DfG is a project-based course, in which projects are commissioned by governmental stakeholders. Projects are formulated as briefs, which are the basis for in-depth and practical development by interdisciplinary student teams. Students in DfG have backgrounds in design, arts and architecture, business, engineering, and other relevant disciplines.
Creative Sustainability
Design for Government course is a course within Creative Sustainability (CS), a joint master's degree programme at Aalto University. CS is a multidisciplinary learning platform in the fields of architecture, business, design, landscape planning, real estate and urban planning. DfG students come from CS, throughout Aalto and from other universities in Finland.

More about 2016 project commissioners:
Finnish Ministry of the Environment
Finnish Ministry of Transport and Communications
This event is a part of Aalto Festival, for more information aaltofestival.fi and #aaltofestival