This blog post reports on work-in-progress within the DfG course! The post is written by one of the two groups dealing with the Ministry of Transport and Communication's brief on 'Bottom-up mobility-as-a-service'. The group includes Jaakko Ikonen from the University of Helsinki's M.Soc.Sci in Social and Public Policy program, María Ferreira Litowtschenko from Aalto University's MA in Creative Sustainability (Design) program, and Kristin Swan from Aalto University's Msc. in Business Strategy program.
---
Almost There!

During the final month of DfG the focus is on proposing solutions to the problems we have been working on since February. The group working with the Ministry of Transport and Communication's project brief has now divided into two 3-person teams pursuing separate directions and ideas about how to better meet the transportation needs of more people in Finland. Our colleagues will focus on the top-down aspects, looking to make public services better, while our team will focus on enabling and accelerating informal, citizen-created mobility solutions from the bottom-up.
In the final lecture of the course,  DfG teacher Juha Kronqvist shared methods for developing solutions that create permanent change. One of those tools is Kurt Lewin's three-stage model of change known as "Unfreeze – Change – Refreeze," which starts by showing the client how the current way of doing things could be questioned. After creating a motivation for change, the stage of looking for new ways of doing things follows. When these changes take place, the organisation or society is ready to refreeze to make the change permanent. Learning about theories of change helped us understand how to construct our proposal and communicate it in a way that will create a sense of urgency for our client.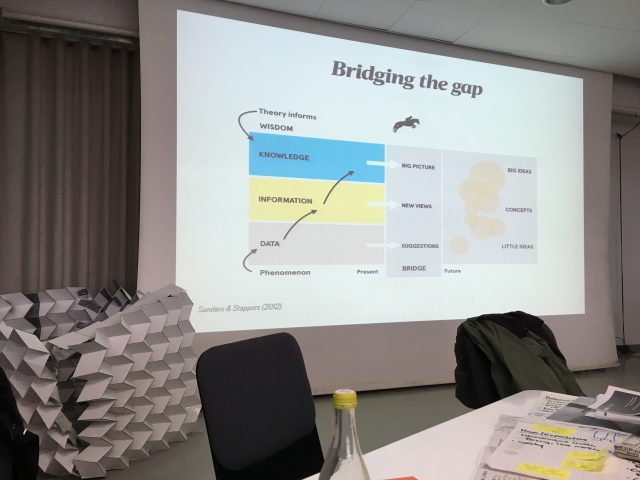 Juha Kronqvist then taught us tools and techniques to "Bridge the Gap" between the current state and all of the information and data we've gathered to the future solution phase (Sanders & Stappers, 2012). He introduced us to multiple creative ideation techniques to help us create insights from all the data and information we've gathered. The AT-ONE touchpoint cards developed at the Oslo School of Architecture and Design were a useful tool in the innovation process and helped our team brainstorm new ideas and identify relevant touchpoints. Touchpoints are all of the ways in which people can interact with a service.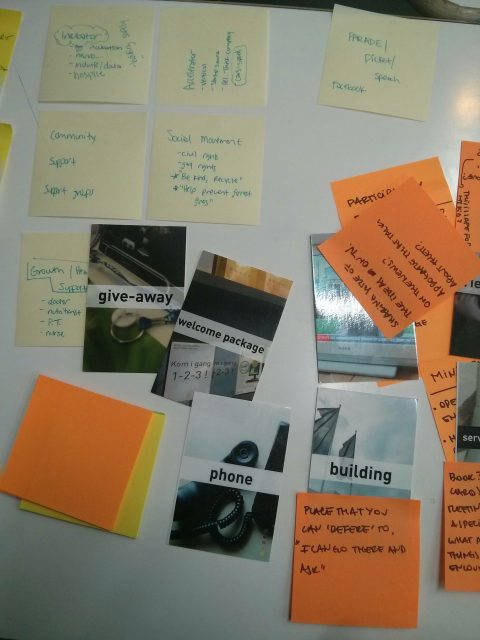 Working towards a solution
Through our research we have found that rural communities are constantly coming together to create their own informal mobility solutions, such as ride-sharing networks, to address the shortcomings of public transport and the long distances to jobs, schools, services, and hobbies. Most of this is being done without any outside help or cooperation with municipalities. We feel that these informal citizen-created solutions would have significantly more impact and stability if the communities would receive assistance in the process and we have therefore looked for ways to enable communities and accelerate their solutions. We are looking to accelerators, incubators, and experimentation platforms as inspiration for our thinking.
Our team has met with many stakeholders and experts over the last few days in order to test our ideas and get new perspectives on our proposed solution. We received valuable feedback and insights on the public sector's role in enabling new, citizen-created services from Maria Rautavirta from the Ministry of Transport and Communication. Maria shared her insight on similar programs and ideas on enabling this. It seems we are on the right track as many programs to date have looked to optimize existing services, but none yet has tackled this challenge of true bottom-up solutions. We then met with Anna-Mari Ahonen from Growth Corridor Finland, who shared more about the Growth Corridor, Mobility as a Service, and helped us to advance our thinking about the role of the market, the public sector, and this critical informal citizen sector. Maija Bergström from Forum Virium's Smart Kalasatama project shared experiences about how their project is involving local residents in service creation and experimentation.
Officials in charge of public transport and city planning with the City of Hämeenlinna have provided us with vital information about the realities of transport in the rural parts of our project site Hämeenlinna. We received a citizen perspective on the same issues when almost 100 local residents shared their mobility habits and issues through an online survey we posted on the internet sites and social media pages of villages and local organisations.  Kaisa Paavilainen from The City of Hämeenlinna's Communications Office even helped to spread the survey further by posting our survey as a press release to their website.
Perhaps the most eye-opening information sources have been the visits and phone interviews with village associations around the country, where we have learned about the different innovative and exciting ways in which the local communities have solved their problems.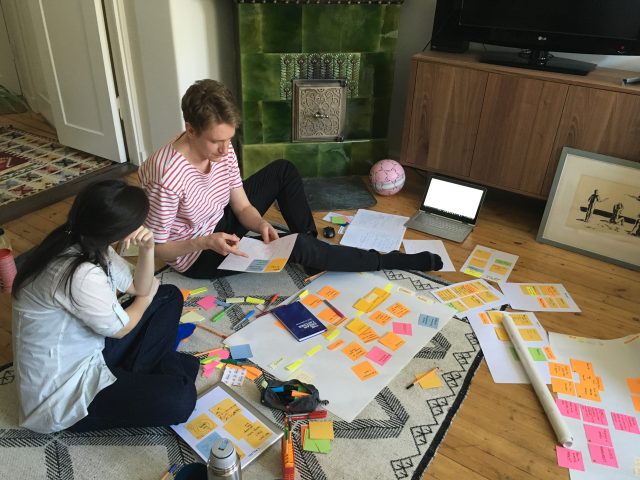 The final steps
Turning all of this information into a concrete solution that will impact communities is challenging but we are very excited to utilize the huge amount of tools and methods we have learned during DfG to craft our solution. We are only about two weeks away from the final presentation so most of our time will be spent on giving a specific and definite form to our proposal, but we will also discuss our solution with Sitra and talk to village communities over the next few days. We are looking forward to sharing our solution at the public finale on May 24th!
---
The DfG course runs for 14 weeks each spring – the 2016 course has now started and runs 22 Feb to 28 May. It's an advanced studio course in which students work in multidisciplinary teams to address project briefs commissioned by governmental ministries in Finland. The course proceeds through the spring as a series of teaching blocks – Empathic Design, Systems Thinking and Behavioral Insight – in which various research and design methods are applied to addressing the project briefs. Blog posts are written by student groups, in which they share news, experiences and insights from within the course activities and their project development. More information here about the DfG 2016 project briefs. Hold the date for the public final show on Tues 24 May and sign up here!