You are cordially invited to the mid-term review of Design for Government 2015 at Tieteiden talo, the House of Science and Letters, on 21.4.2015 from 9 to 12. We'll be looking forward to your feedback and comments to the hard-working teams.
The Prime Minister's Office (VNK) and the Ministry of Agriculture and Forestry (MMM) assigned three project to Design for Government, and the six teams of highly committed and talented designers will share their findings so far and present potential directions for intervention.
Please RSVP through this link.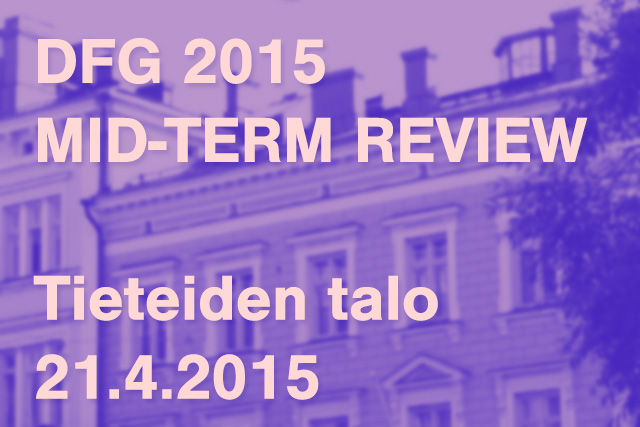 Time and place
Tuesday April 21, 2015 from 9:00 to 12:00
Tieteiden talo (The House of Science and Letters) Kirkkokatu 6, Helsinki View map
Programme
9:00 Introduction
9:15 Project Piazza (commissioned by VNK)
9:50 Break
10:00 Primary Producer's Notification (commissioned by MMM)
10:50 Break
11:00 School Fruits and Vegetables (commissioned by MMM)
11:35 General discussion and closing
12:00 Event ends
Design for Government
Design for Government (DfG) is a course and research project.
Started as a 10-ECTS advanced studio course under Aalto Creative Sustainability master's programme, DfG explores the potential utility of design in the solving complex challenges of the government and public sector. With emphasis on systems approach, empathic design and behavioural insight, we worked with the Ministry of the Environment in 2014, and are working with the Prime Minister's Office and the Ministry of Agriculture and Forestry in 2015.
Read more: DfG course website
In the summer of 2014, DfG has joined to participate in applying for a research call with the Nordic think tank, Demos Helsinki, and its partner, Avanto Helsinki. The research project with the same name, Design for Government, is commissioned by the Prime Minister's office. The aim is to propose how behavioural insight, prototyping culture and evidence-based policy approaches can be best operationalised in Finnish government. The project is being carried out in two parts: a global benchmark of best practices interviewing both global leaders in the development and key Finnish stakeholders; an experimentation in DfG course with concrete challenges faced with current Finnish government.
Read more: Project page on Demos Helsinki website
Creative Sustainability
Design for Government course is provided by Creative Sustainability (CS), a joint master's degree programme at Aalto University. CS is a multidisciplinary learning platform in the fields of architecture, business, design, landscape planning, real estate and urban planning.
Read more: CS website
Demos Helsinki
Demos Helsinki is a Nordic non-profit research and development organisation, an independent think tank. Demos Helsinki carries out future studies, creates strategies and conducts future-oriented experiments with companies, cities, governments and communities.
Read more: Demos Helsinki website
With best wises,
Design for Government team