Editor's note: We offered this blog as a platform to the DfG course participants who are documenting the DfG course for the readers to get a glimpse of how things went. This is one such post by Primary Producer's Team 2, a.k.a. Team Tab.
The previous posts gave an insight into what has happened during the beginning half of DfG. We, the second team working on Primary Producers' Notifications, will be telling you a bit about the 'Define Block', the two week period during which we've gathered together all our data and started working towards a final solution.
On 21 April 2015, we had a mid-term review at Tieteiden talo, the House of Science and Letters. Some 20 civil servants, as well as consultants from various firms and think tanks, came to listen to our presentations and gave us much needed feedback. You can read more about the mid-term review and check out the presented slides here.
Right after the mid-term, we had a debriefing session with all the tutors of DfG 2015, revisiting our conclusions in a face-to-face discussion. This helped us clarify the direction we wanted to take our solution in. It was only the beginning of the challenge and, what came next was a rollercoaster of methods, conversations and iteration to find the powerful solutions we were looking for. Since one of hardest parts of solutionizing is finding the right directions, we decided to share with you a few ways in which we defined solution opportunities. This is nowhere near a complete list, but it will give you an idea of the methods we used. Please use the comment section if anything is unclear, or if you find any of these interesting. Here we go!
7 Amazing Ways to Define Solution Opportunities in Your Public Sector Design Project
1. Insights and Opportunity Questions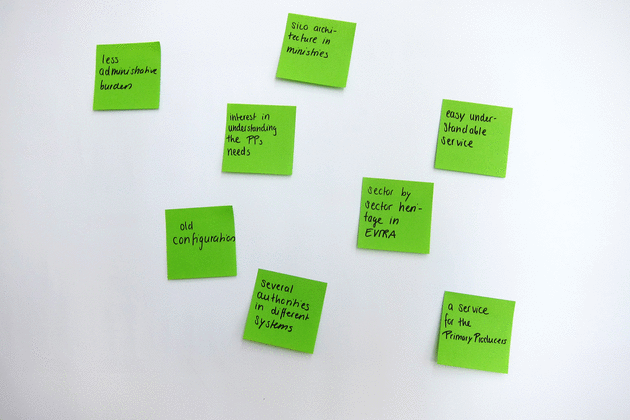 Four simple steps: Gather all your research material. Make clusters. Title the clusters. Make "how might we" questions based on these insights. This has lead us to find some interesting new targets.
2. Donella Meadows' 12 Leverage Points
Here is a method from one of the masters. Draw some form of system map. Draw another system map. Go over your maps and find opportunities to affect the system according to the twelve principles. This will help you find the most favorable points for interventions and solutions.
3. Personas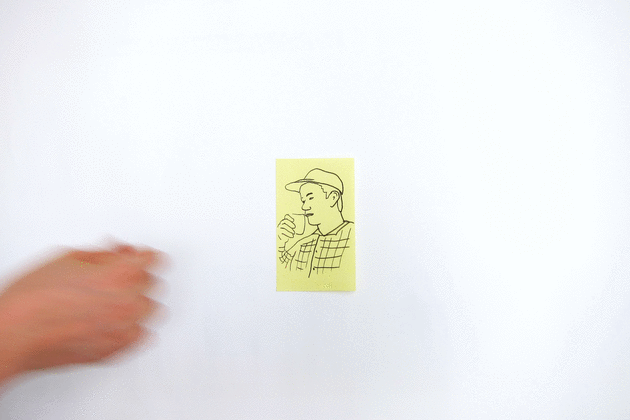 Make a rich composite portrait of one/many users in your project. Think about what they struggle with and what they aspire to. Write out opportunities to improve the life of your persona. The Persona-tool was developed in the software development world by Alan Cooper, but now it's spread all over, helping make design decision. This tool helps you gain empathy and understanding. Remember though, your persona is fictional! Beware of assumptions.
4. User Journey Analysis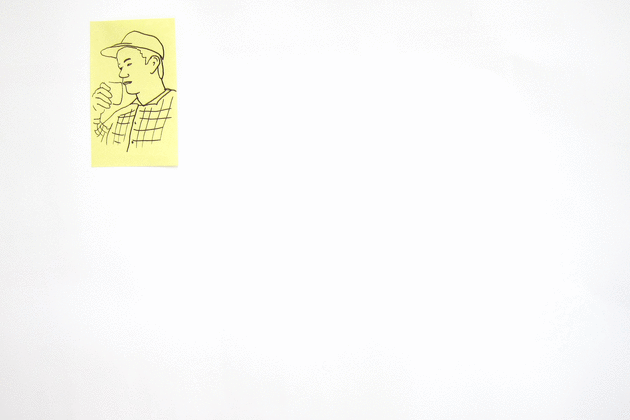 This one is good for both possible and current realities: use your persona again, but this time focus on a certain process that he or she has to go through. Consider where the issues are in this journey and turn them into opportunities.
5. Soft Systems Modeling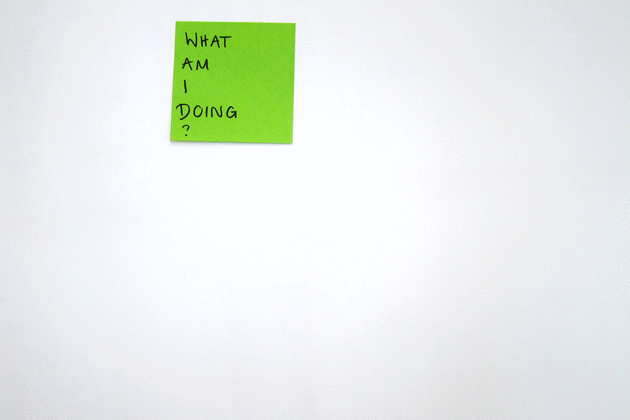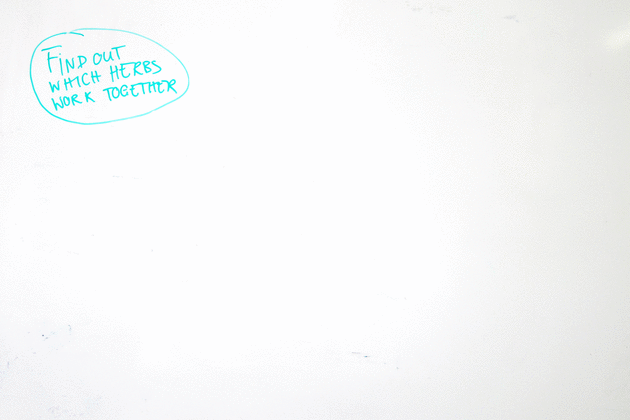 For higher level understanding, formulate the worldview of one stakeholder who is involved in your project. Make a system model that describes the purposeful activity this stakeholder is carrying out. Take note of the opportunities that arise from this perspective when you compare it to others. Soft Systems-Methodology is developed by Peter Checkland and others based on systems thinking and action research.
6. Current vs Desired Reality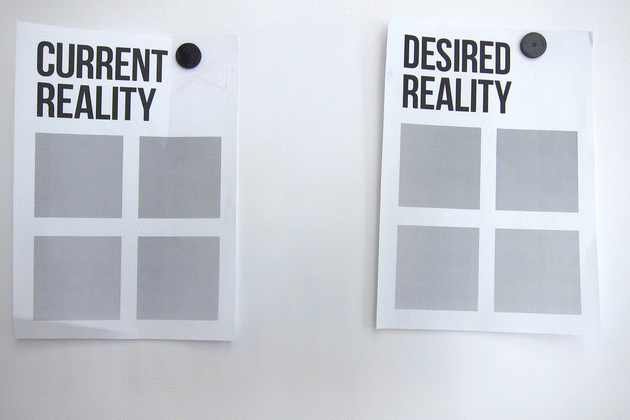 This is a fast and efficient method! Crystallize your research data and insights into short sentences that capture how things are now and how you would like them to be. Use the metaphor of bridging the gap to find opportunity directions. However, this shows only as much as you know about reality, and you gain very little out of an empty bucket. Do some legwork before attempting this!
7. Fast-Forward Ideation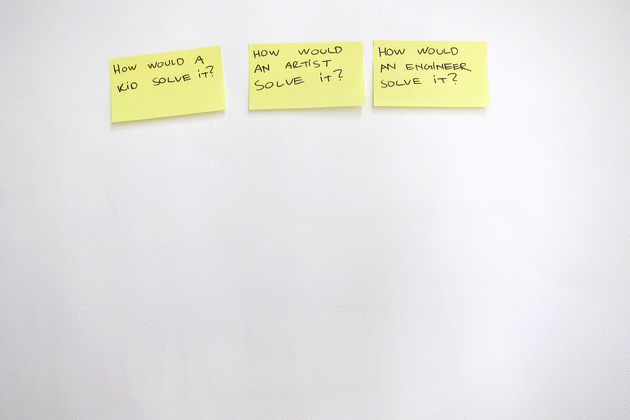 In this one is quantity leads to quality. Ideate concrete and specific solutions to your general problem. Use some generic ideation trigger. Analyze your ideas to find themes that can be captured as solution directions for more focused ideation in promising areas. The more post-its the better!
And, then what?
If you've now tried some of these techniques, you might have realised that each one drives your project in a different direction. We suggest you take a look at your processed material and try to figure out what is missing. Then just pick the solution direction method that will best fill the gap. Once you have inspiring, unexpected solution directions that you are really excited about, get your brainstorming pants on! There is no golden rule, other than iterate, iterate and iterate! This is what we'll keep doing in DfG during the final weeks, along with light prototyping and testing and then, with everything in place, we'll propose a mind-blowing final solution. See you at the DfG Final Show, we're looking forward to it!
– Richard, Panu, Lee & Eevi