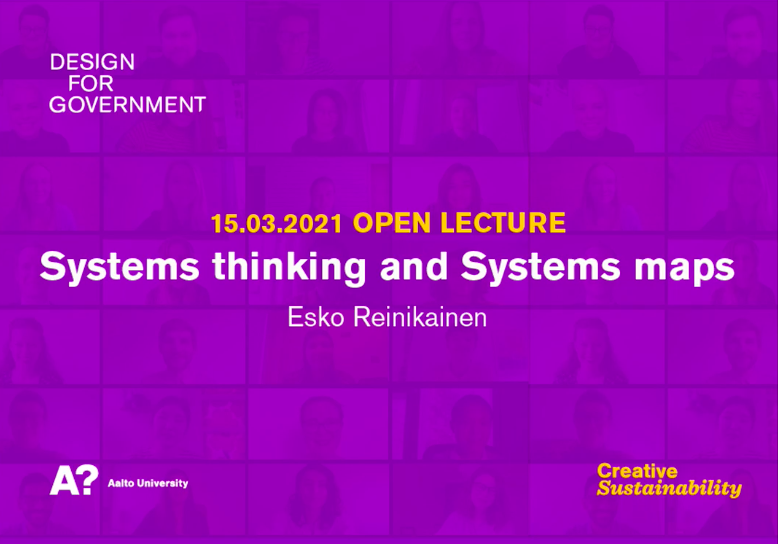 This lecture takes an introductory look at how to view governments and their current challenges through a systems thinking perspective. It will begin with a high-level overview of the mental models upon which modern liberal democracies have been built. These mental models are largely built on industrial era linear thinking ideas. The lecture will then contrast that mindset with the new mental models that recent complexity science and systems thinking disciplines offer us.
The lecture introduces some key systems thinking concepts alongside different conceptual methods for how to 'see' governments as systems. While the systems thinking field offers new models and processes to apply to existing and emerging challenges, the key fundamental challenge is the need to shift mindsets, both on the part of the designer trying to help solve a problem and on the part of the government who owns it.
The lecturer, Esko Reinikainen, has 18 years of experience working in or for government organisations from municipalities to central government ministries, first as a public servant and then in the disciplines of innovation consulting, culture change programmes, organisational design, leadership development and organisational network analysis. He was the Special Advisor on Networks to the UK Government Cabinet Office. He is now a board member of Systems Change Finland Ry where he leads a system mapping project to eliminate human trafficking in Finland.
Recording: https://aalto.cloud.panopto.eu/Panopto/Pages/Viewer.aspx?id=c648920a-7a68-43c8-918f-acec00934c19