This blog post reports on work-in-progress within the Design for Government (DfG) course! The post is written by one of the groups dealing with the project brief 'Boosting climate education' provided by the Ministry of Environment (YM) in collaboration with the Ministry of Education and Culture, the Finnish National Agency for Education (OPH) and the ORSI research project. The group includes Aman Asif, Maddalena Galloni, Suvi Majander, and Emma van Dormalen.
---
The research phase is over. We spent 7 weeks doing desk research and having conversations with various stakeholders such as civil servants, experts, and teachers. We learned about Finnish educational structures and cultures, and what it might mean to take climate action within this system. Now it is time to turn our insights into an actionable proposal.
Moving from insights to ideas
During the research phase, we learned that teachers have a lot of autonomy in Finland, which makes it quite a challenge for policymakers to know what actually is going on in the classrooms. Another source of ambiguity comes from the fact that both climate education and the Finnish curriculum are based on values, which makes it difficult to take universal measures. The teacher as the autonomous actor who interprets the values of the curriculum becomes the gatekeeper for climate education, which can be overwhelming for some teachers.
Speaking with active climate education actors we learned that the definition of climate education varies between different stakeholders. Researchers emphasize the importance of including a variety of participatory aspects in climate education, while schools do not always connect climate education with active citizenship. The definition of climate education is continuously evolving, making it difficult to be immediately implemented in the classrooms.
These insights function as the fuel for our ideation phase as they provide ground to build our proposal upon. To kick off the ideation process, we had a comprehensive brainstorm session where we identified the main drivers that we would like to pursue in the project.
Design drivers
In order to turn insights into values to incorporate in our proposal, we came up with the following design drivers: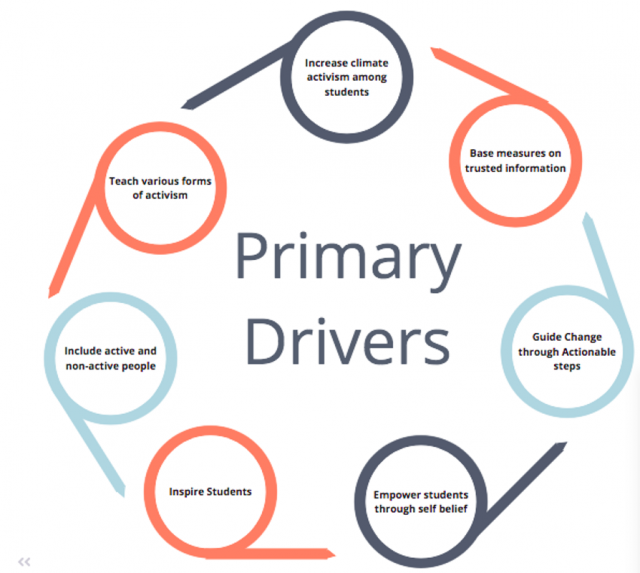 These design drivers will function as guiding values and will help us set the direction and shape the whole project.
Ways for the government to make an impact
The following step was to further frame the project in regards to its approach and context. The Style of Government Intervention framework, developed within the UK government (Siodmok 2017), was a significantly useful tool that we used as a reference to define what approach we wanted the project to have, as well as the social and institutional context of the project. Indeed, we contemplated whether we were looking into a softer direction based on nudging and collaborative methods or for a harder approach through statutory instruments. Another important decision regarded the analysis of the context within which our project was going to be implemented, whether it was going to take the form of early intervention or act in a mature environment.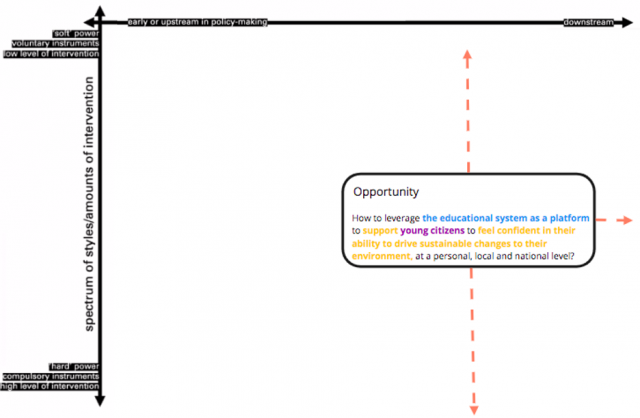 Considering the wider national 2035 carbon neutrality goal, we believe that the market is gradually achieving a high level of maturity, within which there should be a hospitable environment for projects aiming to lower carbon emissions. In terms of strength in the approach, we are evaluating several options spanning from making it compulsory or purely voluntary. The direction of the approach will become clearer with the progression of the project proposal.
On our way to raising a carbon-neutral generation
Finland's goal to become carbon neutral within 15 years is ambitious, and so are we. We are looking for a nation-wide solution that will move climate education beyond the agenda of only passionate individuals. Sustainability needs to become universally valued in schools across Finland, thus raises its first generation of carbon-neutral citizens.
To raise this carbon-neutral generation, we want to focus on coupling climate education with active citizenship in schools. This is because climate education is trying to teach values needed for students to take climate action at different levels in their lives: their personal life, their community, and/or at a national level.
Our current proposal is an educational roadmap that will help students of 15 and older to get a more consistent climate education throughout their final years of school. The roadmap includes different aspects from personal reflection to active projects within their community. Using the school as a platform for climate action enables us to reach out to all students, regardless of their current level of engagement with climate education. Since we are looking for an ambitious and large scale initiative, it may require a high level of engagement and resources from the government.
To further develop our proposal we are looking into how this roadmap will fit into the current educational context, for example: how will this fit together with the curriculum and different school subjects? In order to answer these questions, we are researching best practices from other value-based societal changes as well as climate education worldwide.
References:
SIODMOK, A. 2017. Mapping Service Design and Policy Design. GOV.UK. Accessed 30th April 2020. Available at: https://openpolicy.blog.gov.uk/2017/09/22/designing-policy/.
---
The DfG course runs for 14 weeks each spring – the 2020 course has now started and runs from 25 Feb to 19 May. It's an advanced studio course in which students work in multidisciplinary teams to address project briefs commissioned by governmental ministries in Finland. The course proceeds through the spring as a series of teaching modules in which various research and design methods are applied to addressing the project briefs. Blog posts are written by student groups, in which they share news, experiences and insights from within the course activities and their project development. More information here about the DfG 2020 project briefs. Hold the date for the public finale 09:00-12:00 on Tuesday 19 May!