There are multiple ways for civil servants and public authorities to engage with 'Design for Government' at Aalto University. In addition to yearly course themes, ministries, municipalities and other public authorities can engage a master's thesis student! At Aalto's Department of Design, a master's thesis is 30ECTS (equivalent of about 4-5 months of work).
Hosting a thesis student can help you to:
• Explore an idea, issue, method or technique
• Study related work, stakeholders and contexts
• Develop and prototype alternatives or solutions
• Inspire sustainable, international, future and fresh directions
• …and more!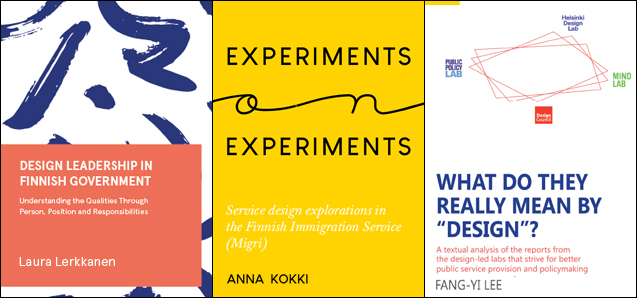 To advertise a topic for a master's thesis, the procedure is simple:
Draft a short advertisement and email it to teacher in charge of Thesis Seminar, who will publish the ad in the Thesis Seminar maillist. Advertisement should be emailed as a body of email, not as an attachment. There can be URL-links in the text. Email to: Professor Ramia Mazé, ramia.maze@aalto.fi
Respond to students who email to inquire about the ad, decide and negotiate the scope, timing and content of the work. Academic supervisor for the student is from their Aalto program, advisor for the student can be an Aalto faculty or potentially yourself.
Salary for thesis work can vary. Minimally, a no-salary option can offer access, data/materials, time and other relevant resources ; maximally, a salaried option includes the student as an hourly-paid employee working fully with you/team.
The ad should include:
Title of the job ("Looking for service designers", "Paid work with Espoo city", "Experience design with kids"…)
Brief description of the job
Brief description of what is required (f.ex. language, software skills, ability to travel…)
Brief description of offered support for thesis work (f.ex. salary or other resources…)
Deadline for application, how to apply, materials requested (f.ex. CV, a design or writing sample…)
Duration of the job
Specific study program (if applicable)
Your contact information
Questions?
Contact Ramia Mazé ramia.maze@aalto.fi