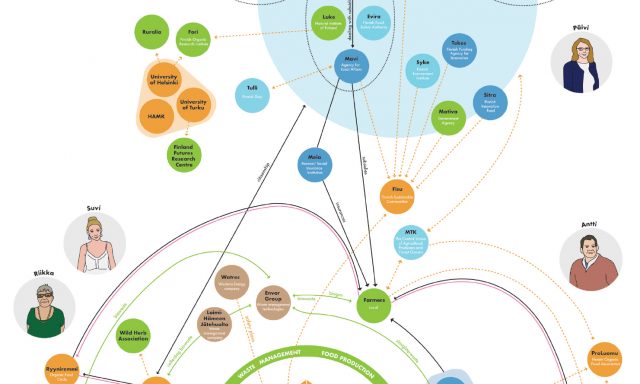 We're thrilled to announce the one of the upcoming projects for the Design for Government (DfG) course!
DfG projects are the result of proposals made by Finnish ministries, refined by DfG teachers into project-sized 'briefs', which will are further focused, specified and addressed by the students during the course. DfG runs for 14 weeks each spring – the first day of class in 2018 is Tues 20 Feb! DfG is accepting applications from students until 31 Jan – apply now!
Below is a short description of the DfG'18 project brief. This is a distillation of a longer brief made by the ministry that unfold dimensions of the project including "Where are we now?", "Who is the target group?", "Where do we want to be?", "How are we going to get there?" and "How will we know we've arrived?".
Short description:
Future of Finland's Hiking Areas
– New uses, users and identities
by the Ministry of Agriculture and Forestry
National hiking areas in Finland are state-owned lands that play a key role in developing activity-based outdoor tourism. The areas are productive land with multiple uses and users, including sustainable tourism, nature-based activities and events, local business services and landscape ameneties. They are distinct from other categories of land use in Finland such as commercially-used forests and national parks – hiking areas are not primarily for commerce nor for conservation, but fall in-between. Both social and environmental sustainability are key. This 'in-between' quality has made it difficult to clarify and communicate the unique profile, services and possibilities of the hiking areas. It is up to the Ministry and Agriculture and Forestry on how Metsähallitus should proceed to develop the hiking areas. Is it merely a question of marketing, profiling or new activities/services and land uses? What needs to be renewed, what is lacking? What is the future?
This is a visionary project with near-term and real impact – Metsähallitus is launching a project for developing the state hiking areas in early 2018. This is an opportunity for DfG students – working in parallel, there can be fresh energy and perspectives to fuel action. The ministry invites DfG to explore the needs and demands of nature travel in the next 10 to 20 years and the role of the state hiking areas!
DfG Development
DfG will be slightly smaller in spring 2018 because we are focussing on developing the course to make it better than ever! Starting in 2018, Design for Government will be taught in parallel with the 5ECTS 'Designing for Urban Governance and Services', which provides a complementary foundation in relevant theories and case studies. The courses will share a stellar line-up of speakers including: Anne Stenros (City of Helsinki), Anni Leppänen (D9), Mariana Salgado (InLand design agency in MIGRI), Jocelyn Bailey (University of Brighton UK), Minh-Nguyet Le (University of Potsdam DE), Anna Pyyluoma (Hellon), Mikko Annala (Demos Helsinki), Markus Kanerva (Tänk), Tania Rodriguez Kaarto (Aalto University) and more!
Hold the date for the Final Show 09:00-12:00 on Tues 22 May!
As always, we will make our finale public – DfG Final Show is always a popular and lively event bringing together civil servants, design professionals and visionary alumni and educators. Subscribe to our mailing list or stay tuned on Facebook or Twitter to hear from us as soon as we know more details, and watch this blog for continuous updates including insider progress-reports from students throughout the spring…
Image credit (top): A stakeholder map from 'Food Systematics', one of the DfG'17 proposals for the Ministry of Agriculture and Forestry and Ministry of Environment by Anna Kokki, Tilda Jyräsalo, Elisabeth Fried, Nurgul Nsanbayeva, and Tito F. Williams II