This is a long version of a post invited by the Design Forum Finland blog, it also appears at Migri's Inland Design blog. It's co-authored by Anni Leppänen (Lead Experimentalist, D9 team, State Treasury, Minh-Nguyet Le (doctoral candidate, University of Potsdam, DE), Ramia Mazé (Professor, Aalto University), Mariana Salgado (Director, Inland Design, Migri), Helén Marton and Laura Lerkkanen (MA students, Aalto University). 
---
The Design & Government event brought together over 45 designers, design-minded civil servants and researchers for a lively discussion at the buzzing Helsinki City Hall as part of Helsinki Design Week 2018. The spirit of the event was open dialog – sharing our own ongoing thoughts about public sector design in Finland, and involving participants in a dialog format. The goal was to share knowledge, build community and to explore and reflect on the emerging roles of design in the public sector.
Design in government has expanded globally over recent decades and Finland is a forerunner. Finland has long had a national design policy and in 2010 its user-driven innovation policy has supported the broader landscape of innovation activities by boosting the awareness of new innovation tools. Furthermore, building innovative capacity and design capability can be seen as integral to the Finnish Government's Strategic Programme (February 2016) under two key projects: 1) digitalisation of public services and 2) introducing a culture of experimentation. Design is now written into Helsinki's City Strategy, and Finnish municipalities have embraced a customer-centric view of cities where co-creation and participation are becoming integral roles of managers and planners. The Helsinki Lab, State Treasury's D9 team and Inland Design within Migri are relocating and reframing design in the public sector. An increasingly critical mass of design-minded civil servants are connecting peer-to-peer across silos and levels of public administration, for example through 6aika and 'Julkis-muotoilijat'. This is a new politico-administrative context in which design is finding new relevance and opportunities today inside government.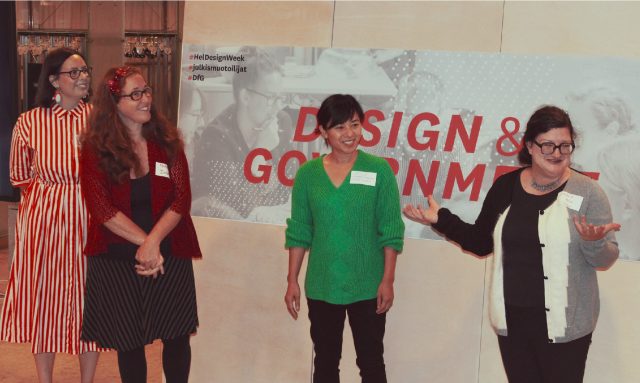 Collectively, we organizers represent the 'Julkis-muotoilijat', an active community of designers and design-minded civil servants in the government, Aalto University's "Design for Government" course, "Inland" design and innovation lab within the Finnish Immigration Service (Migri), and "Helsinki Lab", the City of Helsinki's design initiative to bring design know-how, digitality and interaction to the development of the City. Additionally, we got help from two Master's students from Aalto University — Laura Lerkkanen and Helén Marton, and a recent Design for Government alumni and Aalto Graduate, Emma Berg. Susanne Miessner facilitated the table on digitalization during the Design & Government event. Photography by Laura Timonen.
The Design & Government event was organized to get an overview of the current state and some future needs given this rapid expansion of opportunities for design employment, development and leadership in the Finnish public sector.
The event began with brief introductions by the organizers, and quickly formed around five discussion tables on the topics mentioned above with the addition of one 'open table' that organically formed on the topic of emerging possibilities of digitalization and design. Each table was facilitated by one of us, thus either a practitioner or researcher in the area. At each table, participants shared their experiences, mapped their knowledge, issues and ideas. Here is a brief overview of the topics, and below in this blog post are more detailed summaries of the table discussions.
Overview of discussion-table topics:
MINDSETS – Designers bring with them new ways of working that challenge existing bureaucratic silos and culture. What are the tensions and strategies to overcome them?
SKILLS – Design skills and creative capabilities are expanding to address the needs of public sector work. What are the capabilities that we need to develop ourselves and design?
DIGITALIZATION – Digitalization and design are making waves though the public sector. How are the two positioned and connected, and what are the barriers to making the best of digitalization efforts?
COLLABORATION – Designers and researchers would mutually benefit from collaboration. How might we open up shared spaces for long-term collaboration?
LEADERSHIP – Design has evolved from being an external resource to being embedded within government organisations. What is needed from design leadership and what are the steps to develop that role?
The event culminated in a collective summary of each table and opening for further dialog and next steps together. At the end of the event, we all felt that design has clearly landed in government and the public sector… and it is time for the next steps! In order to move ahead, we suggest the need to map the current landscape, to deepen our understanding of design and drivers in the public sector context, and to build and support the network. Clearly, we need to work together to achieve this.
This is an important moment – there is great momentum to influence the next government programme. Let's design into the strategic focus for the next fours years in the Finnish public sector transformation!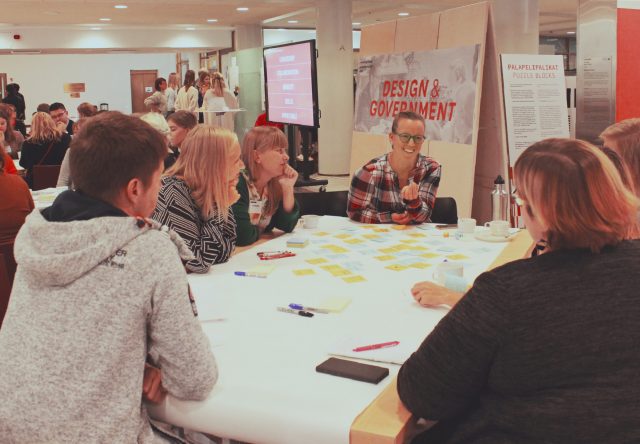 Table discussion during the Design & Government event. Photo by Laura Timonen
For those interested to dive deeper into the topics we discussed, below are the summaries of the discussion at each table:

MINDSETS
In this table we discussed the relevance of building design mindsets in moving bureaucracies towards a more service oriented and end-user perspective along with the everyday challenges this poses in their organizations. The core work of designers working in government contexts ranges from service design, participatory planning (using participatory/co-design methods), or varying digitally-oriented projects who involve users in the development processes (at varying levels of inclusion). Both designers and non-designers around the table offered their own anecdotes and strategies of introducing these "trendier" methods within their own organizational settings.  Voices around the table highlighted several challenges: a general reluctance towards change in existing organizations; the continuing challenge of how to articulate design's value in a government context; and the overall dilemma of proving the value and impact of design-led approaches which are typically more open-ended, experimental, and where the outcomes are difficult to measure. Building design mindsets also means creating the space to build mindsets. For us, this translates to support from top leadership; the need for more "risk-free" zones and trainings where civil servants can learn what a design-led process might entail; and finally to provide a supportive environment for "design experiments" where sometimes the process is even more important than its outcome.
SKILLS
At this table, we started by sharing our 'superpowers' – the creative capability that each of us brings to the public-sector context. Superpowers ranged from 'understanding context' to 'yes we can! attitude', from 'prototyping' to 'understanding data', from 'orchestration' to 'chaos-loving'. Then we considered 7 categories of "design capability" in the public sector proposed in recent research studies: synthesis, exploratory inquiry, creativity, empathy, aesthetic engagement, and ambiguity-tolerance. At our table, we then placed ourselves in relation to the categories… and we discovered some gaps. We added three new categories: (1) doing, prototyping and experimentation, (2) analysis and systems-thinking, and (3) observing and visualizing complexity. We then tried to decide which were most important – 'doing' and 'synthesizing' seemed central.
In summary, we had a productive discussion that filled in some gaps in the research and we identified some core capabilities needed for design in the public sector. This is very useful for practitioners to clarify their offer and also for us teachers trying to improve design education!
Lastly, we discussed some of the dilemmas or tensions: Are these capabilities universal or unique to design? How much is common sense versus specialized expertise? How much human-centered versus system perspective? How much rigor should be expected/demanded of design?
DIGITALIZATION (open table)
This open table discussion organically formed around topics of digitalization and design. During our discussion, we shared stories about the biggest challenges around this topic and how we might overcome some of them. One area that generated a particularly rich discussion was the importance of positioning design strategically on a project level as well as on an organizational level. The timing of design was also discussed, as design procurement often comes as an 'add-on' after ICT procurement has taken place. We shared frustrations about the fact that language barriers between disciplines is far from a new topic, yet we still are no closer to solving the issue. The often mentioned silos within the government also exist between the private and public sectors, and there is a need to overcome them. Some raised the issue that user experience is often missing from digitalization projects, even though user-centricity is often part of the organizational strategy who commissions the work. Lastly, we collectively pondered about a lack of big picture thinking in digitalization projects and clarity around the 'why' of digitalization.
COLLABORATION
In the table on collaboration we discussed the needs of designers working in the government (civil servants) and academic researchers. Designers could benefit from the collaboration with researchers by opening common spaces for reflection. We want to write and read together! Also, designers need to develop vocabulary and their argumentation skills in order to articulate the value of design in their organisations. This would allow design to be positioned more strategically and stretch current limits of designers' roles. For researchers it is key to broaden their understanding of design in the government, spread their research results and increase their implementation skills.
On the basis of these needs we drew a roadmap, in which we identified our current collaboration formats, steps for the near future collaboration and long term goals. Both groups would like to built a long term collaboration that is not project/course based. We see that the universities could provide infrastructure and working practices to increase the exchange within designers in the government. Finally, we aim for open data frameworks and flexible work environments that would facilitate collaboration, for both researchers and designers.
LEADERSHIP
At the leadership table, we had a wide variety of topics to discuss: from current landscape of design in government to next steps and drivers, and the need for design leadership in the public sector in Finland.
Design leadership was discussed in relation to the strategic location of design in public sector organisations. Design has moved from just an external resource, to be part of government organisations. This past government term (2015–2018) has seen a sharp increase in service design and in-house designers in public sector organisations. Yet, is rare to have design teams or design at strategic level in public sector organisations. Furthermore, the role of 'gov designers' is still taking form. In addition to design work, we work as translators and connectors – training, explaining, communicating and facilitating design mindsets and practices.
We discussed the next steps for design in government. A key opportunity is to embed design into the next government programme. We also need more research into impact of design in government, and further develop the support structures and coordination for design efforts.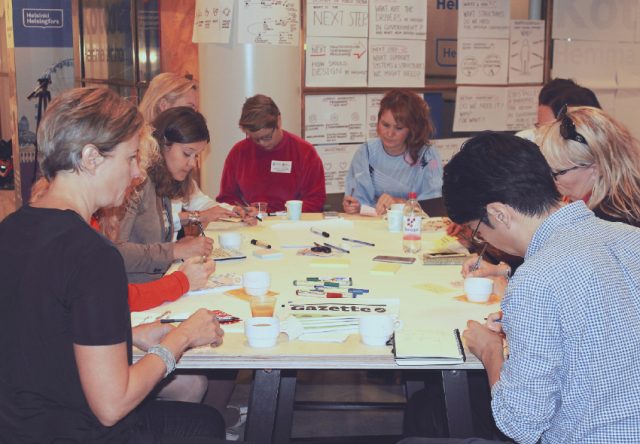 Table discussion during the Design & Government event. Photo by Laura Timonen
---
Design & Government at Helsinki Design Week was co-organized between:
 'Design for Government' (DfG) is an advanced studio course in Aalto University's Creative Sustainability master's programme. DfG develops design to address the complex challenges of the government and public sector. Since 2014, DfG has been collaborating with one or more Finnish ministries each year to address to address a policy challenge.
Inland is a design and innovation lab within the Finnish Immigration Service (Migri). Inland combines design thinking and advanced technology to co-design services that support immigrants and their communities. Their goal is to promote an organizational change in Migri and kick start cross-public-agency projects that will have a positive social impact.
'Julkis-muotoilijat' is an active community of designers and design-minded civil servants in the government. As a self-organized community, Julkis-muotoilijat supports design-related knowledge-sharing, competence-building and collaboration across governmental agencies, ministries and municipalities.
Helsinki Lab, initiated in 2016, makes design know-how, digitality and interaction an even more integral part of the development of the City. The Lab also integrates the City organisation and partners to work together in view of creating a better city and new business operations.