For the first time in DFG history, both projects involve multiple ministries! Students can still apply to DfG – Deadline 3 February! 
The projects this year demonstrate the ministries commitment to the kind of collaboration and crossover thinking necessary for addressing complex societal challenges. Both the setup of the projects and the project themes will have a special focus during this centenary year 'Suomi100' marking Finland's independence.
Short descriptions of 2017 DfG projects:
A Model for Regional Sustainable Circular Food
by the Ministry of Agriculture and Forestry and Ministry of the Environment with with SITRA and Motiva
In Finland, food accounts for a fifth of consumers' environmental impacts and potential climate change impacts food production, industry, self-sufficiency and security. There are currently a variety of risks and bottlenecks – as well as particular strengths – in the food system. To address these grand challenges, the Finnish government has set a target to further develop a circular model for the Finnish economy, such that it will be a global leader by 2025. Ministries are making a concerted effort to understand, adapt and innovate the current food system to a more sustainable – and circular economy – model. In this project for DfG'17, we will contribute by working concretely with a regional case, identifying obstacles, opportunities and innovations, using research and design to propose fresh ideas and scenarios relevant to policy-makers.
The Finnish centenary "Suomi 100" is a moment to reflect on our history of food production (which were more circular than today) and to develop paths in which all of Finnish society pull together (the centenary theme 'Togetherness') toward a more sustainable future.
Civil Servant 2.0: Future work of civil servants
by the Ministry of Finance, Ministry of Economic Affairs and Employment, Prime Minister's Office, and Ministry of Transport and Communications
Transformations in our society necessitate parallel transformation in civil servants' work practices, cultures and roles. Responsive and effective and trustworthy policy-making today (in the 'post-truth' era) requires a high degree of awareness, collaboration, agility and trust within diverse 'ecosystems' of stakeholders working together across sectors towards common societal challenges and goals. This paradigm shift from the historical silos and individualistic working cultures of the traditional civil servant work is the goal of the major long-term initiative Civil Servant Work 2.0 within the Finnish government. In DfG'17, the Transport Code to be launched in 2017 will provide a specific case to examine the complexities of stakeholders, interactions, working environments, tools involved in civil servant work and policy-making processes.
Today we have both a critical moment and an appropriate window of opportunity – during Suomi100 centenary year themed 'togetherness' – to look back and forward to how civil servant work must be transformed within and across ministries, stakeholders and citizens.
About project briefs
Projects are the result of proposals made by Finnish ministries, refined with DfG teachers into "project"-sized briefs, which will be further focused and addressed within the course by students. These above are short descriptions of longer project briefs that cover questions framing the project including "Where are we now?", "Who is the target group?", "Where do we want to be?", "How are we going to get there?" and "How will we know we've arrived?".
Hold the date! Final Show 09:00-12:00 on Tues 23 May!
As always, we will make our finale a public event. The Final Show is always an inspiring line-up of student presentations and audience interaction. The 2016 Final Show was part of the Aalto Festival and the 2015 Final show was at the historic Säätytalo. Subscribe to our mailing list or stay tuned on Facebook or Twitter to hear from us as soon as we know more details, and watch this blog for continuous updates including insider progress-reports from students.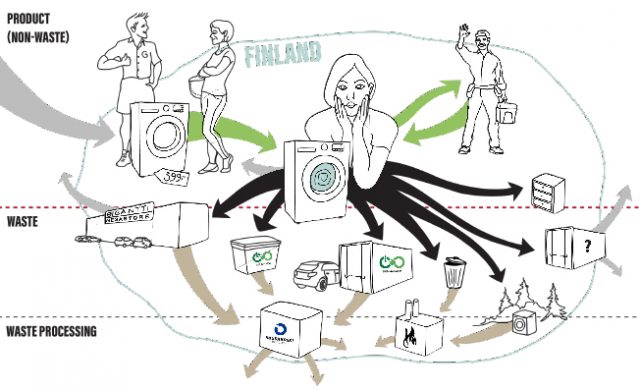 Image credit: A model from National Upkeep Plan, one of the DfG 2016 proposals for the Ministry of Environment by Suvi (Kinnarinen) Järvi, Merja Lang, and Riikka Ylitalo.