Open lecture recordings
This year, DfG is expanding its reach by seizing the remote teaching arrangements as an opportunity to invite the public to a series of open lectures. Recordings of each lecture are posted on this page after each event.
15th March, 2021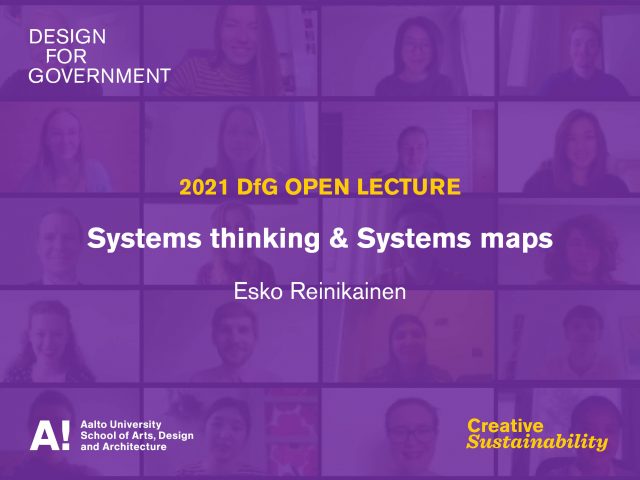 Systems thinking & Systems maps
Esko Reinikainen
This lecture takes an introductory look at how to view governments and their current challenges through a systems thinking perspective. It will begin with a high-level overview of the mental models upon which modern liberal democracies have been built. These mental models are largely built on industrial era linear thinking ideas. The lecture will then contrast that mindset with the new mental models that recent complexity science and systems thinking disciplines offer us.
The lecture introduces some key systems thinking concepts alongside different conceptual methods for how to 'see' governments as systems. While the systems thinking field offers new models and processes to apply to existing and emerging challenges, the key fundamental challenge is the need to shift mindsets, both on the part of the designer trying to help solve a problem and on the part of the government who owns it.
The lecturer, Esko Reinikainen, has 18 years of experience working in or for government organisations from municipalities to central government ministries, first as a public servant and then in the disciplines of innovation consulting, culture change programmes, organisational design, leadership development and organisational network analysis. He was the Special Advisor on Networks to the UK Government Cabinet Office. He is now a board member of Systems Change Finland Ry where he leads a system mapping project to eliminate human trafficking in Finland.
Recording: https://aalto.cloud.panopto.eu/Panopto/Pages/Viewer.aspx?id=c648920a-7a68-43c8-918f-acec00934c19
8th March, 2021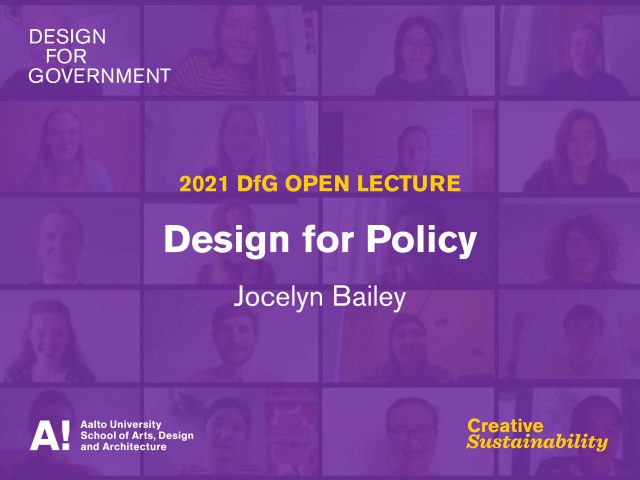 Design for policy
Jocelyn Bailey
Designing for Policy: What is Policy? How does policymaking work? How might design intersect with policymaking? And what are the strengths and weaknesses in this emerging field? Jocelyn will introduce some of the key terms, debates and issues in designing for policy.
Jocelyn is a Post Doctoral Research Fellow at the Social Design Institute of the University of Arts London. Her experience encompasses both practice and research on the borders between design and government (from policy development to service delivery).
Recording: https://aalto.cloud.panopto.eu/Panopto/Pages/Viewer.aspx?id=b765c84a-60d5-496c-bb78-ace50092e3b4
1st March, 2021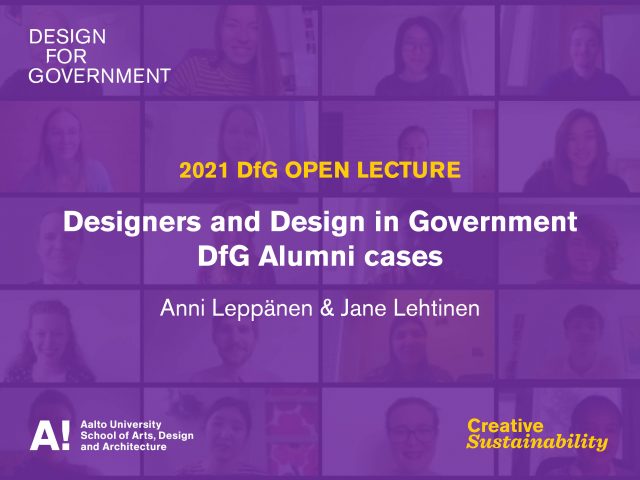 Designers and Design in government
– DfG alumni cases
Anni Leppänen & Jane Lehtinen
The role of design in the public sector and governmental organizations is rapidly expanding, together with the transformation of policy, civil service work and more participatory and citizen-centric governance. Our alumni Jane Lehtinen (DfG Alumni 2020) and Anni Leppänen (DfG Alumni 2015), will share their experiences about the role of design in public service organisations. From the Finnish design lab D9 to the Co-design and the Social service innovation labs in New Zealand, our alumni will discuss the role of design in different contexts and set-ups; state versus municipal level, labs versus embedded teams.
Recording: https://aalto.cloud.panopto.eu/Panopto/Pages/Viewer.aspx?id=e11b82b6-5cd8-4200-8aaa-acde00befa16
Design For Government (DfG, MUO-E8012) is a 10-ECTS advanced studio course in Aalto University's Creative Sustainability master's programme. We work with commissioned projects from within the Finnish public sector, which are the basis for in-depth and practical development by interdisciplinary student teams. In our mission to promote the role of design in government, and grow the design community in public services, we invite you to join our open online lectures. Welcome!
Follow our website or dedicated Facebook page to get the latest dates and topics for upcoming open lectures.