Final show – register now!
The Design for Government final show is now open for the public! The event is free, but due to limited seats at the venue, the event requires registration. We've previously been fully booked, so register here and now!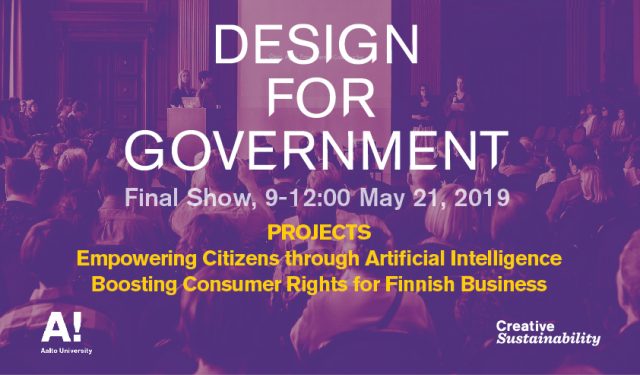 FINAL SHOW
09:00-11:30
Tuesday 21 May 2019
Helsinki City Hall Lobby, Pohjoisesplanadi 11-13, 00170 Helsinki
2019 DESIGN FOR GOVERNMENT PROJECTS
Empowering Citizens through Artificial Intelligence (Ministry of Finance)
Boosting Consumer Rights for Finnish Business (Ministry of Economic Affairs and Employment & Finnish Competition and Consumer Authority)
Check out summaries of the project briefs here!
The DfG Final Show is part of 2019 Aalto Festival
---
The DfG course runs for 14 weeks each spring – the 2019 course has now started and runs 26 Feb to 21 May. It's an advanced studio course in which students work in multidisciplinary teams to address project briefs commissioned by governmental ministries in Finland. The course proceeds through the spring as a series of teaching modules in which various research and design methods are applied to addressing the project briefs. Blog posts are written by student groups, in which they share news, experiences and insights from within the course activities and their project development. More information here about the DfG 2019 project briefs. Hold the date for the public finale 09:00-12:00 on Tuesday 21 May!
---