Apply to Design for Government 2017 now!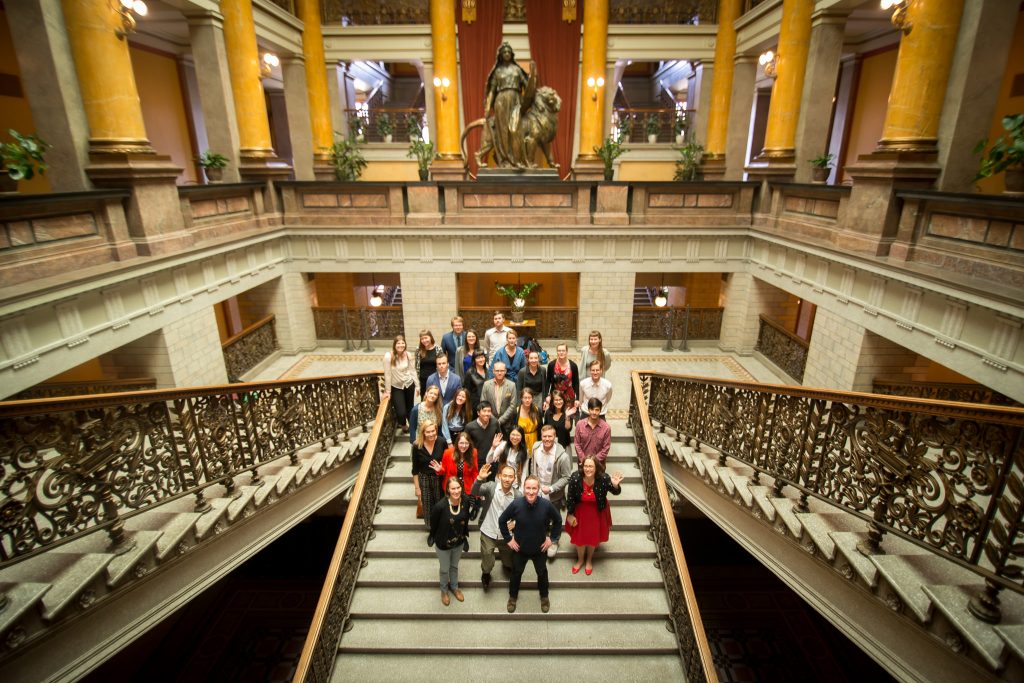 Are you interested in designing for the government? You can still apply to DFG 2017! Deadline for applications February 3. The deadline for applications was extended in order to reach a variety of disciplines, departments and schools with routines for spreading information not forseen in our original admissions process. Notifications have already been sent to students who applied by the original deadline, however additional students are welcome to apply until 3 Feb with priority given to those from other deparments and schools. Welcome to contact ramia.maze@aalto directly with questions!
Project themes
In DFG 2017 there are 2 projects commissioned by Finnish governmental  ministries. For the first time in DFG history, both projects involve multiple ministries! This demonstrates the ministries commitment to the kind of collaboration and crossover thinking necessary for addressing complex societal challenges. Both the setup of the projects and the project themes will have a special focus during 2018, which is the centenary year marking Finland's independence – "Suomi100" themed 'Togetherness'. Below are the project names, more information will soon be posted.
A Model for Regional Sustainable Circular Food Systems
by the Ministry of Agriculture and Forestry and the Ministry of the Environment
Civil Servant 2.0: Future work of civil servants
by the Ministry of Finance and the Prime Minister's Office
Apply – in 2 steps
In the Design for Government course, the right mix of students and individual motivations are crucial. Addressing complex challenges benefits from a variety of backgrounds, skills and disciplines while critical thinking and creativity are important for developing new frontiers of design in the governmental sector. We therefore do not admit students on a first-come-first-serve basis but through the application process described below. Applications are reviewed and selected by the teaching team (final responsibility lies with the course leader).
1. Reflect on the final presentation videos from DfG 2016
Watch the videos and select your favorite project presented in the videos. Write a reflection (500 words max): Propose three points for further improvement or investigation in the project you select from the video. Introduce yourself and how your competencies could contribute to such a project.
2. Fill out the application form
Fill out your information and enter your written reflection (1) in this form.
Eligibility & workload
You can apply if you have a valid study right at any school in Finland as long as you are a master's student and your institution is under JOO-Agreement. You must be present in the contact sessions and during teamwork, which means you have to be in Helsinki for the 14-week course.
The workload is at least 2.6 full working days per week. Avoid taking another big course at the same time! This is an advanced studio course, you would need to work more if you are unfamiliar with systems approach, empathic design and behavioural insight.
Check out the preliminary schedule and workload here. The contact teaching days are on Tuesdays, at Aalto's Arabia campus.
Important dates
Deadline for applications 3.2.2017 (end of day, 23:44 EET)
Decision on entry and notification 16.1.2017 (end of day, 23:44 EET)
Course period: Study periods IV and V (week 8-21)
Course starts on Tuesday 21.2.2017 and ends on 23.5.2017
Final presentations 23.5.2017
WebOodi and JOO-Agreement
WebOodi won't be used for registration. Students from Aalto University, once selected, will be manually registered directly by the study coordinator. Students from outside Aalto University, once selected, will have to register to the course via JOO-Agreement.
We assure you that the registration and getting credit won't be a problem as long as you are a student from either Aalto University or any JOO-Agreement institution. Check the JOO-website and/or ask your own study coordinator if you're unsure.
Frequently Asked Questions
If you have questions in the process, consult our FAQ (Frequently Asked Question) page on this website.
Still more Questions?
Please use the "Leave a response" feature at the bottom of this post to ask a question.